Why FosterCat?
Foster Cat, Inc. is all about saving lives. It's as simple as that. We are an all-volunteer non-profit organization dedicated to the proposition that all cats and kittens deserve safe, loving, permanent homes.


Our foster parents provide temporary care for cats and kittens in their homes until they can be placed for adoption. Their compassion provides the second chance that so many stray, abandoned or homeless kitties need, and the satisfaction of knowing that they have helped save the lives of these helpless animals.


FosterCat provides training and support, medications, food and litter as needed, and absorbs all veterinary expenses associated with the care of our kitties. If you love kitties and would like to be a part of our lifesaving team, consider opening your heart and home to cats or kittens in need. We promise you won't regret it! If you can't foster, you can still help save lives as a volunteer or supporting member. Click on "How You Can Help", above, for more information.
---
Thank You!
Thank you to all who supported FosterCat by visiting Hines Ward's Table 86. FosterCat received 20% of each bill. The funds raised will go to pay for food, supplies and veterinary care for our cats in foster homes. We very much appreciate your continuing support.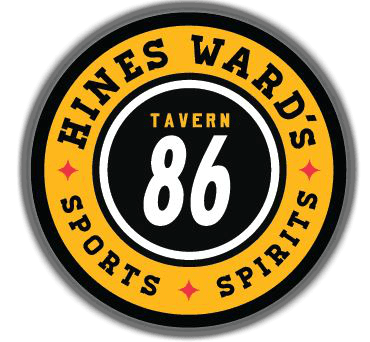 ---
No Spaghetti Dinner this year
We regret that we must cancel our usual annual spaghetti dinner due to diminishing attendance and shortage of event volunteers.
---
The Three Little Pigs
If you've been receiving our newsletter for very long, you undoubtedly know that many of the kitties who come into our program bear the scars of a difficult life on the streets. Flea ridden, parasite infested and malnourished as they often are, they need remedial treatments and some time on a nutritionally sound diet to gain some weight and restore the bright eyes and shiny coat that characterize a healthy feline.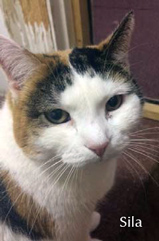 Of course, there are exceptions, and Sila, Burt and Ernie definitely fell into that category. Their story began when Sila, a six month old kitten, showed up at a woman's door searching for food. The woman took pity on her and began feeding her, not realizing that she was pregnant. One day Sila showed up for her breakfast with two kittens in tow. Now there were three mouths to feed.
The kindhearted woman eventually brought all three into her home and took them to her vet for exams and sterilization. They became a part of her family for about a year, until she became quite ill and had to move, at least temporarily, from her home. Because she loved the cats and didn't want them taken to a shelter, she persuaded her daughter to come to her home to feed and care for them on a daily basis until she could resume those responsibilities herself.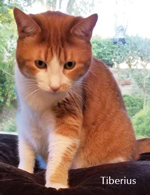 Regrettably, after six or eight months it was determined that the woman would not be able to return home, so her daughter contacted Just Us for the Animals, a rescue group in her area. Last February, one of their volunteers contacted us to ask if we could possibly help them find new homes.
When they were delivered to us, we were shocked to discover that all three were, shall we say, more than a little on the chubby side. Apparently during the months of living mostly alone in the woman's home, they had found comfort for their loneliness in their food bowls! Sila, a small framed female, who should have been carrying a weight of 7 or 8 pounds, tipped the scales at 13, and Burt and Ernie weighed in at 20 pounds and 16.7 pounds respectively. All were estimated to be in the 2 to 3 year old range and were, despite their obesity, pronounced to be in good health, but definitely in need of a weight reduction program.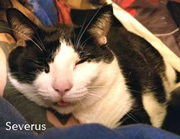 Only a few days after Sila's arrival, I received an online application from a gentleman who had recently lost his 18 year old cat and was looking to adopt a new feline companion. He lived alone with no other pets and seemed to be a good match for Sila, a very sweet kitty who would appreciate a quiet home. And he had no problem with monitoring Sila's food intake to help her regain her girlish figure. After a trial period of a few weeks, Jess and Sila decided to tie the knot. Jess tells us that she is wonderful company and doing well in her weight loss campaign.
Burt and Ernie, who had remained longer in their adoptive owner's home, shared a different foster home. Their foster Mom had taken them to the PetSmart in Monroeville several times before Sara and Beau spotted them when they visited the store in April to load up on supplies for their dog and two cats.
They hadn't really been looking to adopt, but being their size, the boys were hard not to notice. After spending some time getting to know the gentle giants, they filled out the adoption application and the next day, welcomed Burt and Ernie into their new home.
Here's what Sara had to say when she sent me some photos and an update a few weeks ago: "The boys are doing quite well in their new home and are even losing a little weight They hid the first day or so, but then began exploring their new home and now are out and about and getting along great with their adoptive feline and canine siblings.
They are two of the biggest lovers you could ever meet Tiberius (formerly Ernie) loves to sit at the screen door and watch the birds. He also likes to sit on the stairs, and he blends in so well with the carpet that I have nearly tripped over him several times. I taught Severous (formerly Burt) to sit for treats, but he gets impatient quickly and reaches up and grabs my hands to take the treat.
Even though Tiberius is the smaller of the two, he likes to attack Severous, who just rolls over onto his back and gives up. They are the best addition we have ever made to our home and we feel very lucky to have them as part of our family."
And the three little piggies lived happily ever after.....
---
Happy Birthday, May
Some of our long term members and supporters may remember the September 2005 issue of the Litter Scoop, which featured three senior kitties we had recently helped to find their forever homes. One of those kitties was May, a 9 year old brown tabby we had taken into our care from the Western PA Humane Society in December 2004. She was adopted from the Century Square PetSmart a few months later and has been a much loved member of David K.'s family ever since.
Over the years, David has been kind enough to send us photos and periodic updates about how May was doing. Earlier this year, when he mailed his 2017 membership donation, he included a handwritten note: "May is still doing well and will be 21 in July."
So please join us in sending a special belated birthday greeting to this very special FosterCat alumna. Happy 21st, May, and you keep on going, girl.
---
2017 Membership Drive Sets New Record
We are very pleased to announce that thanks to the faithfulness and generosity of our friends and supporters FosterCat was able to raise $4004.00 for the care of our kitties through this year's membership drive mailing, surpassing last year's record of $3780.00. We are sincerely grateful to all of you who became members or renewed your memberships for 2017.
---
Attention, All Adopters
Many of you have kindly kept in touch with us via emailed updates and photos of your adopted kitties, and we hope you will continue to do so. Please note, however, that Alexa's email address has changed. Please make note of the change and direct all future emails/photo attachments to her at ajhowald@yahoo.com. Thanks, and keep those updates coming. We love to receive them!
---
Fund-raising Coordinator Needed
Fund-raising is a crucial component of the activities of all nonprofit organizations and FosterCat is no exception. None of us can fulfill our missions without the financial support of businesses and individuals who value the work we perform and are willing to invest financially in our continuing efforts.
We are looking for a special person to take on the role of Fund-raising Coordinator for FosterCat. That person would, first of all, believe in our mission and personally care about the welfare of homeless cats and kittens in our area. He/she would be a self starter, able to pick up the ball and run with it under the direction of, but with a minimum of day to day oversight by the FosterCat board. He/She would be creative in looking for new opportunities/venues for raising funds and suggesting ways to improve events we have already used. He/she would be skilled at recruiting and organizing the activities of volunteers, and soliciting donations and other types of support from individuals and businesses.
If you believe that you possess these skills/attributes and could pursue this job with sincere enthusiasm, please contact us via our website at www.fostercat.org.
---
---
New Rescue Magazine To Support FosterCat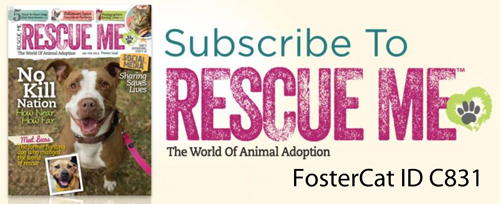 We have registered FosterCat as a charity for the new magazine "Rescue Me." Kellie Gormly, one of our volunteers, who is a journalist, will have a column in every issue!
It does not cost FC anything to register and if you are interested in subscribing, please reference FosterCat and the Rescue ID number for FosterCat C831. FosterCat will receive $19.95 for each $29.95 subscription fee received.
You can register online at www.readysetrescue.com or call 800-738-2665.
Please encourage friends and relatives to subscribe and remember to use our FosterCat ID C831 on all subscription orders!
---
Attention Cat Lovers in the South Hills Area
FosterCat, Inc. is seeking responsible, cat loving caregivers to provide temporary love and care for homeless cats until permanent homes are found. FosterCat, Inc. is a local 501 (c)(3) non-profit organization. Contact FosterCat, Inc. at 412-481-9144 or click here to learn more about becoming a FosterCat foster parent and to submit a foster application.
---
Visit FosterCat's Adoptables at these places:
Come see some of our cats at the Cranberry, Monroeville, Northway Mall and Pleasant Hills PetSmart Locations!
---
Animal Abuse Hotline for Pennsylvania
The Pennsylvania Society for the Prevention of Cruelty to Animals has established a statewide toll-free hotline for reporting cases of animal abuse. Concerned citizens observing incidents of abuse may contact the Society at (866) 601-SPCA.
---
Our Mission
The mission of FosterCat Inc. is to develop and sustain an organization to provide temporary foster care for cats and kittens in private homes until permanent homes can be found.