Why FosterCat?
Foster Cat, Inc. is all about saving lives. It's as simple as that. We are an all-volunteer non-profit organization dedicated to the proposition that all cats and kittens deserve safe, loving, permanent homes.


Our foster parents provide temporary care for cats and kittens in their homes until they can be placed for adoption. Their compassion provides the second chance that so many stray, abandoned or homeless kitties need, and the satisfaction of knowing that they have helped save the lives of these helpless animals.


FosterCat provides training and support, medications, food and litter as needed, and absorbs all veterinary expenses associated with the care of our kitties. If you love kitties and would like to be a part of our lifesaving team, consider opening your heart and home to cats or kittens in need. We promise you won't regret it! If you can't foster, you can still help save lives as a volunteer or supporting member. Click on "How You Can Help", above, for more information.
---
2014 FosterCat Spaghetti Dinner News
Time is moving very quickly and March is already upon us!
Just wanted to let everyone know in plenty of time that we have moved the 2014 FosterCat spaghetti dinner to a new location! We were finding it difficult to accommodate our attendees/vendors with enough seating and space at the dinner.
Our new location is:
St. Catherine of Siena Catholic Church

1907 Broadway Avenue

Beechview, PA 15216
| | |
| --- | --- |
| DATE: | SEPTEMBER 13 |
| TIME: | 5 - 8 PM |
We are very excited by this new location as the hall and kitchen is three times the size of Wallace with a stage, PA system, separate kitchen/serving area and plenty of tables to seat 200-300 people easily. What's more is that there is only one pair of steps down to the hall with a ramp right next to the stairs for people on walkers, canes, etc.
St. Catherine's is very easy to find as well. After going through the Liberty Tunnels, you make a right on Pauline Street and it takes you directly to the hall. There is plenty of parking!
If any of you know vendors that would like to set up a table, there is plenty of room to accommodate them. Please have them contact me at 412-915-8106.
We will need volunteers to help sell tickets, set-up, clean-up, serve food, make sauce, organize volunteers, organize spreadsheet, Chinese auction, etc. so if any of you want to help, please let me know asap.
We are currently looking for a restaurant(s) to donate all of the pasta and salad this year so if you have any connections to restaurants that you think would like to help us, please let me know.
Please mark your calendars for this important date!
---
New Rescue Magazine To Support FosterCat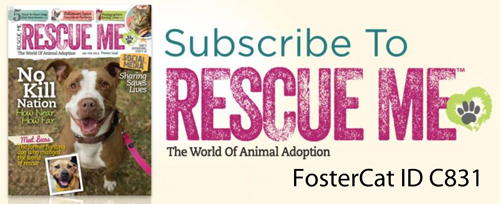 We have registered FosterCat as a charity for the new magazine "Rescue Me." Kellie Gormly, one of our volunteers, who is a journalist, will have a column in every issue!
It does not cost FC anything to register and if you are interested in subscribing, please reference FosterCat and the Rescue ID number for FosterCat C831. FosterCat will receive $19.95 for each $29.95 subscription fee received.
You can register online at www.readysetrescue.com or call 800-738-2665.
Please encourage friends and relatives to subscribe and remember to use our FosterCat ID C831 on all subscription orders!
---
The FosterCat Four
If you were to ask me what I like best about doing adoptions, I would respond without hesitation that it is having an adoptive family come back to us when they are ready to adopt again. If I serve a new recipe and everyone asks for seconds, I know they liked it. If people come back to adopt again, I have reason to believe that they trust FosterCat, that they respect our careful screening process, and that they know how much we care about the kitties.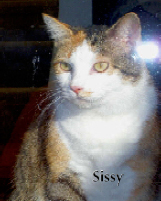 So I was really happy when Sue called me in the fall of 2011. She and her husband had adopted Sissy, (a calico of calicoes) from us in December of 2009. They had two other kitties at that time, but in true calico fashion, Sissy had nominated and elected herself queen of the house, and the other kitties acquiesced in her benevolent rule. Sue was now ready to welcome another feline into their family and hoped I could suggest one who would fit in well with a dominant female like Sissy. I suggested a few kitties and made arrangements for Sue to visit with them in their foster homes. She decided that Penny, a sweet natured, affectionate, orange tabby female would be perfect. Penny made a good adjustment to her new home and got on well with her three feline sisters. Sue was happy with Penny and I was happy to have placed another kitty into this loving home.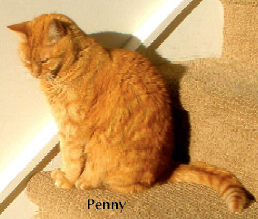 In September of this year, I received an email from Sue indicating that they had been visiting with Gabby at the Northway Mall PetSmart and were possibly interested in adopting her, if I thought she would be a good fit for their family. I called Sue and learned that their two older kitties had both passed away during the past year, the second, only about a month ago. She and her husband were still missing them very much and, in her words, didn't quite know what to do with themselves. They had wandered into the PetSmart one evening and Gabby had caught their eye. They had discussed it later over dinner and decided they were ready to adopt.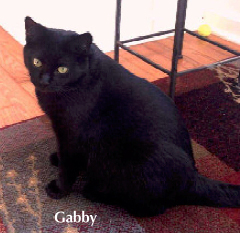 I told Sue that Gabby liked other kitties and I thought she would be a good fit. She said they would like to pick her up that Friday evening so they would have the weekend to work on introductions. I told Sue that I would call the PetSmart and authorize them to release Gabby to her on Friday and we could complete the adoption paperwork through the mail.
A day or two later I got another email from Sue. She had stopped by to visit Gabby and had succumbed to the beckoning paw and plaintive meow of Willow, the FosterCat kitty in the adjacent cage. "I just can't walk out with Gabby and leave her behind," she explained, "so we would like to adopt both of them."
She got no argument from me. We talked about whether I thought it would be better to bring them home together or stagger the introductions and we decided that it made more sense to get it over with all at once.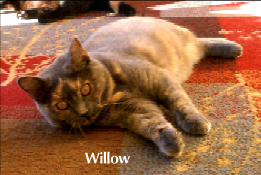 Surprisingly, laid back Penny was more upset by the arrival of her new adoptive siblings than Sissy; but then, cats do like to prove us wrong. Penny is doing much better now. Sissy and Gabby and Willow are having fun chasing and wrestling with each other and Sue says that sometimes Penny looks like she would like to join the fun, but hasn't done it yet. The others are learning that they better not leave any canned food in their bowls or Gabby will "Hoover it up." Willow is now affectionately known as the "Wild Child," as her recent lightening slide down the banister will attest. " I was afraid she was going to crash into the door," Sue told me, "but she just dropped to the floor and got up and walked away as if to say, "wow, that was fun!" "We have to ban her from the bedroom at night, or we can't get any sleep."
Sue and Jim may be lacking sleep, but they certainly aren't wanting for entertainment these days. "They keep us laughing, and we are so glad they are part of our family," said Sue when we talked last week.
We're glad too! How amazing, that in the providence of God, Sissy, who spent more than two years in a shelter cage before coming to FosterCat; Penny, who was dumped at the Humane Society because her family didn't have time for her; Gabby who was rescued from the streets; and Willow, who was rescued from an abusive situation, have all found their way to this wonderful home, where they will be safe and loved (and probably a little bit spoiled) for the rest of their lives. Is this a happy ending, or what!
Read More in FosterCat's Latest Newsletter.
---
Eighth Spaghetti Dinner Rocks!
That's right, cat lovers. Our dinner fund raiser was a smashing success, netting a record $5600 for the care of our kitties! In addition to a great meal, our friends and supporters enjoyed the opportunity to compete for more than 70 items in our Chinese Auction, browse the wares of vendors offering jewelry, catnip toys, books and cat themed art work, and even spend some time cuddling some sweet kittens available for adoption. It was great to see some familiar faces from previous years and some new ones, and we thank everyone who came out to support the FosterCat mission.
We also want to thank our chairperson, Erin Backowski, our Volunteer Coordinator, Dianne Gruendl, and all of the other volunteers who helped make the event such a success by making sauce, selling tickets, soliciting donations and/or helping out at the event, including Gary Benko, Nancy Carmen, Lois Wray, Ron Gruendl, Katie Tontala, Kathy Schwenning, Charles and Kathy Kacvinsky, Jim and Marsha Lash, Elaine Quinque. Kellie Gormly, Mary Ann Mitro, Laura Ammon, John Norris, Jonathan DeMille, Kim Zambrano, Denise Consonery, Bobbie Schiegg, Becky Brennan, Flora Brandi, John Sullivan, Chantal Brown, Norma Clouse, Ginnie Haid, Michelle Miller, Mike Weis, Tom and Audrey Franzetta, Barb Slade and Alexa Howald.
---
Attention Cat Lovers in the South Hills Area
FosterCat, Inc. is seeking responsible, cat loving caregivers to provide temporary love and care for homeless cats until permanent homes are found. FosterCat, Inc. is a local 501 (c)(3) non-profit organization. Contact FosterCat, Inc. at 412-481-9144 or click here to learn more about becoming a FosterCat foster parent and to submit a foster application.
---
Visit FosterCat's Adoptables at these places:
Come see some of our cats at the Cranberry, Monroeville, Northway Mall and Pleasant Hills PetSmart Locations!
---
Animal Abuse Hotline for Pennsylvania
The Pennsylvania Society for the Prevention of Cruelty to Animals has established a statewide toll-free hotline for reporting cases of animal abuse. Concerned citizens observing incidents of abuse may contact the Society at (866) 601-SPCA.
---
Our Mission
The mission of FosterCat Inc. is to develop and sustain an organization to provide temporary foster care for cats and kittens in private homes until permanent homes can be found.