Why FosterCat?
Foster Cat, Inc. is all about saving lives. It's as simple as that. We are an all-volunteer non-profit organization dedicated to the proposition that all cats and kittens deserve safe, loving, permanent homes.


Our foster parents provide temporary care for cats and kittens in their homes until they can be placed for adoption. Their compassion provides the second chance that so many stray, abandoned or homeless kitties need, and the satisfaction of knowing that they have helped save the lives of these helpless animals.


FosterCat provides training and support, medications, food and litter as needed, and absorbs all veterinary expenses associated with the care of our kitties. If you love kitties and would like to be a part of our lifesaving team, consider opening your heart and home to cats or kittens in need. We promise you won't regret it! If you can't foster, you can still help save lives as a volunteer or supporting member. Click on "How You Can Help", above, for more information.
---
Spaghetti Dinner update: Handmade Wall Quilt
Norma Clouse has just completed this lovely 37" square hand-made wall quilt. She will be offering it at the Spaghetti Dinner for $150, and 100% of that goes to support FosterCat, Inc., to help the many cats and kittens we rescue each year. FosterCat is a 501(c)(3) organization.
We would like to take this opportunity to thank Norma for all of her help and support of our organization!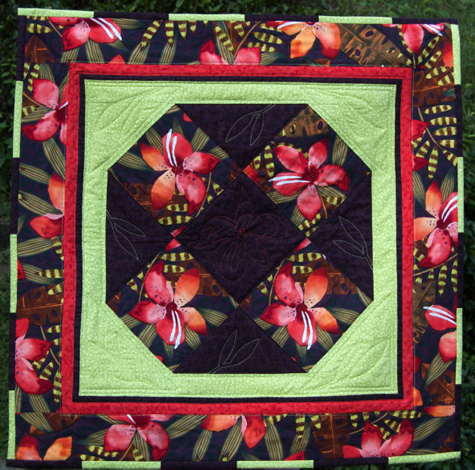 ---
Spaghetti Dinner update: EbiFountains donation
The FosterCat Spaghetti Dinner is coming upon us fast! I have written to Vera from Ebi Fountains and she has agreed to donate a ceramic water fountain for the kitties for our auction. Ebi has many wonderful fountains to choose from and all are high-quality, handmade and ceramic. You can mix and match colors and styles to suit your own taste. Take a look at their website: www.EbiFountains.com. We will have one up and running at the dinner!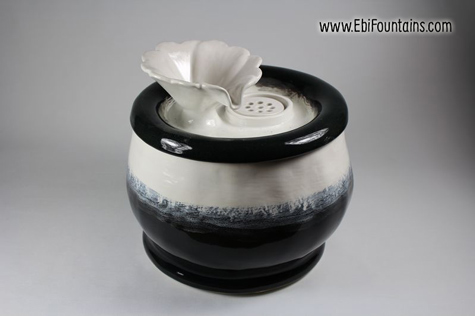 Note that our new dinner location is:
St. Catherine of Siena Catholic Church

1907 Broadway Avenue

Beechview, PA 15216
| | |
| --- | --- |
| DATE: | SEPTEMBER 13 |
| TIME: | 5 - 8 PM |
---
It Takes a Team
It's a little hard for me to believe that I have been writing the Litter Scoop every quarter for more than 13 years now! I've had the joy and privilege of sharing lots of stories about lots of kitties who have been saved from a variety of bad circumstances, many of them life and death situations. All of these animals have been able to enjoy the blessings of a safe and loving home, because someone, or many someones, took it upon themselves to get involved in their lives.
This story is about three kittens,who would not be alive today, if many somebodies had not pulled together to save them. It took the cooperation of a team, some of whom had never even met one another, some of whom had been involved in animal welfare and rescue for many years, each playing a part in the process that rescued these helpless creatures from the bleakest of conditions.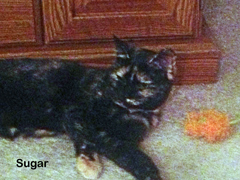 It all began this past October with an employee of a local meat packing plant. She and some coworkers had been feeding lunch meat scraps to a group of feral cats in the area. She became alarmed when the plant manager announced that a team of inspectors would be visiting the plant soon and that if the cats weren't gone by then, he would see to it that they were poisoned. She sent out a plea for help via Face book, which was spotted by an experienced cat rescue volunteer named Kristine. Kristine immediately visited the location and took three very young kittens home with her. All were extremely ill from malnutrition and respiratory infections, one so severely that she had to be euthanized. Kristine then contacted her friend Kim, who is also involved in local TNR (trap, neuter and return) activities. Kim took the kittens to her home for longer term foster care, as they were young enough to be socialized and eventually offered for adoption. She arranged for their additional veterinary needs through a local TNR clinic and contacted FosterCat to see if we could help with finding permanent homes when the kittens were ready.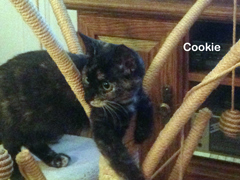 In the meantime, Kristine contacted a local humane agent to address the plight of the remainder of the feral colony at the plant. She and the agent visited the site to meet with the plant manager, explain the TNR process and get his permission to proceed. They also advised him that if any of the cats were poisoned, they would be paying him another visit. While on site, they spotted another young kitten, who was trapped and delivered to Kim to be reunited with her siblings.
As of this writing, the Mom cat and her older litter of kittens at the plant have all been trapped, sterilized and returned to that location. Outdoor shelters have been provided for them and they are now receiving proper nutrition. One of the kitties has become the unofficial plant mascot and regularly visits the employees at lunch time.
Kim continued to work with the three kittens she had taken home to foster. All began to recover with proper medication and adequate nourishment, but the little male, who came to be known as Lewis, showed signs of possible motor impairment. We arranged for another veterinary exam and consultation to try to determine the cause of the problem and the prognosis for Lewis over the near and long term. The vet could discover no physiological damage and therefore felt there was very good reason to believe that his condition would improve or resolve entirely as he grew older and stronger. The two little females, Sugar and Cookie, displayed no similar symptoms, suggesting that the problem was not related to distemper in their pregnant mom, which does sometimes cause permanent motor impairments in her offspring.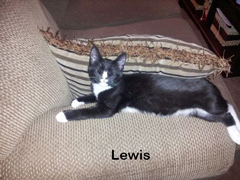 All three of these beautiful babies are now much loved members of their new families. Sugar and Cookie (now Luna and Molly) were adopted together and are keeping their new humans laughing at their playful antics, but enjoying their cuddly moments too. Lewis (now Eclipse) has new feline and canine buddies to play with, as well as his humans. When his new Mom recently sent us an update she wrote: "Eclipse has doubled in size and is getting along well with Chi Chi and Velvet. He has to be one of the most affectionate kitties I have ever known and we just love him." We were also glad to learn that although he is not quite as agile as some kitties when it comes to jumping, he is getting around just fine and "loving life".
Loving life... that is what our work and the work of all the others who helped not only these kittens, but also the feral kitties who remain at the plant, is all about. Working together we were able to prevent not only the needless suffering and deaths of these individuals, but through the TNR process, prevent the suffering of their future offspring. We salute all of our friends in the animal welfare community who are attacking the problem of cat overpopulation through proactive spay/neuter strategies like TNR and access to affordable spay/neuter alternatives for both owned and unowned cats and kittens. Together, we can continue to write happy endings for more kitties like these!
---
Claws for our Cause
We are pleased to announce that FosterCat raised $535.00 for the care of our cats and kittens at PetSmart's Pet Photos with Santa event this past December. We weren't sure how things would go, since PetSmart shortened the event and redesigned the format so that pet owners could bring their own cameras to take photos of their pets instead of having Adoption Partner volunteers taking the shots. However, the turn out was better than we expected and we didn't have to work nearly as hard!
Our sincere thanks go out to all those who braved the cold weather to come out and help with this event, including Gary Benko, Jim and Bev Lubbert, Ginny Hoffman, Jill Dugan, Stacy Davis, Kellie Gormly, Carolyn and Jim Kozlowski, Ron Gruendl, Norma Clouse, Megan and Nancy Carmen, Ginnie Haid, Alexa Howald and Barb Slade.
---
2014 FosterCat Spaghetti Dinner News
Just wanted to let everyone know in plenty of time that we have moved the 2014 FosterCat spaghetti dinner to a new location! We were finding it difficult to accommodate our attendees/vendors with enough seating and space at the dinner.
Our new location is:
St. Catherine of Siena Catholic Church

1907 Broadway Avenue

Beechview, PA 15216
| | |
| --- | --- |
| DATE: | SEPTEMBER 13 |
| TIME: | 5 - 8 PM |
We are very excited by this new location as the hall and kitchen is three times the size of Wallace with a stage, PA system, separate kitchen/serving area and plenty of tables to seat 200-300 people easily. What's more is that there is only one pair of steps down to the hall with a ramp right next to the stairs for people on walkers, canes, etc.
St. Catherine's is very easy to find as well. Exit the Liberty Tunnels on the south end onto West Liberty Avenue. Go along West Liberty for about a mile to Rohrich Cadillac (on the right). Turn right onto Pauline Avenue. Follow Pauline Avenue to the end. Turn right onto Broadway. You will see the church, which is at the corner of Broadway and Belasco.
If any of you know vendors that would like to set up a table, there is plenty of room to accommodate them. Please have them contact Barbara at 412-915-8106.
We will need volunteers to help sell tickets, set-up, clean-up, serve food, make sauce, organize volunteers, organize spreadsheet, Chinese auction, etc. so if any of you want to help, please let me know asap.
We are currently looking for restaurants/vendors to donate large dinner plates, salad bowls, silverware, butter pats, desserts, coffee/tea, lemonade and iced tea so if you have any connections to businesses that you think would like to help us, please have them contact Barbara at 412-915-8106.
Please mark your calendars for this important date!
---
New Rescue Magazine To Support FosterCat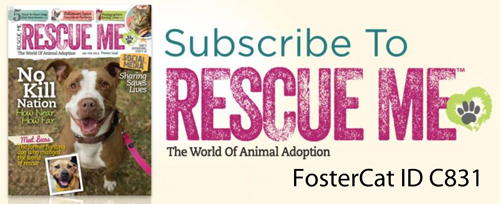 We have registered FosterCat as a charity for the new magazine "Rescue Me." Kellie Gormly, one of our volunteers, who is a journalist, will have a column in every issue!
It does not cost FC anything to register and if you are interested in subscribing, please reference FosterCat and the Rescue ID number for FosterCat C831. FosterCat will receive $19.95 for each $29.95 subscription fee received.
You can register online at www.readysetrescue.com or call 800-738-2665.
Please encourage friends and relatives to subscribe and remember to use our FosterCat ID C831 on all subscription orders!
---
Attention Cat Lovers in the South Hills Area
FosterCat, Inc. is seeking responsible, cat loving caregivers to provide temporary love and care for homeless cats until permanent homes are found. FosterCat, Inc. is a local 501 (c)(3) non-profit organization. Contact FosterCat, Inc. at 412-481-9144 or click here to learn more about becoming a FosterCat foster parent and to submit a foster application.
---
Visit FosterCat's Adoptables at these places:
Come see some of our cats at the Cranberry, Monroeville, Northway Mall and Pleasant Hills PetSmart Locations!
---
Animal Abuse Hotline for Pennsylvania
The Pennsylvania Society for the Prevention of Cruelty to Animals has established a statewide toll-free hotline for reporting cases of animal abuse. Concerned citizens observing incidents of abuse may contact the Society at (866) 601-SPCA.
---
Our Mission
The mission of FosterCat Inc. is to develop and sustain an organization to provide temporary foster care for cats and kittens in private homes until permanent homes can be found.