Why FosterCat?
Foster Cat, Inc. is all about saving lives. It's as simple as that. We are an all-volunteer non-profit organization dedicated to the proposition that all cats and kittens deserve safe, loving, permanent homes.


Our foster parents provide temporary care for cats and kittens in their homes until they can be placed for adoption. Their compassion provides the second chance that so many stray, abandoned or homeless kitties need, and the satisfaction of knowing that they have helped save the lives of these helpless animals.


FosterCat provides training and support, medications, food and litter as needed, and absorbs all veterinary expenses associated with the care of our kitties. If you love kitties and would like to be a part of our lifesaving team, consider opening your heart and home to cats or kittens in need. We promise you won't regret it! If you can't foster, you can still help save lives as a volunteer or supporting member. Click on "How You Can Help", above, for more information.
---
Pet Photos with Santa!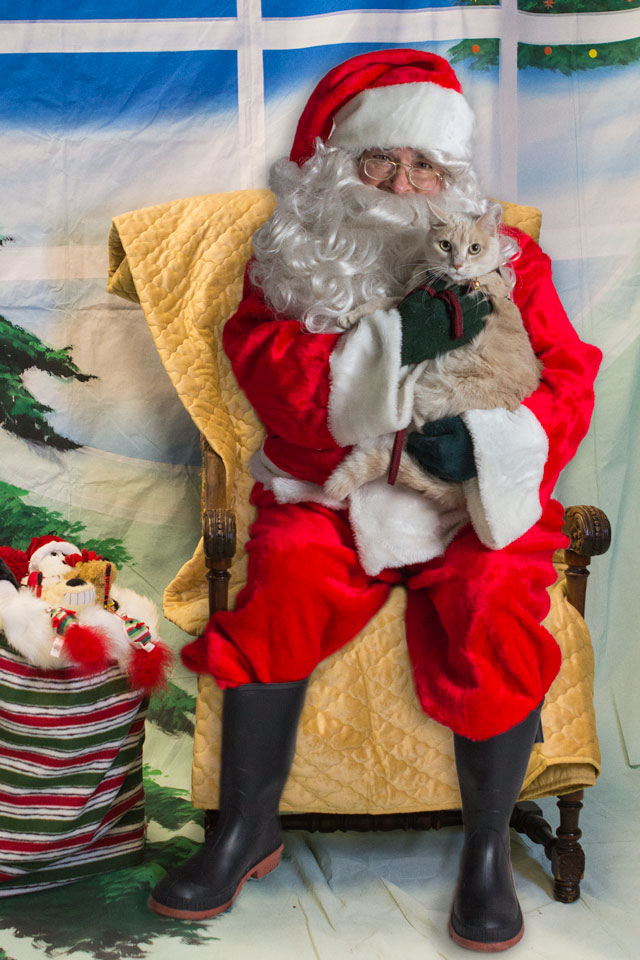 It's that time again! Yes, Pet Photos with Santa is once again coming just around the corner. Here are the places, dates and times for our annual photo sessions at area PetSmart stores. Spread the word and good cheer!
Cranberry PetSmart
Saturday, December 7
11-4 pm
Northway Mall PetSmart
Saturday, December 7
11-4 pm
Pleasant Hills PetSmart
Saturday, December 14
11-4 pm
---
Got Patience?
Patience. It's one of the virtues the Scriptures encourage us to strive for, and perhaps one of the most difficult to attain. We live in a culture that increasingly demands instant gratification and seems to have lost any conception of the notion that good things really do come to those who wait. Even the biblical Job, who was extolled for his patience, might have lost patience with the impatience of modern day Americans!
Still, I think it would not be an exaggeration to say that a little bit of patience goes a long way toward resolving all sorts of challenges we face in this life. That is certainly true in dealing with animals. So many times, all an animal needs to make a successful transition into a new home is a little bit of old fashioned patience.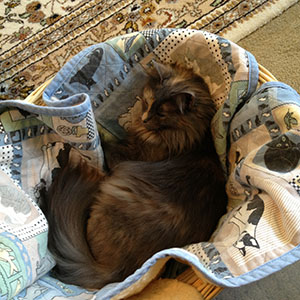 Bonnie would certainly be a case in point. She had a less than auspicious start in life. At the age of no more than a year or so, she found herself homeless and trying to raise a family of four with no visible means of support. Granted, her fortunes improved dramatically when she and her kittens were rounded up during a TNR trapping project in her neighborhood and suddenly found themselves transported to the warmth and safety of a FosterCat foster home. Of course, she was glad when all of her babies found loving adoptive homes over the next several months, but things got pretty discouraging when she had done multiple stints in a PetsMart Adoption Center without finding a home of her own.
The future suddenly looked brighter again one day early last February when Lisa entered the picture. Lisa wanted to honor the beloved kitty she had recently lost to lymphoma by adopting another kitty who needed a good home, AND had decided that she wanted Bonnie to be that kitty! And they all lived happily ever after, right?
Well, not exactly. Though Bonnie had been friendly and affectionate with her foster mom, she had spent most of her time in foster in either a single room or an adoption cage. When she arrived in her new home, she just didn't know how to deal with all of that space! So she did the only sensible thing for a cat to do under the circumstances – she headed for the rafters and there she determined to remain.
And what did Lisa do? Well, first let me tell you what she didn't do. She didn't call me in a huff and announce that since Bonnie had not jumped up and snuggled in her lap within five minutes of arriving in her new home, that she was simply not the right cat for her and would have to be returned. Nor did she call the fire department in a panic to rescue the cat from the rafters. She didn't even tell me about it until I called a week or so after the adoption was finalized as part of our normal follow up. And then, she simply related what had happened and advised me that Bonnie was now a part of her family and there was no way that she was giving her back, no matter how long it took for her to adjust to her new home. In short, she gave Bonnie exactly what she needed: time. She determined that she would be patient.
So how did things turn out? Here's a recent update from Lisa:
"Bonnie (now Kylie) is doing great and everyone in the family (with the exception of Kasey the cat) just loves her. For the most part, she continued to stay downstairs through the beginning of the summer (although she stopped traveling through the basement duct work – thank heaven). However, I had to travel for almost three weeks on business during July and that finally caused her to head upstairs to be with my folks. It was good for both sides, as now they really love her and she absolutely loves my father-- sleeps on his lap and won't even do that with me (although she does sleep on my bed at night!) She gets along especially well with Kirby, my Maine Coon. She is still shy around strangers, but what an absolute lovey dovey she is. I absolutely adore her!"
Yes, a good dose of patience was just what Bonnie needed … and don't we all? I don't know about you, but I hope I the next time I start to lose my patience, I'll remember the story of Lisa and Bonnie and maybe gain a little ground on Job.
Read More in FosterCat's Latest Newsletter.
---
FosterCat Welcomes New Web Master
We are pleased to announce that Mike Weis has joined the FosterCat team as our new web master. Mike responded to our plea in the June newsletter for a qualified volunteer to take over for Mark Byrne, who is looking forward to his new roll as a first time father this fall.
Mike, who has retired from IBM, but still likes to keep busy, brings a wealth of experience in communications and web design and maintenance to the table. He is already working on spiffing up and expanding FosterCat's Face Book page to help spread the word about cats available for adoption, low cost spay/neuter providers and other helpful information. Check it out! He'll also be working on ways to make our website more user friendly and accessible to a broader array of devices, such as I Pads and Smart phones.
All of us want to thank Mark Byrne for his faithful service these past several years. We could not have asked for a more willing, responsive and helpful volunteer to work with than Mark has consistently been and we wish him and his family much happiness.
---
Attention Cat Lovers in the South Hills Area
FosterCat, Inc. is seeking responsible, cat loving caregivers to provide temporary love and care for homeless cats until permanent homes are found. FosterCat, Inc. is a local 501 (c)(3) non-profit organization. Contact FosterCat, Inc. at 412-481-9144 or click here to learn more about becoming a FosterCat foster parent and to submit a foster application.
---
Visit FosterCat's Adoptables at these places:
Come see some of our cats at the Cranberry, Monroeville, Northway Mall and Pleasant Hills PetSmart Locations!
---
Animal Abuse Hotline for Pennsylvania
The Pennsylvania Society for the Prevention of Cruelty to Animals has established a statewide toll-free hotline for reporting cases of animal abuse. Concerned citizens observing incidents of abuse may contact the Society at (866) 601-SPCA.
---
Our Mission
The mission of FosterCat Inc. is to develop and sustain an organization to provide temporary foster care for cats and kittens in private homes until permanent homes can be found.