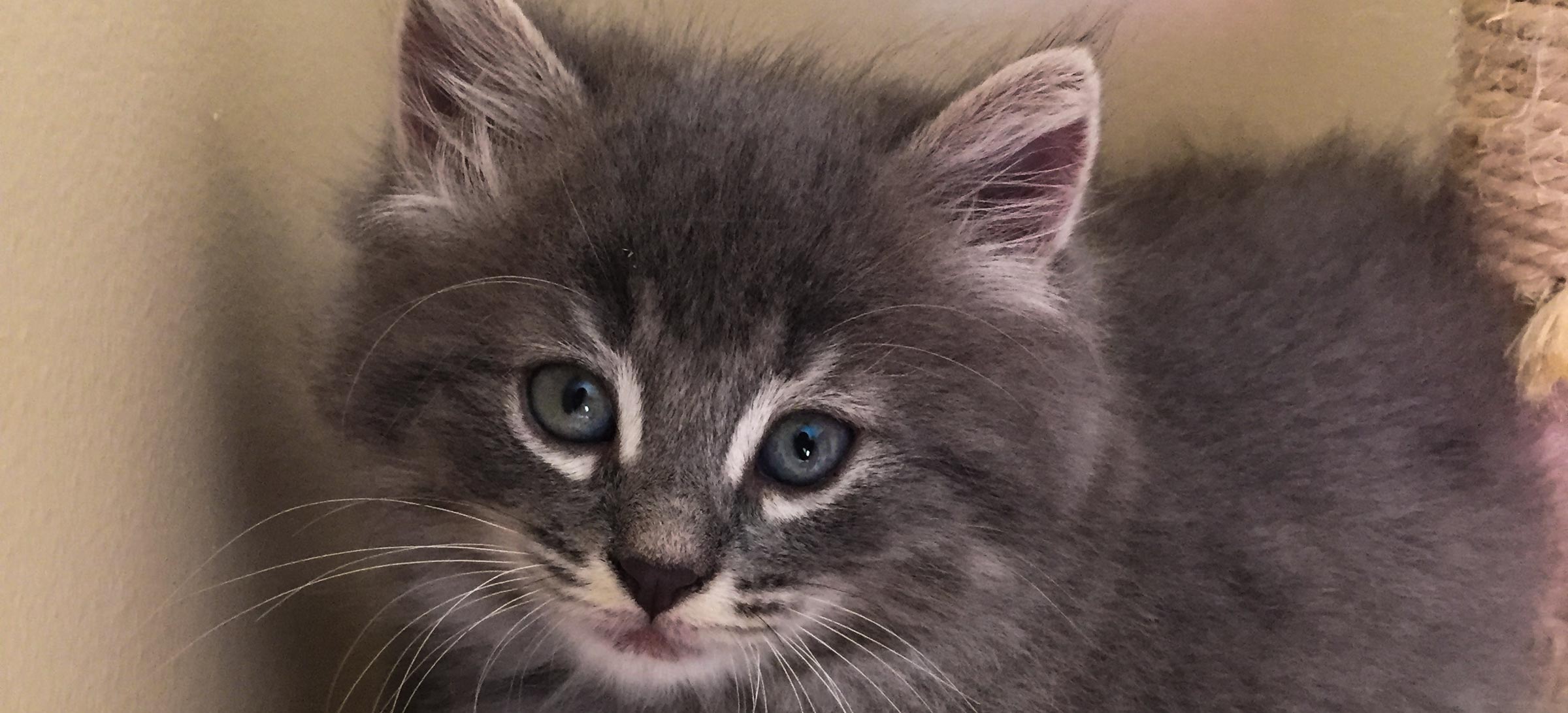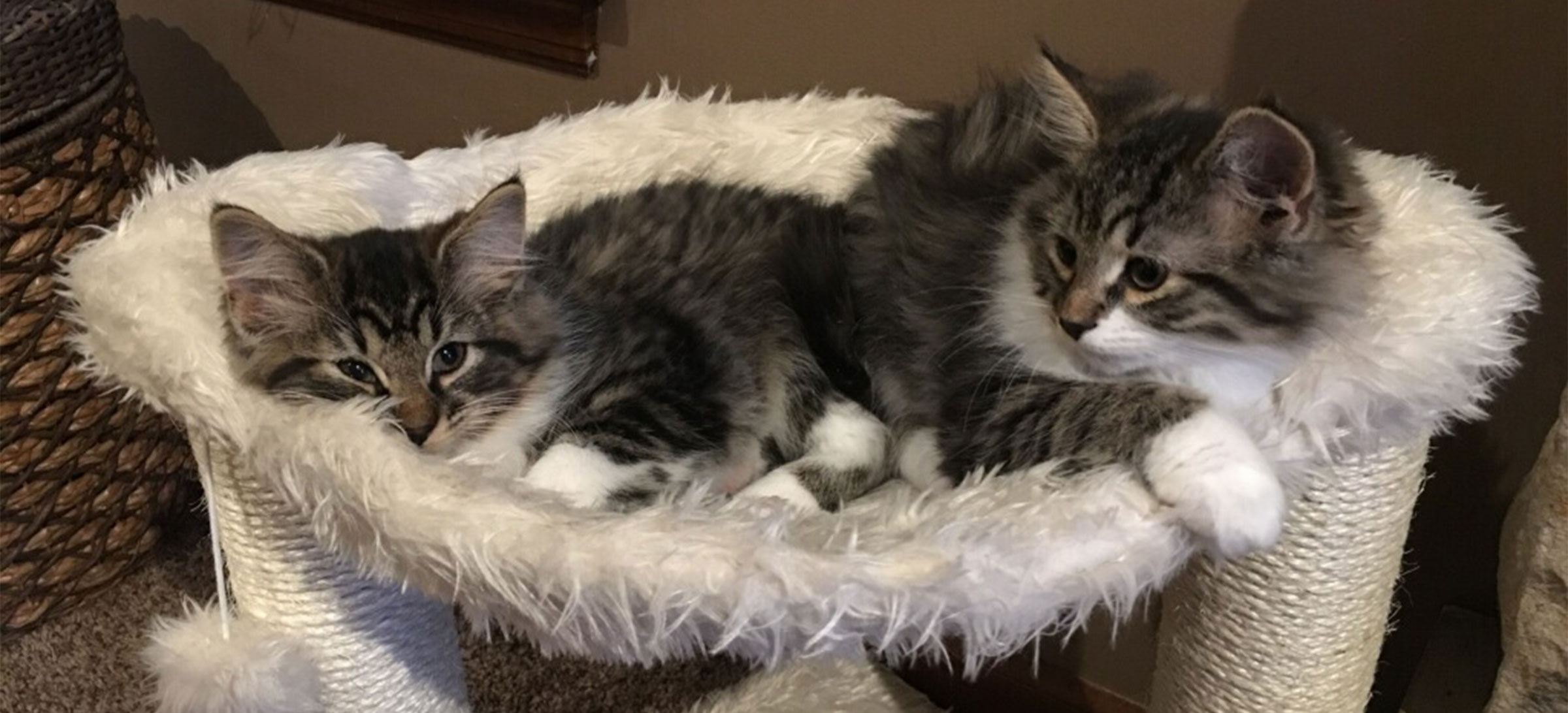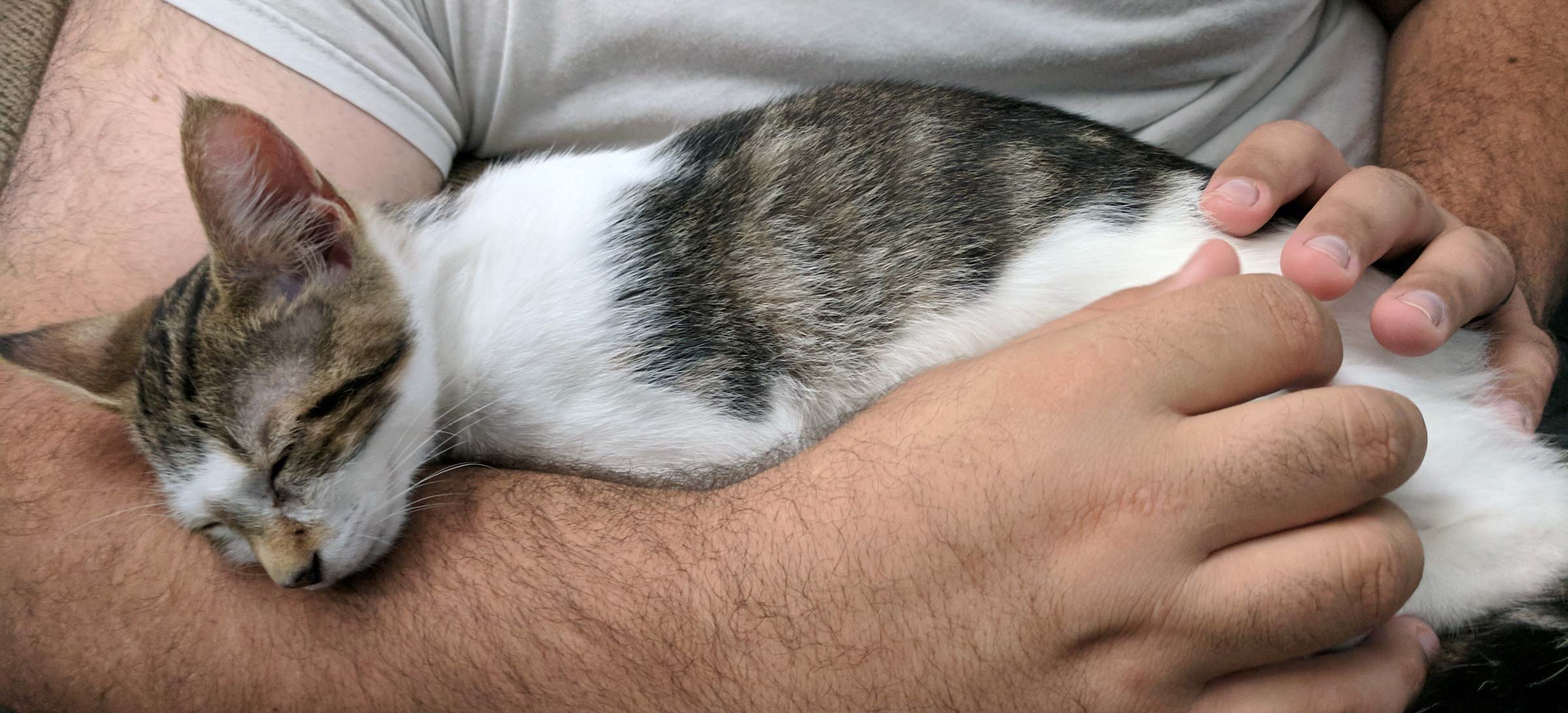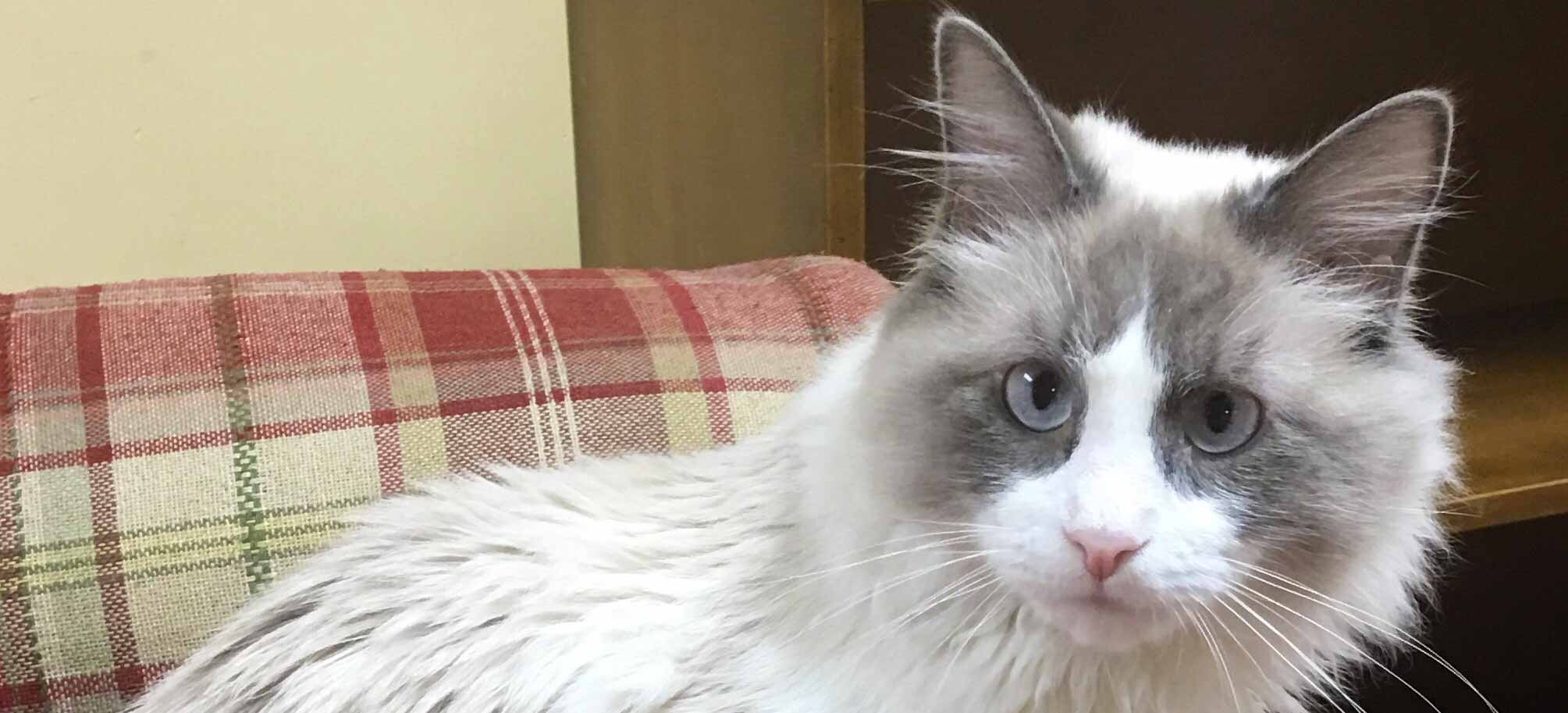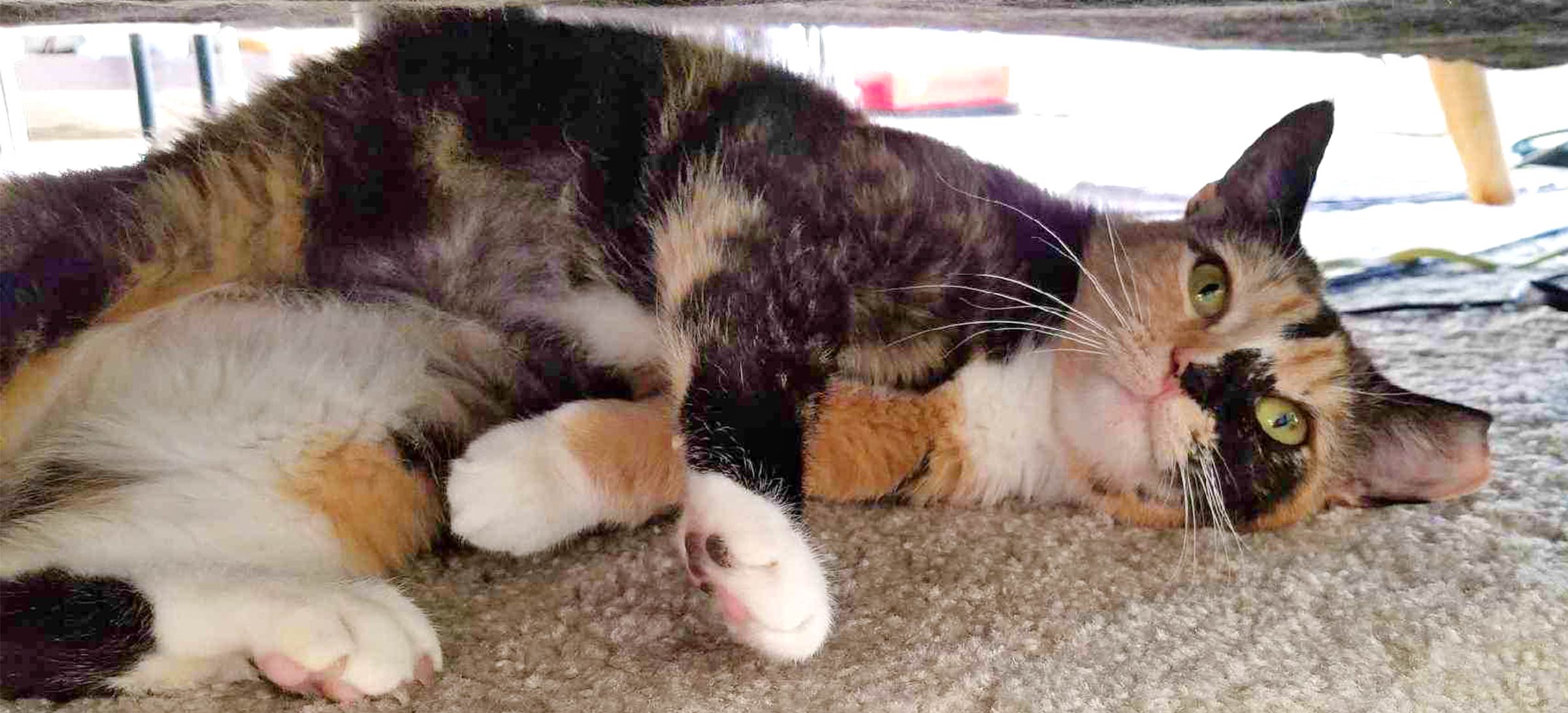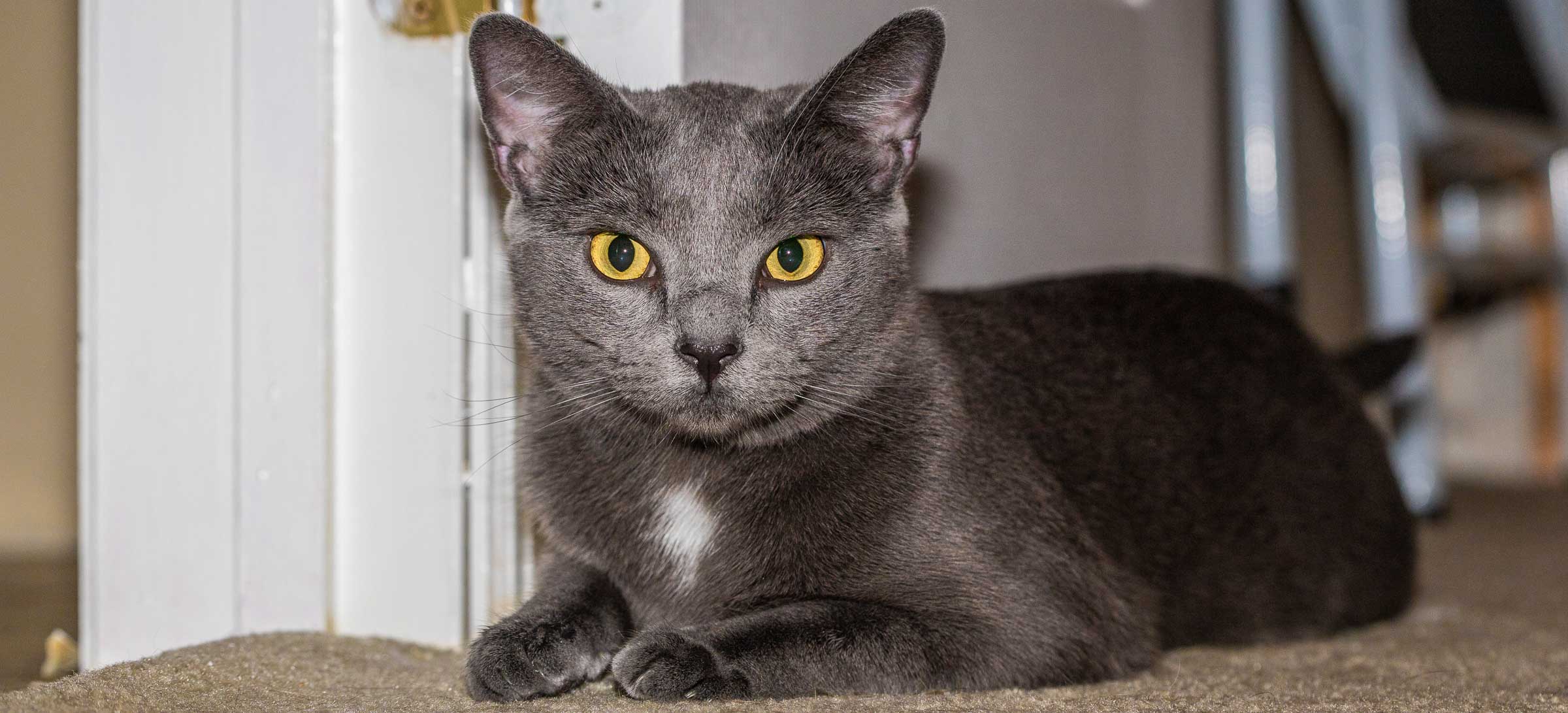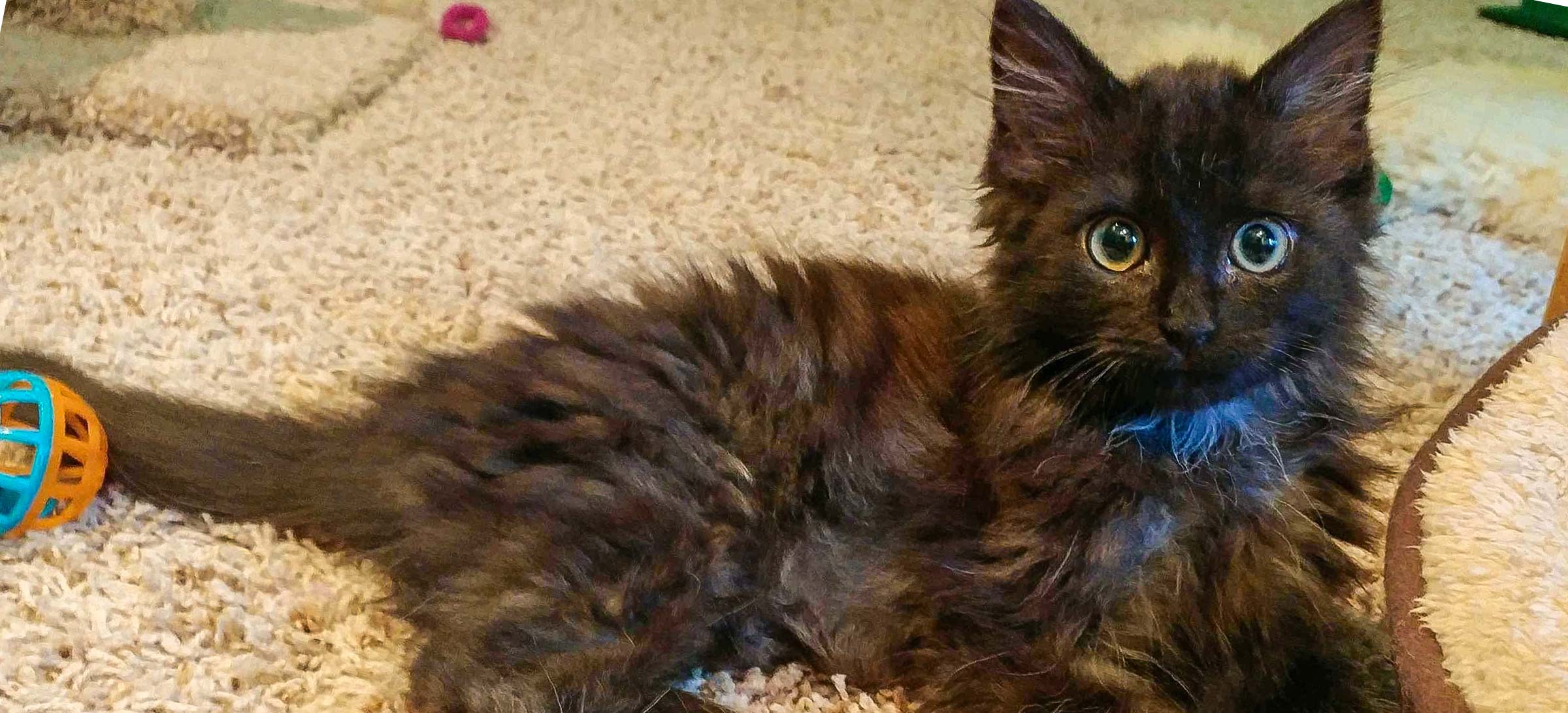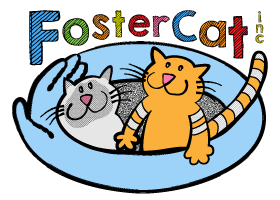 About FosterCat, Inc
Foster Cat, Inc. is all about saving lives. It's as simple as that. We are an all-volunteer non-profit organization dedicated to the proposition that all cats and kittens deserve safe, loving, permanent homes.
Our foster parents provide temporary care for cats and kittens in their homes until they can be placed for adoption. Their compassion provides the second chance that so many stray, abandoned or homeless kitties need, and the satisfaction of knowing that they have helped save the lives of these helpless animals.
FosterCat provides training and support, medications, food and litter as needed, and absorbs all veterinary expenses associated with the care of our kitties. If you love kitties and would like to be a part of our lifesaving team, consider opening your heart and home to cats or kittens in need. We promise you won't regret it! If you can't foster, you can still help save lives as a volunteer or supporting member. Check out our Fostering and Contribute options, above, for more information.
Shop Amazon Smile and Donate Extra to FosterCat!
Amazon Smile is a donation program where each shopper designates a charity and Amazon will donate a portion of sales to that charity. You can specify FosterCat, Inc as your charity! And for the next few days, donations are multiplied!

News Flash! Announcing the new FosterCat, Inc. Website
In keeping with our progress and our growing base of friends and supporters, FosterCat, Inc. is pleased to announce the debut of our new FosterCat, Inc. website!
You will see a brand new eye catching interface with many enhancements. Just to name a few:
Improved navigation, with a concise menu that you can use to find exactly what resource you need, such as information on fostering or adoption
New monthly cat rescue and adoption feature posting on our home page
User friendly format across all mobile devices, whether you're using your desktop, smartphone or tablet
Link to our Facebook page, which will continue to bring you the latest on our cat fosters, adoptions and events
Buy event tickets on line using our new convenient Paypal link. Now, you can not only donate on line at FosterCat.org, but purchase your event tickets well in advance of the event.
New alumni format by year. We're still in the process of updating and adding to our alumni page, so please stay tuned for updates.
Take a look around using the menu at the top of each page. On small screens the menu is that 3-bar icon (☰) in the upper right.
Comments and questions about the website itself (not about the kitties!) can be sent to webmaster@fostercat.org
Bingo Fundraiser Event
The buzz from the approximately 150 people who attended FosterCat's Bingo fundraiser on September 23rd was all very positive. We'll be posting more info and pictures as soon as we all catch our breath! Watch our Events page Past Events section for more info. Thanks to all who attended and volunteered to make this such a success, and congratulations to all our lucky winners!
Sweet, Sweet Sebastian
We receive many, many requests over the course of a few months' time, to help with stray cats and kittens that are abandoned outside. One request in particular truly stood out screaming "Help Me!" This request came in from a woman named Michelle D. who saw our Facebook page and thought we could help. It only took a moment to realize this cat was in danger and needed our immediate help.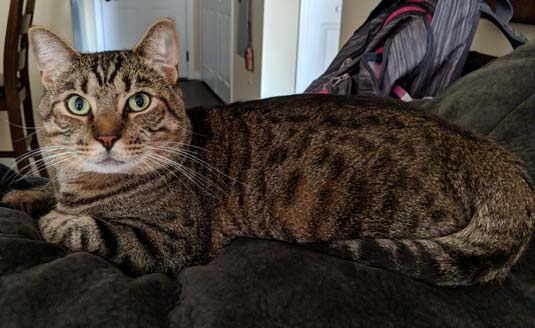 Michelle's teenage son happened to be walking in an alley in Natrona Heights when he saw some teenagers had somehow cornered a cat and noticed they were laughing and throwing rocks, bricks and water on the cat. The cat was frightened and cowering against the assault of rocks. Michelle's son ran home to tell his mother and she immediately told him to go and get the cat and bring it home. This brave boy stepped in front of the teenagers and told them the cat was his and to leave it alone. The boy immediately picked up the frightened cat and took it home, where they housed the cat in their garage until help could be found. "Sebastian" did not seem to be seriously hurt (other than a few cuts and bruises), so Michelle reached out to local rescue groups to help.
I knew that we were completely out of foster homes due to it being an extremely overwhelming kitten season, but I certainly could not turn my back on this poor cat. We had over 60 kittens in foster (not counting adults), but I was determined to make room somewhere! It must have been Sebastian's lucky day all around; first that this boy happened to be walking home through this particular alley to rescue this cat; and secondly that one of our former foster parents Jackie C. (who worked with me at PNC recently and moved to another state), had just moved back to Pittsburgh, and was available to foster this sweet cat. Sebastian was lethargic and had an upper respiratory infection which was treated immediately. Once vetted and settled in, he cuddled up with Jackie and was all too happy to be indoors and safe.
Well, I am happy to report that Jackie fell totally and hopelessly in love with Sebastian and decided to adopt him! Jackie states….
"We couldn't be happier to have Sebastian as part of our family. When we first started fostering him, he was a bit lethargic as he was fighting off an upper respiratory infection. He was also a bit jumpy due to being out on the streets for a while and being mistreated by some teenagers. We were told when we started fostering him that he was found by a boy who claimed Sebastian was his cat after he saw some other boys throwing rocks and water at him. I am thankful every day that the boy stood up to the others to protect Sebastian. I was pleasantly surprised that Sebastian was still so loving after all he had been through.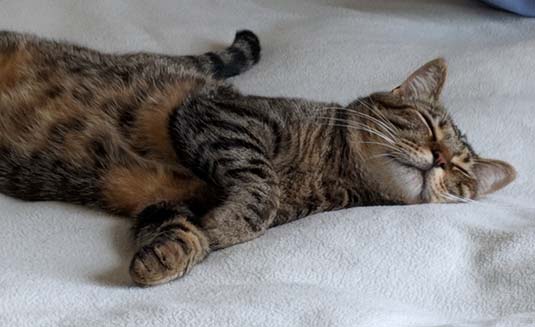 After some time to adjust and get better, he has really blossomed. He likes playing and running around like a crazy kitty. He loves to snuggle and is always there to greet us when we get home. He is loving the warmer weather since we open the windows and he can look out the screen door. He likes to sit in the window and chatter at the pigeons that sit on the roof. Whenever I work from home, he is my constant companion and only leaves to greet my boyfriend when he gets home. We are so glad that we became foster failures and have Sebastian in our lives."
Well there you have Sebastian's story. I often wonder how many other "Sebastian's" are out there that are sick, frightened, abused and need our help. This story and others like it makes me resolve to continue our work in helping these animals with all of the determination and resources that we have. "Saving lives…one cat at a time." That my friend is what FosterCat is all about.
Chewey's Chance
I oftentimes wonder how some of the cats/kittens we rescue that are friendly, end up as outside cats. Were they born outside? Did a relative pass away or go into a nursing home? Were they the victim of someone moving out of their house who did not want to take the cat with them? Were the owners caught by some landlord that did not permit cats? All of these scenarios are possibilities that run through my mind every time we rescue a cat outdoors. If only the animals could talk and let us know how they ended up fending for themselves, it would lighten our burden and help us try to understand what they have been through and what we can do to help. Chewey was one of those cats who was extremely friendly and for whatever reason, was outside trying to fend for himself.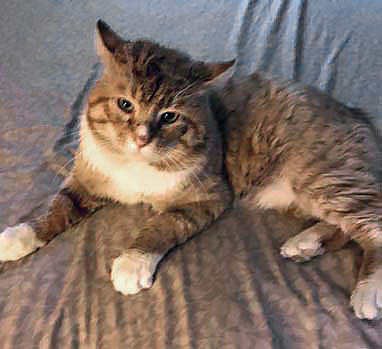 I first found out about Chewey from Jen who lives in Green Tree. She had been feeding Chewey on a regular basis since January and decided to get him an outdoor shelter since the temperatures had been frigid. When her landlord found out, he forbid her to leave food out so she would feed Chewey whenever she saw him. So as to not anger her landlord, Jen would immediately pick up the food after feeding. For that reason, Chewey would gulp the entire bowl of food down at one time because he knew he would not get any more for the day. He would then proceed to vomit all of the food due to gorging. This went on for some time and Jen was desperate to get him help. She decided to email the FosterCat website and I immediately called to see if we could help. I gave her my cell phone number and Jen then texted me a picture of Chewey. I could see that he was extremely sick with runny and red eyes, emaciated, not neutered and barely clinging to life on the streets alone. With Jen and Homeless Cat Management Team's expertise, they were able to get him in a carrier and bring him to us.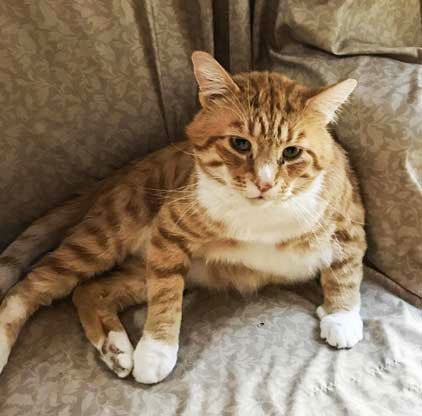 Chewey spent the first week in a cage in foster on meds for his upper respiratory infection. Within a few days, Chewey started spitting up large pools of blood. I immediately took him to our expert vet and after a few tests, it was determined that he had ingested something in his stomach which caused it to be sore and inflamed. There were no masses or tumors so that was a huge relief. Chewey was then given a ten day regimen on anti-nausea pills and an antibiotic shot for upper respiratory infection. It was also determined at that time that Chewey has FIV. Not many people know about FIV and there have been conflicting reports from various vets about this disease. Most vets now agree that as long as the cat is neutered, not fighting and kept strictly indoors, there is little chance that this disease can be transferred to any companion cat and they can live a normal lifespan. According to FIV Cat Rescue, FIV (Feline Immunodeficiency Virus) is a feline only, slow-acting virus. It is so slow to progress that most FIV+ cats die of old age. Once thought to be deadly and highly contagious, it has since been found to be neither.
Since being diagnosed, Chewey has been through multiple tests and vet visits and he is now getting the care he needs to be healthy and happy once again. Once gorging his food, Chewey now eats normal meals and doesn't gulp his food, thereby eliminating any stomach issues. Chewey's eyes, once red and runny, have healed and he is just one happy little guy! He chirps and runs around and plays all day. With your support, we are able to help countless cats like Chewey have a happy, healthy ending and that is what FosterCat is all about. Did I mention that Chewey is waiting patiently for his new forever home?
Thinking of Moving?
Housing issues are one of the leading causes of pet surrender. We now feature an up to date list of pet-friendly apartments in and around Pittsburgh. You can find it here and in the list of resources on our links page.
They also recently published a guide with tips on finding pet-friendly housing, that may also be helpful.
Attention, All Adopters
Many of you have kindly kept in touch with us via emailed updates and photos of your adopted kitties, and we hope you will continue to do so. Please note, however, that the email address to send them to has changed. Please make note of the change and direct all future emails/photo attachments to bsnowymarie@comcast.net. Thanks, and keep those updates coming. We love to receive them!
FosterCat, Inc
Copyright © 2018 · All Rights Reserved · Designed by Live Graphic Services