Why FosterCat?
Foster Cat, Inc. is all about saving lives. It's as simple as that. We are an all-volunteer non-profit organization dedicated to the proposition that all cats and kittens deserve safe, loving, permanent homes.


Our foster parents provide temporary care for cats and kittens in their homes until they can be placed for adoption. Their compassion provides the second chance that so many stray, abandoned or homeless kitties need, and the satisfaction of knowing that they have helped save the lives of these helpless animals.


FosterCat provides training and support, medications, food and litter as needed, and absorbs all veterinary expenses associated with the care of our kitties. If you love kitties and would like to be a part of our lifesaving team, consider opening your heart and home to cats or kittens in need. We promise you won't regret it! If you can't foster, you can still help save lives as a volunteer or supporting member. Click on "How You Can Help", above, for more information.
---
No Spaghetti Dinner this year
We regret that we must cancel our usual annual spaghetti dinner due to diminishing attendance and shortage of event volunteers.
---
A Future for Felix
It doesn't take a crystal ball to predict the futures of most cats born outside to stray or feral cats. With no reliable source of food, no shelter from inclement weather and no access to veterinary care, their prospects are uncertain at best and more likely than not, quite bleak. But sometimes the mysterious hand of Providence intervenes and lifts one of these hapless creatures out of his dark circumstances and rewrites the course his life will take. And so it was to be for Felix.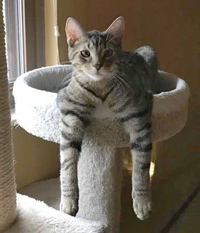 I was introduced to Felix early last October when I received an email from Tanya, a friend from my church, asking if any of its recipients might be interested in a kitten that had shown up at their home a few weeks earlier. She indicated that he was very sweet and friendly, but that due to allergies in the family, they could not bring him indoors. She hoped to find a good home for him with someone she knew before pursuing other alternatives. She attached two adorable photos of Felix with her sons, Emmitt and Wyatt, which clearly showed that Felix was a very handsome and people friendly kitten.
I responded that if there were no other takers, I would take Felix in and find him a good home through FosterCat. She was delighted with that offer and we made plans for her to bring Felix to me the day after next.
During the very brief interval between our email exchange and Tanya's arrival at my home, the perils of life in the great outdoors had caught up with Felix. When he emerged from the carrier, his right eye was badly swollen and seeping. But as he explored the foster room where he would be staying until I could get him scheduled for testing, vaccinations and neutering, he seemed otherwise healthy and not much bothered by his eye, though it looked nasty to us.
After Tanya and the boys had left, I decided to clean Felix's eye and perhaps get a better look at it, but he screamed so loudly when I touched the moist cotton ball to his eye that I decided I needed to take him to the vet instead, and was able to get an appointment for later that day. The vet was able to perform a general exam, but even after numbing Felix's eye, was not able to see much due to the swelling. He surmised that infection was causing the conjunctiva to swell to the extent that it was protruding from the eye, but couldn't be sure until the swelling had subsided enough for a closer exam. He tested Felix for FELV/FIV, treated him for worms and fleas, and sent me home with pain meds, an antibiotic ointment for the eyes and an oral antibiotic, which I started him on that afternoon.
As the days passed and the swelling began to subside, I was able to observe that there was a nodule of reddish tissue protruding from the center of Felix's right eyeball. Since it moved in concert with any movement of his eyeball, it was apparent that it couldn't be conjunctival tissue. I reported this to the vet and he suggested I bring Felix back for another exam. This time he was able to determine that Felix had suffered some sort of trauma to the eyeball, which had left a tear in the surface and some of the tissue from the interior of the eyeball had erupted through the tear. Yuk!
Despite the nasty appearance of this protruding tissue, the vet was pretty confident that Felix's vision had not been compromised and that he could surgically excise it and stitch up the tear with minimal risk to the sight in the eye. I made an appointment for the procedure the following week.
I had kept Tanya up to date on all of these developments and she and the boys had come to visit Felix a couple times. He had proven to be a real trooper about taking his meds, had let me trim his nails with no fuss and whenever I came into the room, immediately flopped down on his back for belly rubs.
By God's grace, Felix's surgery went smoothly and he recovered with no complications. I scheduled his neuter surgery and vaccinations and began to think seriously about finding a really special home for him. That's when I thought of Jeff and Deb.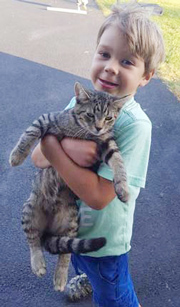 Deb had come to my home to meet and subsequently adopt a kitty from us in FosterCat's very early days. Andy was a special kitty and had turned out to be a great companion for their other kitty, Max. When Max had passed away, they had adopted a young male kitten named Remi from us to keep Andy company. Sadly, Andy had also passed away during the past year and I thought Felix would make a great companion for Remi. I knew Jeff and Deb would give him an excellent home and because Felix had been so affectionate and cuddly with me, I had hoped he would help fill the void left by Andy's passing.
In early November, when I called Deb to tell her about Felix and ask if she would like to meet him, she wasn't so sure that she was really ready for another cat. But she and Jeff were going to be in my area the following week and agreed to stop by. After spending about an hour with Felix sleeping in her lap, Deb began to succumb to his charms and Jeff thought he would be a perfect buddy for Remi.
Because they were going to be away around the holidays, Jeff and Deb thought it would be best to wait until after they returned to bring Felix home and begin to introduce him to his new family, so I had the joy of keeping him with me for a few weeks longer. Tanya and the boys were able to come and say their final goodbyes, knowing that Felix would be safe and loved for the rest of his life. As Deb put it when she recently emailed me some photos: " Six months later, we can't imagine our lives without Felix. He has been a great buddy for Remi and has given us much laughter and joy."
---
2017 Membership Drive Sets New Record
We are very pleased to announce that thanks to the faithfulness and generosity of our friends and supporters FosterCat was able to raise $4004.00 for the care of our kitties through this year's membership drive mailing, surpassing last year's record of $3780.00. We are sincerely grateful to all of you who became members or renewed your memberships for 2017.
---
Attention, All Adopters
Many of you have kindly kept in touch with us via emailed updates and photos of your adopted kitties, and we hope you will continue to do so. Please note, however, that Alexa's email address has changed. Please make note of the change and direct all future emails/photo attachments to her at ajhowald@yahoo.com. Thanks, and keep those updates coming. We love to receive them!
---
Eleventh Annual Spaghetti Dinner
We are pleased to announce that 2016's event raised almost $7000.00 for the care of the cats and kittens in our program. While this total was a bit lower than last year's, we are very thankful for all who came out to support our cause.
Our sincere thanks go to all of the organizations and individuals who generously donated food, supplies and/or cash, and to all of our faithful volunteers, who worked hard to help make the event a success, including: Laura Ammon, Norma Clouse, Denise Consonery, Irene Hardman, Elaine Quinque, Flora Brandi, John Sullivan, Kathy Conaway, Kathy Schwenning, Katie Tontala, Kim Zambrano, Mary Ann Mitro, Rose Weber, Audrey Franzetta, Dianne and Ron Gruendl, Barb Slade and Alexa Howald.
Together, you have all helped us to continue to pursue our mission of saving lives, one cat at a time. (Please excuse us if we missed your name and accept our sincere thanks).
---
Fund-raising Coordinator Needed
Fund-raising is a crucial component of the activities of all nonprofit organizations and FosterCat is no exception. None of us can fulfill our missions without the financial support of businesses and individuals who value the work we perform and are willing to invest financially in our continuing efforts.
We are looking for a special person to take on the role of Fund-raising Coordinator for FosterCat. That person would, first of all, believe in our mission and personally care about the welfare of homeless cats and kittens in our area. He/she would be a self starter, able to pick up the ball and run with it under the direction of, but with a minimum of day to day oversight by the FosterCat board. He/She would be creative in looking for new opportunities/venues for raising funds and suggesting ways to improve events we have already used. He/she would be skilled at recruiting and organizing the activities of volunteers, and soliciting donations and other types of support from individuals and businesses.
If you believe that you possess these skills/attributes and could pursue this job with sincere enthusiasm, please contact us via our website at www.fostercat.org.
---
---
New Rescue Magazine To Support FosterCat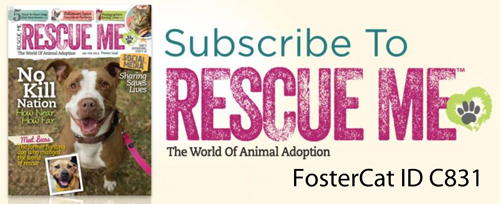 We have registered FosterCat as a charity for the new magazine "Rescue Me." Kellie Gormly, one of our volunteers, who is a journalist, will have a column in every issue!
It does not cost FC anything to register and if you are interested in subscribing, please reference FosterCat and the Rescue ID number for FosterCat C831. FosterCat will receive $19.95 for each $29.95 subscription fee received.
You can register online at www.readysetrescue.com or call 800-738-2665.
Please encourage friends and relatives to subscribe and remember to use our FosterCat ID C831 on all subscription orders!
---
Attention Cat Lovers in the South Hills Area
FosterCat, Inc. is seeking responsible, cat loving caregivers to provide temporary love and care for homeless cats until permanent homes are found. FosterCat, Inc. is a local 501 (c)(3) non-profit organization. Contact FosterCat, Inc. at 412-481-9144 or click here to learn more about becoming a FosterCat foster parent and to submit a foster application.
---
Visit FosterCat's Adoptables at these places:
Come see some of our cats at the Cranberry, Monroeville, Northway Mall and Pleasant Hills PetSmart Locations!
---
Animal Abuse Hotline for Pennsylvania
The Pennsylvania Society for the Prevention of Cruelty to Animals has established a statewide toll-free hotline for reporting cases of animal abuse. Concerned citizens observing incidents of abuse may contact the Society at (866) 601-SPCA.
---
Our Mission
The mission of FosterCat Inc. is to develop and sustain an organization to provide temporary foster care for cats and kittens in private homes until permanent homes can be found.