Why FosterCat?
Foster Cat, Inc. is all about saving lives. Itís as simple as that. We are an all-volunteer non-profit organization dedicated to the proposition that all cats and kittens deserve safe, loving, permanent homes.


Our foster parents provide temporary care for cats and kittens in their homes until they can be placed for adoption. Their compassion provides the second chance that so many stray, abandoned or homeless kitties need, and the satisfaction of knowing that they have helped save the lives of these helpless animals.


FosterCat provides training and support, medications, food and litter as needed, and absorbs all veterinary expenses associated with the care of our kitties. If you love kitties and would like to be a part of our lifesaving team, consider opening your heart and home to cats or kittens in need. We promise you won't regret it! If you can't foster, you can still help save lives as a volunteer or supporting member. Click on "How You Can Help", above, for more information.
---
Thoroughly Marvelous Millie
Some of my fondest childhood memories involve bedtimes, when my mom would read us a story before tucking us in for the night. We loved the tried and true fairy tales like Jack and the Beanstalk, Hansel and Gretel, The Three Little Pigs. Of course, we loved it when the heroes reached their happily ever after endings, but the more dangers they encountered and overcame on their way to those happy endings, the better. All those trials and tribulations made the happy ending that much happier.
Well, Iím a long way past bedtime stories, but Iím still a sucker for happy endings and Millieís story certainly qualifies. And itís filled with those disasters barely averted and obstacles overcome that make for the best stories. See if you donít agree.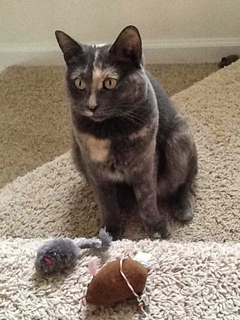 In the fall of 2013, Millie was doing her best to survive on the streets of Aspinwall. Things had actually begun to look up for her, as an elderly lady had begun putting food out on her porch and allowing Millie and some other homeless kitties to eat there. Then one day, in her excitement to get to the food, Millie had accidentally scratched the lady. It was just a little scratch, but the lady went to Med Express and was told that the cat who had scratched her could be rabid and that she should contact the authorities to see if the cat could be trapped and checked out.
The next day the lady contacted the Aspinwall Police Department. It just so happened that one of their meter maids knew a lady who had worked at her bank who had been involved in rescuing kitties, so she gave her name to the policeman handling the inquiry. When he contacted Kim, he told her that they had trapped a potentially rabid feral cat and had taken her to a local vet to be quarantined for 10 days. At the end of the quarantine period Millie was pronounced free of rabies. (Now that is a huge disaster averted.) Hoping for the best, Kim asked the lady who had been feeding Millie if she could take her in, but she didnít want Millie coming around anymore. The police wanted to re-release her to fend for herself on the streets, but Kim told them they should at least have Millie spayed before releasing her. When they declined to invest any more funds in the cat, Kim stepped in and took Millie to a Homeless Cat Management Team free clinic to be spayed and tested and vaccinated. At this point, it became apparent that Millie was not feral, but actually quite friendly, so Kim contacted FosterCat to see if we could help find her a home. Having successfully navigated the dangerous waters of the quarantine cage, then narrowly escaping the threat of being returned to the streets to produce countless litters of kittens, Millie was ready to begin the next leg of her journey: the quest for her happily ever after home.
Millie spent a few weeks enjoying love and attention in her foster home before embarking on her first trip to a PetSmart Adoption Center. Of course she wasnít thrilled about returning to a cage, but she put her best paw forward nonetheless, hopeful that this leg of the journey would be mercifully brief. But alas, it was not to be. Millie moved back and forth from cage to foster home to cage several times during the ensuing months, but no one applied to adopt her.
Then one day in early May, 2014, Kim received a call from a dog sitter friend. One of the dog sitterís clients had recently lost her beloved canine companion of many years and was considering the possibility of adopting a cat, as her current work schedule would make caring for a dog difficult. Did Kim have any suggestions of kitties who would do well in a quiet adult home?
It seemed an ideal situation for Millie, who was very loving, but would probably be overwhelmed in a home with the hustle and bustle of small children or multiple pets. We contacted Anne, the potential adopter, to give her some information about Millie. We suggested that since she hadnít had any previous experience with kitties, that she take Millie into her home for a trial foster period to see how they would get on with each other. When she agreed that this sounded like a good idea, I visited her to complete the foster paperwork.
Due to some previous commitments, Anne needed to wait several months before bringing Millie home, so Millie waited patiently in her foster home. Finally, the big day came and Kim brought Millie to Anneís home.
Things seemed to be going well until Millie started throwing up repeatedly. Anne hadnít dealt with this all too common feline phenomenon with her dogs and was concerned that Millie was ill. We told her that we felt pretty certain that Millieís digestive difficulties were related to the stress and excitement of her new home rather than an illness. We suggested that she stop giving Millie canned food for a time to see if that would solve the problem. Anne also decided to try a different dry formula to see if that would help. Happily, the combination of the two seemed to do the trick. Millie stopped upchucking and the near disaster of her return to foster care was averted.
So now what? What about the happily ever after part? Has Millie finally found her forever home, or do more obstacles lie ahead, threatening to derail her journey? Letís let Anne fill in the rest of Millieís story: ďShe is a little joy! She loves to sit and look out the window from her perch. She has her collection of toys and every morning and evening we play a game of fetch with her little mice. She sleeps right next to me every night and lays on top of my head when she wants me to wake up. She comes out to greet my friends when they come to visit. She is just the sweetest thing and Iím so glad she is part of my life.Ē
Sounds like a happy ending to me. Thoroughly marvelous, Millie!
---
Help Kitties While You Shop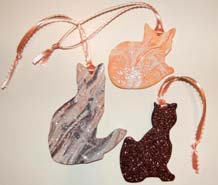 If youíre still working on your holiday shopping list, please consider purchasing hand-crafted jewelry or holiday ornaments from Catmint Creations, LLC, owned and operated by FosterCat volunteer Norma Clouse. Norma formed the company in 2012 to support local animal rescue and welfare groups in the Pittsburgh area, donating 25% of gross sales to agencies chosen by purchasers.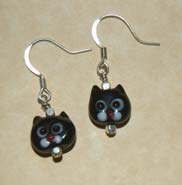 Orders can be placed through the companyís website at www.etsy.com/shop/CatmintCreations. A wide variety of items are available, in addition to those pictured here, including a lovely wall quilt featuring red lilies. The entire purchase price of $150 for this item will be directed to FosterCat, Inc. Purchasers of other items may direct the donation of partial sale proceeds to FosterCat in the Message field at checkout. Norma is offering a 10% discount on all purchases (other than the quilt) designating FosterCat as the recipient organization from now through December 31. Simply enter FosterCat in the coupon code field at check out to receive the discount.
Thank you, Norma, for helping us continue to help the kitties.
---
Ninth Spaghetti Dinner Sets New Record
Yes, we did it again! Thanks to a lot of hard work and the generosity of our volunteers and supporters, FosterCat netted a whopping $8200.00 for the care of our cats and kittens from this yearís event, surpassing 2013ís record of $5600.00 by nearly 50%. In addition to the proceeds of record ticket sales, we also raised a record amount from the Chinese auction and sale of logo and vendor items, as our new location at St. Catherineís provided increased space to accommodate additional diners and vendors.
We send our thanks to all who came out to support us in this important event. We also thank all those who helped by donating food, supplies or auction items, selling tickets, or working at the event, including volunteers Gary Benko, Lois Wray, Katie Tontala, Kathy Schwenning, Kathy Kacvinsky, Elaine Quinque, Flora Brandi, Denise Consonery, Mary Ann Mitro, Linda and Sam Caputo, Laura Ammon, Mike Weis, Ginny Haid, Kim Zambrano, Michelle Dunn, Teri Koms, Rose Weber, Bobbie Schiegg, Audrey Franzetta, Ron and Dianne Gruendl, Barbara Slade and Alexa Howald.
We are especially grateful to Barb Slade and Dianne Gruendl, who spent countless hours soliciting donors, organizing the auction, communicating with vendors and handling many other details.
---
New Rescue Magazine To Support FosterCat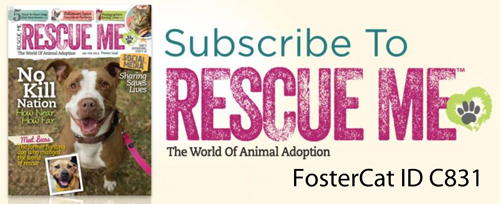 We have registered FosterCat as a charity for the new magazine "Rescue Me." Kellie Gormly, one of our volunteers, who is a journalist, will have a column in every issue!
It does not cost FC anything to register and if you are interested in subscribing, please reference FosterCat and the Rescue ID number for FosterCat C831. FosterCat will receive $19.95 for each $29.95 subscription fee received.
You can register online at www.readysetrescue.com or call 800-738-2665.
Please encourage friends and relatives to subscribe and remember to use our FosterCat ID C831 on all subscription orders!
---
Attention Cat Lovers in the South Hills Area
FosterCat, Inc. is seeking responsible, cat loving caregivers to provide temporary love and care for homeless cats until permanent homes are found. FosterCat, Inc. is a local 501 (c)(3) non-profit organization. Contact FosterCat, Inc. at 412-481-9144 or click here to learn more about becoming a FosterCat foster parent and to submit a foster application.
---
Visit FosterCat's Adoptables at these places:
Come see some of our cats at the Cranberry, Monroeville, Northway Mall and Pleasant Hills PetSmart Locations!
---
Animal Abuse Hotline for Pennsylvania
The Pennsylvania Society for the Prevention of Cruelty to Animals has established a statewide toll-free hotline for reporting cases of animal abuse. Concerned citizens observing incidents of abuse may contact the Society at (866) 601-SPCA.
---
Our Mission
The mission of FosterCat Inc. is to develop and sustain an organization to provide temporary foster care for cats and kittens in private homes until permanent homes can be found.