Why FosterCat?
Foster Cat, Inc. is all about saving lives. It's as simple as that. We are an all-volunteer non-profit organization dedicated to the proposition that all cats and kittens deserve safe, loving, permanent homes.


Our foster parents provide temporary care for cats and kittens in their homes until they can be placed for adoption. Their compassion provides the second chance that so many stray, abandoned or homeless kitties need, and the satisfaction of knowing that they have helped save the lives of these helpless animals.


FosterCat provides training and support, medications, food and litter as needed, and absorbs all veterinary expenses associated with the care of our kitties. If you love kitties and would like to be a part of our lifesaving team, consider opening your heart and home to cats or kittens in need. We promise you won't regret it! If you can't foster, you can still help save lives as a volunteer or supporting member. Click on "How You Can Help", above, for more information.
---
10th Annual Spaghetti Dinner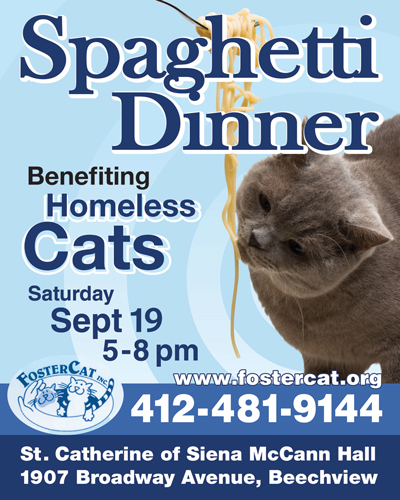 Mark your calendars for Saturday, September 19, and come out to enjoy a good meal and help FosterCat raise funds to care for more kitties. Dinner will be served from 5:00 pm to 8:00 pm at St. Catherine of Siena McCann Hall at 1907 Broadway Avenue in Beechview. Pasta with meat or meatless sauce, salad, rolls, dessert and beverage will be served, and takeout will be available. Many cat themed items will be on hand for purchase, and more great items will be available in our Chinese Auction again this year.
Tickets are $9.00 for adults, $5.00 for children 5 years old or younger.
---
Be Mine, Valentine!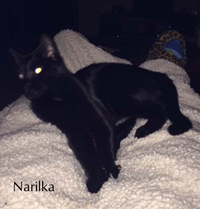 Valentine's Day is surely one of the happiest holidays of the year, surrounded as it is with thoughts and expressions of love, affection and gratitude. But Valentine's Day 2015 was an especially happy day for all of us at FosterCat, because on that day, FOUR of our kitties were officially adopted into their new families. This is truly a cause for celebration and we'd like to share our joy with you by telling you a little about each of these four special felines.
Narilka and eight other kitties came to FosterCat from a terrible hoarding situation. She is now enjoying life with her new family, who think she's the best. "I've never been a fan of black cats," says her adoptive mom, " but Narika has converted me. She loves people and is always looking to make a new friend. She loves exploring every nook and cranny in our home, leaps like a panther, and perches on top of the fish tank with her paw in the water. She is always making us laugh!"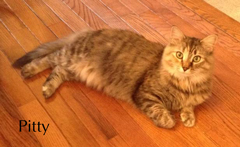 Snickers (now Pitty) who was rescued from a feral colony, settled in with her new family almost immediately. "I think Pitty thinks she's a dog. She follows us everywhere and is super friendly and great with our kids. We love her!"
Niko was born into an established, well managed feral colony, but was being picked on by some of the other cats. A neighbor who witnessed this "bullying" took him home and posted his photo on face book. A friend of Niko's adoptive dad, who knew he was looking for a male kitten to adopt, forwarded Niko's photo to him, and the rest, as they say, is history. Once he was settled in his new apartment, he brought Niko home as his Valentine's Day present to himself.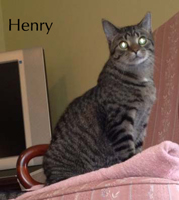 Henry was also rescued from the streets. His adoptive Mom, who had adopted from FosterCat before, had actually visited one of our foster homes that day to meet another cat who was looking for a home. That cat didn't seem like the right one, but when she stopped at PetSmart on her way home to buy some food for her other kitties, she spotted Henry and fell in love at first sight. Of course, that was entirely appropriate, since it was Valentine's Day. "Henry is almost homely, but that is what makes him so cute", writes his adoptive mom. "He is very lanky and has the longest, skinniest cat tail I have ever seen. But he has an absolutely beautiful face and the greenest eyes, and is very sweet, when he wants to be."
All in all, I'd say Cupid did a pretty good job of finding four wonderful homes for four wonderful kitties, wouldn't you?
---
2015 Membership Drive Ties All Time Record
Yes, friends and supporters, you've done it again. Thanks to your loyalty and generosity, our 2015 Membership Campaign raised $3900.00, just over $200.00 shy of our all time record of $4130.00 last year.
We are truly grateful that so many fellow cat lovers share our concern for the welfare of homeless cats and kittens and are willing to express that concern with their financial resources. We send our sincere thanks to all of you who became members or renewed your memberships to help us keep on saving lives, one cat at a time.
---
Help Kitties While You Shop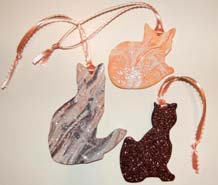 If you're still working on your holiday shopping list, please consider purchasing hand-crafted jewelry or holiday ornaments from Catmint Creations, LLC, owned and operated by FosterCat volunteer Norma Clouse. Norma formed the company in 2012 to support local animal rescue and welfare groups in the Pittsburgh area, donating 25% of gross sales to agencies chosen by purchasers.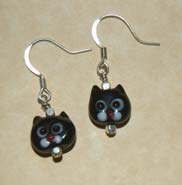 Orders can be placed through the company's website at www.etsy.com/shop/CatmintCreations. A wide variety of items are available, in addition to those pictured here, including a lovely wall quilt featuring red lilies. The entire purchase price of $150 for this item will be directed to FosterCat, Inc. Purchasers of other items may direct the donation of partial sale proceeds to FosterCat in the Message field at checkout. Norma is offering a 10% discount on all purchases (other than the quilt) designating FosterCat as the recipient organization from now through December 31. Simply enter FosterCat in the coupon code field at check out to receive the discount.
Thank you, Norma, for helping us continue to help the kitties.
---
New Rescue Magazine To Support FosterCat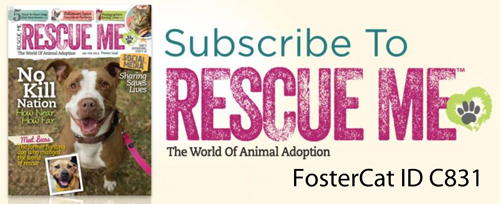 We have registered FosterCat as a charity for the new magazine "Rescue Me." Kellie Gormly, one of our volunteers, who is a journalist, will have a column in every issue!
It does not cost FC anything to register and if you are interested in subscribing, please reference FosterCat and the Rescue ID number for FosterCat C831. FosterCat will receive $19.95 for each $29.95 subscription fee received.
You can register online at www.readysetrescue.com or call 800-738-2665.
Please encourage friends and relatives to subscribe and remember to use our FosterCat ID C831 on all subscription orders!
---
Attention Cat Lovers in the South Hills Area
FosterCat, Inc. is seeking responsible, cat loving caregivers to provide temporary love and care for homeless cats until permanent homes are found. FosterCat, Inc. is a local 501 (c)(3) non-profit organization. Contact FosterCat, Inc. at 412-481-9144 or click here to learn more about becoming a FosterCat foster parent and to submit a foster application.
---
Visit FosterCat's Adoptables at these places:
Come see some of our cats at the Cranberry, Monroeville, Northway Mall and Pleasant Hills PetSmart Locations!
---
Animal Abuse Hotline for Pennsylvania
The Pennsylvania Society for the Prevention of Cruelty to Animals has established a statewide toll-free hotline for reporting cases of animal abuse. Concerned citizens observing incidents of abuse may contact the Society at (866) 601-SPCA.
---
Our Mission
The mission of FosterCat Inc. is to develop and sustain an organization to provide temporary foster care for cats and kittens in private homes until permanent homes can be found.