Why FosterCat?
Foster Cat, Inc. is all about saving lives. It's as simple as that. We are an all-volunteer non-profit organization dedicated to the proposition that all cats and kittens deserve safe, loving, permanent homes.


Our foster parents provide temporary care for cats and kittens in their homes until they can be placed for adoption. Their compassion provides the second chance that so many stray, abandoned or homeless kitties need, and the satisfaction of knowing that they have helped save the lives of these helpless animals.


FosterCat provides training and support, medications, food and litter as needed, and absorbs all veterinary expenses associated with the care of our kitties. If you love kitties and would like to be a part of our lifesaving team, consider opening your heart and home to cats or kittens in need. We promise you won't regret it! If you can't foster, you can still help save lives as a volunteer or supporting member. Click on "How You Can Help", above, for more information.
---
Spaghetti Dinner update: Handmade Wall Quilt
Norma Clouse has just completed this lovely 37" square hand-made wall quilt. She offered it at the Spaghetti Dinner. It is still available for $150, and 100% of that goes to support FosterCat, Inc., to help the many cats and kittens we rescue each year.
Norma is offering $20 worth of merchandise from her Web shop Catmint Creations along with the purchase of the quilt. You can find her shop at www.etsy.com/shop/CatmintCreations.
FosterCat is a 501(c)(3) organization. Contact us if you're interested and we'll get you in touch with Norma.
We would like to take this opportunity to thank Norma for all of her help and support of our organization!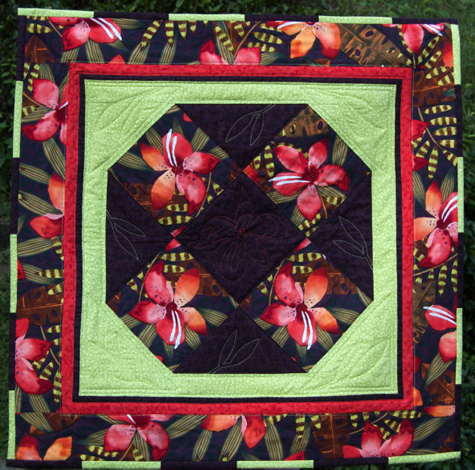 ---
Safe and Sound
There was nothing extraordinary about Marcy's origins. She and six other kittens came to FosterCat from a routine trapping foray in McKees Rocks in May, 2013, when they were about two weeks old. Their moms were sterilized at the Homeless Cat Management Team clinic and re-released to their caretakers and the kittens went home with FosterCat mom and daughter foster team, Michelle and Eileen.
All of the kittens appeared healthy and became well socialized over the ensuing months. Once old enough to be tested, altered and vaccinated, we began to display them in groups of two or three at a time in several local PetSmart stores, and in due course Lucy, Sally, Penny, Sheldon, Leonard and Amy were all adopted and became much loved members of their new families.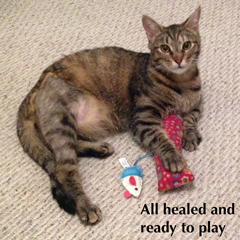 Things didn't go quite so smoothly for Marcy. During the fall and winter months, her foster moms had noticed a limp in her gait and observed that when she sat down, she didn't bend her right hind leg. Sometimes they could actually hear her knee popping in and out of place. We arranged for Marcy to be examined by Dr. Lauren Sigg of Wexford Veterinary Hospital, who determined that Marcy would require surgery to repair her knee joint and keep it in place.
Marcy came through the surgery well near the end of March of this year and returned to her foster home for recovery. When released from her cage about three weeks later, however, she began to limp again and was also running a fever. In late April, Marcy returned to Wexford Vet, where she was admitted and treated until her temperature returned to normal. Once again, a surgical procedure was required to reset her knee into the proper position.
During her hospital stay, Dr. Sigg and the staff at Wexford Vet fell in love with Marcy. When she returned to her foster home for a long period of caged confinement to recover from surgery and allow her knee to settle firmly and permanently into place, their campaign to help us find her a loving permanent home continued in earnest.
As Providence would have it, the mother of one of the vet techs who had cared for Marcy during her hospitalization was considering adopting a kitty. Her 19 year old kitty had passed away recently and she was finding her home much too quiet with only one kitty remaining in residence. Nichelle was quick to inform her mom of Marcy's considerable charms and Jan, who has always had a soft spot for special needs kitties (even her email address includes the words "broken catz") was immediately interested in learning more about her. A vet tech herself, Jan would be especially knowledgeable about any future needs which might arise from Marcy's condition.
When they met, Jan didn't hesitate to make Marcy a permanent member of her family, but had to wait a few weeks until Marcy's final check up with Dr. Sigg had been completed before bringing her home.. Marcy passed her final exam with flying colors and is now enjoying the comforts of her new home and getting to know her adoptive feline and canine siblings. Jan says she is doing great and becoming more active as she gains confidence in running and jumping (for better or worse)!
We are delighted to know that Marcy will now be able to enjoy all the normal activities of feline life without pain or restriction. We are grateful to Dr. Sigg and her staff, not only for their professional skills in treating Marcy but also for their compassionate efforts to help her find her forever home. Thanks to the combined efforts of veteran trapper Kathy, who rescued her, the loving foster parents who cared for her for more than a year and the Wexford Veterinary team, Marcy is now home, safe AND sound!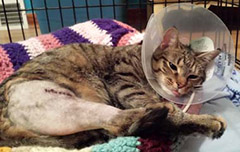 Marcy in post-surgical recovery.
---
Claws for our Cause
We are pleased to announce that FosterCat raised $535.00 for the care of our cats and kittens at PetSmart's Pet Photos with Santa event this past December. We weren't sure how things would go, since PetSmart shortened the event and redesigned the format so that pet owners could bring their own cameras to take photos of their pets instead of having Adoption Partner volunteers taking the shots. However, the turn out was better than we expected and we didn't have to work nearly as hard!
Our sincere thanks go out to all those who braved the cold weather to come out and help with this event, including Gary Benko, Jim and Bev Lubbert, Ginny Hoffman, Jill Dugan, Stacy Davis, Kellie Gormly, Carolyn and Jim Kozlowski, Ron Gruendl, Norma Clouse, Megan and Nancy Carmen, Ginnie Haid, Alexa Howald and Barb Slade.
---
2014 FosterCat Spaghetti Dinner News
Just wanted to let everyone know in plenty of time that we have moved the 2014 FosterCat spaghetti dinner to a new location! We were finding it difficult to accommodate our attendees/vendors with enough seating and space at the dinner.
Our new location is:
St. Catherine of Siena Catholic Church

1907 Broadway Avenue

Beechview, PA 15216
| | |
| --- | --- |
| DATE: | SEPTEMBER 13 |
| TIME: | 5 - 8 PM |
We are very excited by this new location as the hall and kitchen is three times the size of Wallace with a stage, PA system, separate kitchen/serving area and plenty of tables to seat 200-300 people easily. What's more is that there is only one pair of steps down to the hall with a ramp right next to the stairs for people on walkers, canes, etc.
St. Catherine's is very easy to find as well. Exit the Liberty Tunnels on the south end onto West Liberty Avenue. Go along West Liberty for about a mile to Rohrich Cadillac (on the right). Turn right onto Pauline Avenue. Follow Pauline Avenue to the end. Turn right onto Broadway. You will see the church, which is at the corner of Broadway and Belasco.
If any of you know vendors that would like to set up a table, there is plenty of room to accommodate them. Please have them contact Barbara at 412-915-8106.
We will need volunteers to help sell tickets, set-up, clean-up, serve food, make sauce, organize volunteers, organize spreadsheet, Chinese auction, etc. so if any of you want to help, please let me know asap.
We are currently looking for restaurants/vendors to donate large dinner plates, salad bowls, silverware, butter pats, desserts, coffee/tea, lemonade and iced tea so if you have any connections to businesses that you think would like to help us, please have them contact Barbara at 412-915-8106.
Please mark your calendars for this important date!
---
New Rescue Magazine To Support FosterCat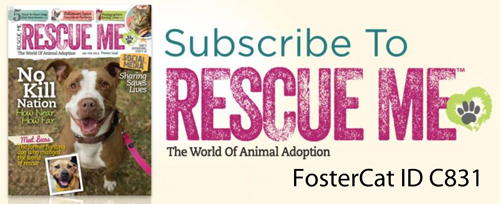 We have registered FosterCat as a charity for the new magazine "Rescue Me." Kellie Gormly, one of our volunteers, who is a journalist, will have a column in every issue!
It does not cost FC anything to register and if you are interested in subscribing, please reference FosterCat and the Rescue ID number for FosterCat C831. FosterCat will receive $19.95 for each $29.95 subscription fee received.
You can register online at www.readysetrescue.com or call 800-738-2665.
Please encourage friends and relatives to subscribe and remember to use our FosterCat ID C831 on all subscription orders!
---
Attention Cat Lovers in the South Hills Area
FosterCat, Inc. is seeking responsible, cat loving caregivers to provide temporary love and care for homeless cats until permanent homes are found. FosterCat, Inc. is a local 501 (c)(3) non-profit organization. Contact FosterCat, Inc. at 412-481-9144 or click here to learn more about becoming a FosterCat foster parent and to submit a foster application.
---
Visit FosterCat's Adoptables at these places:
Come see some of our cats at the Cranberry, Monroeville, Northway Mall and Pleasant Hills PetSmart Locations!
---
Animal Abuse Hotline for Pennsylvania
The Pennsylvania Society for the Prevention of Cruelty to Animals has established a statewide toll-free hotline for reporting cases of animal abuse. Concerned citizens observing incidents of abuse may contact the Society at (866) 601-SPCA.
---
Our Mission
The mission of FosterCat Inc. is to develop and sustain an organization to provide temporary foster care for cats and kittens in private homes until permanent homes can be found.