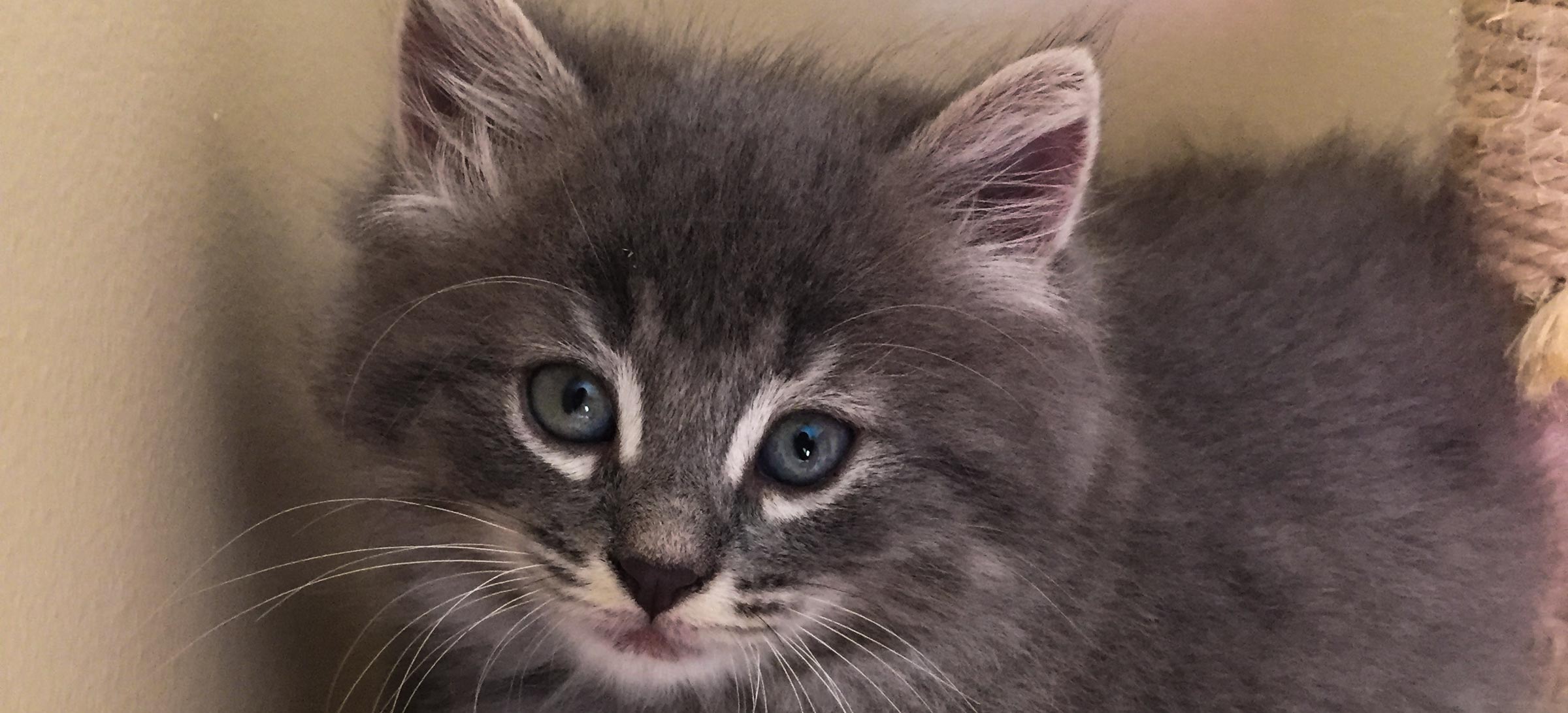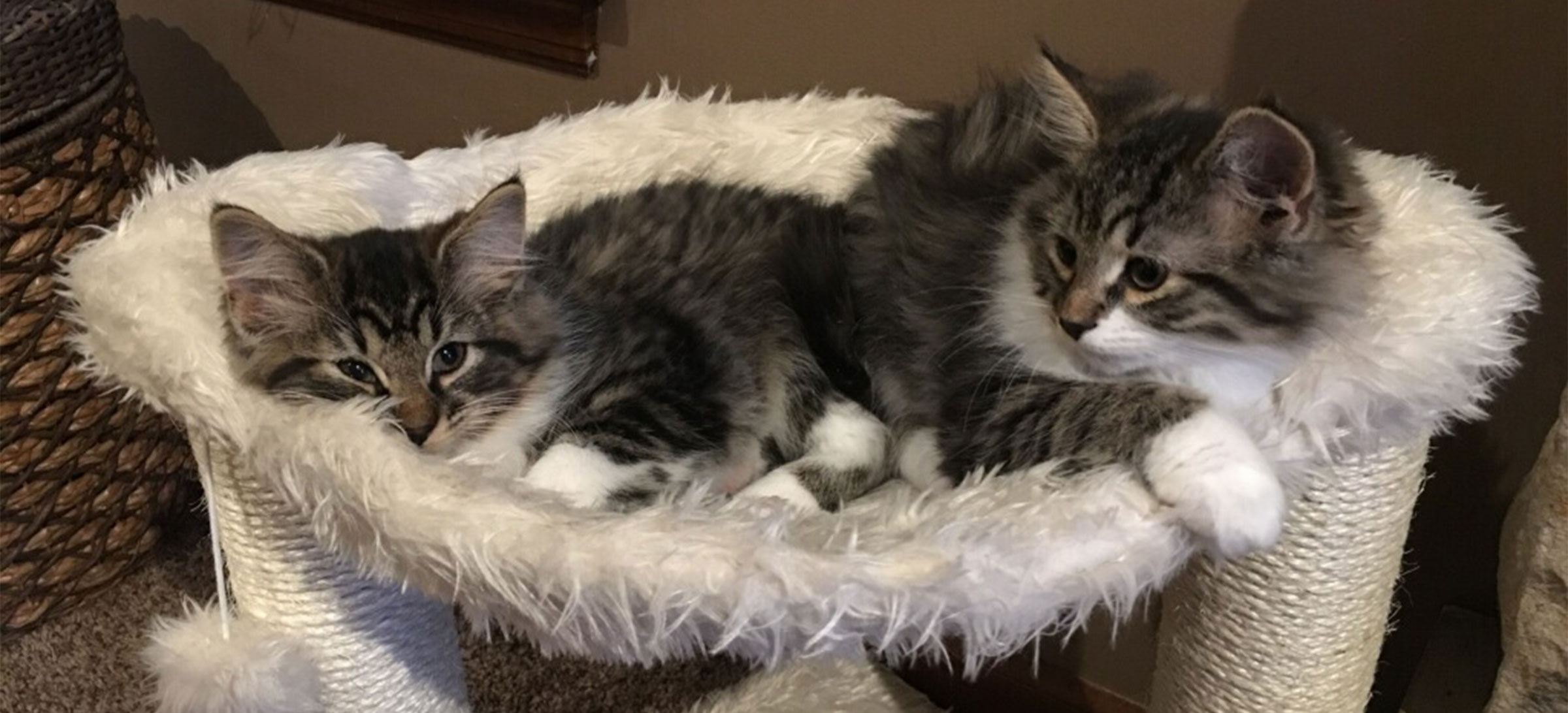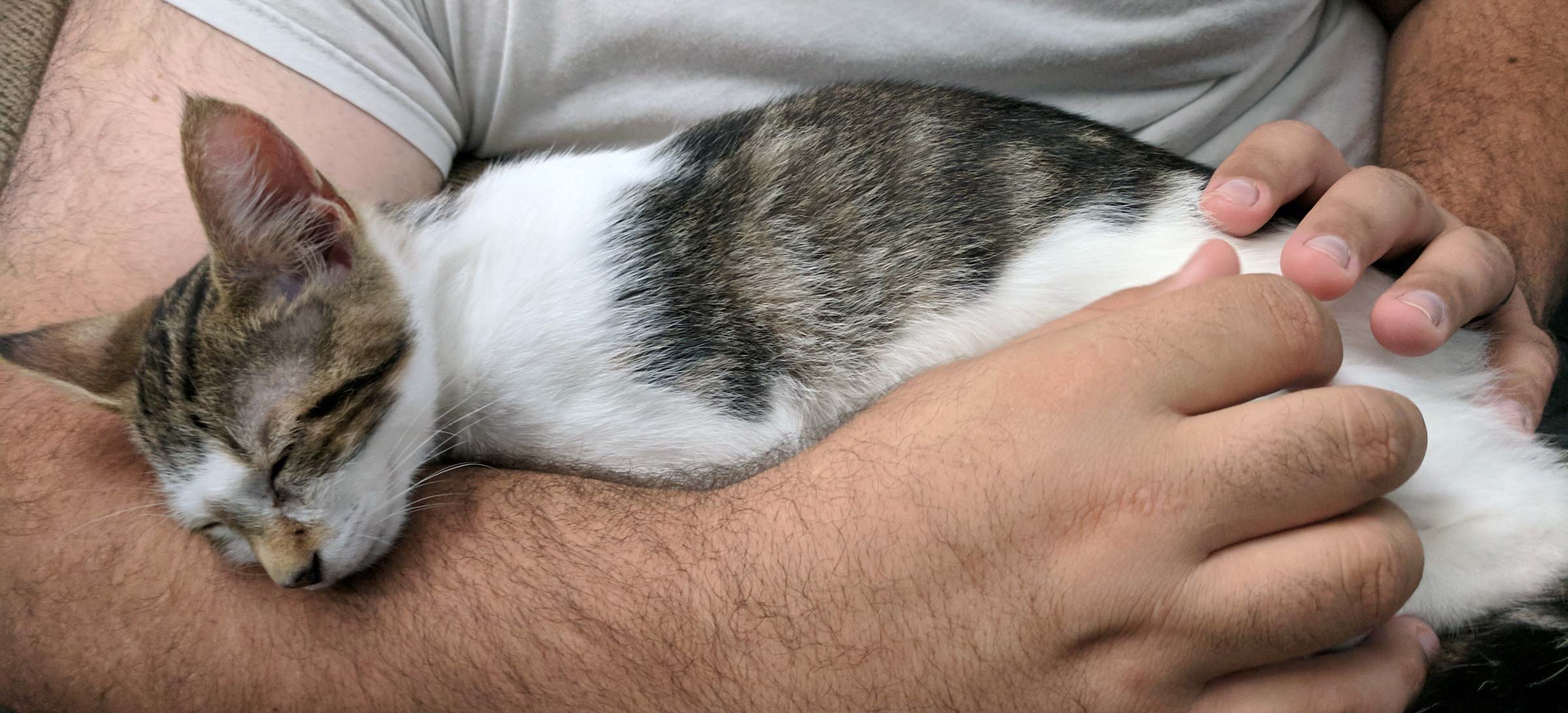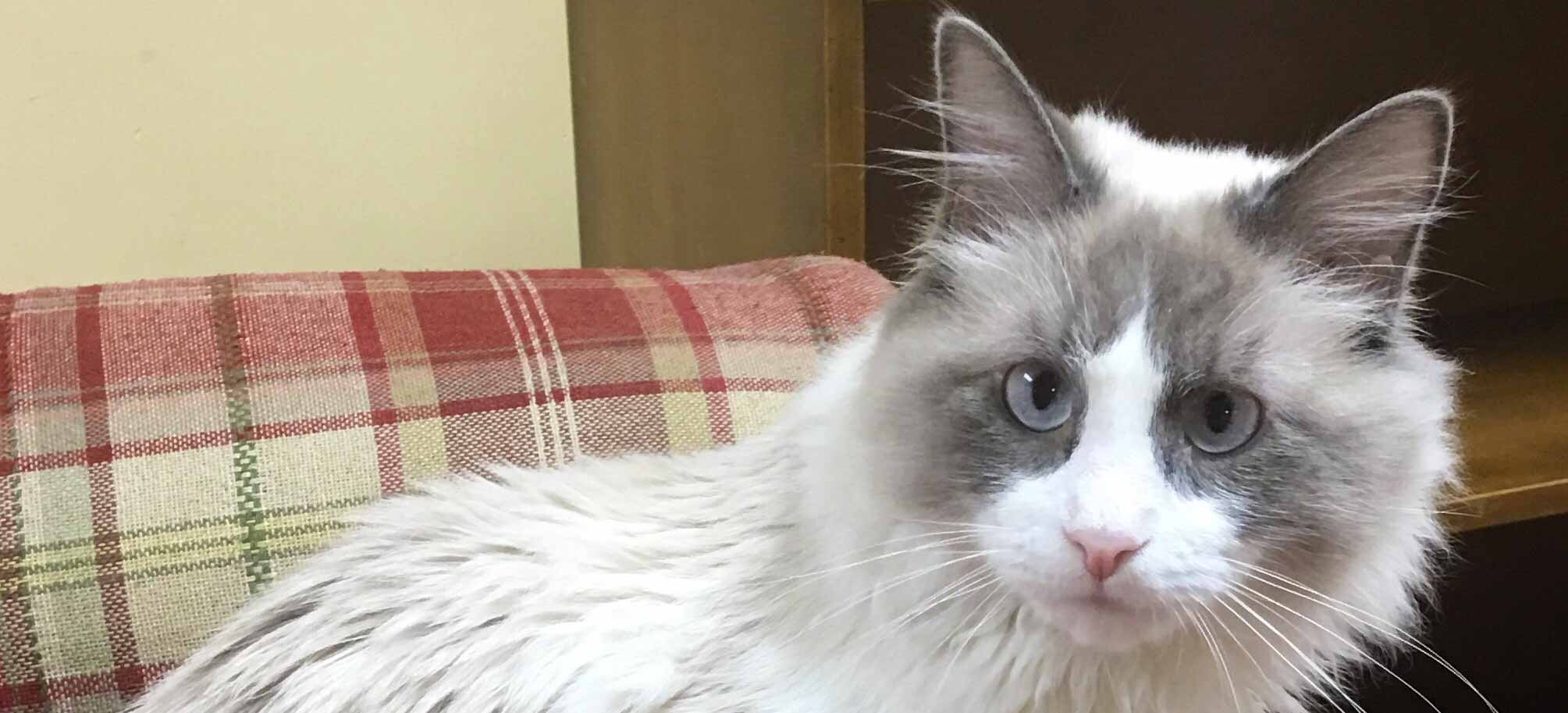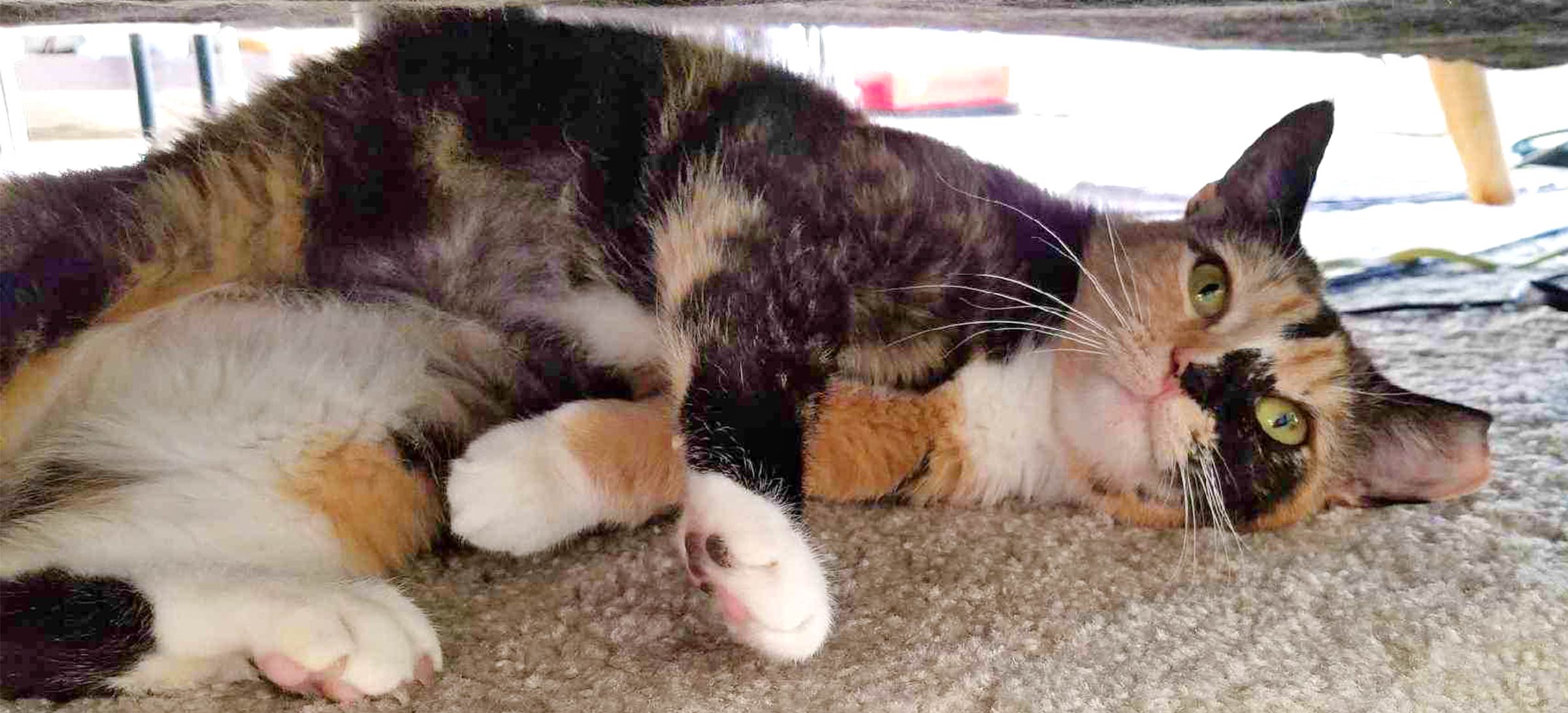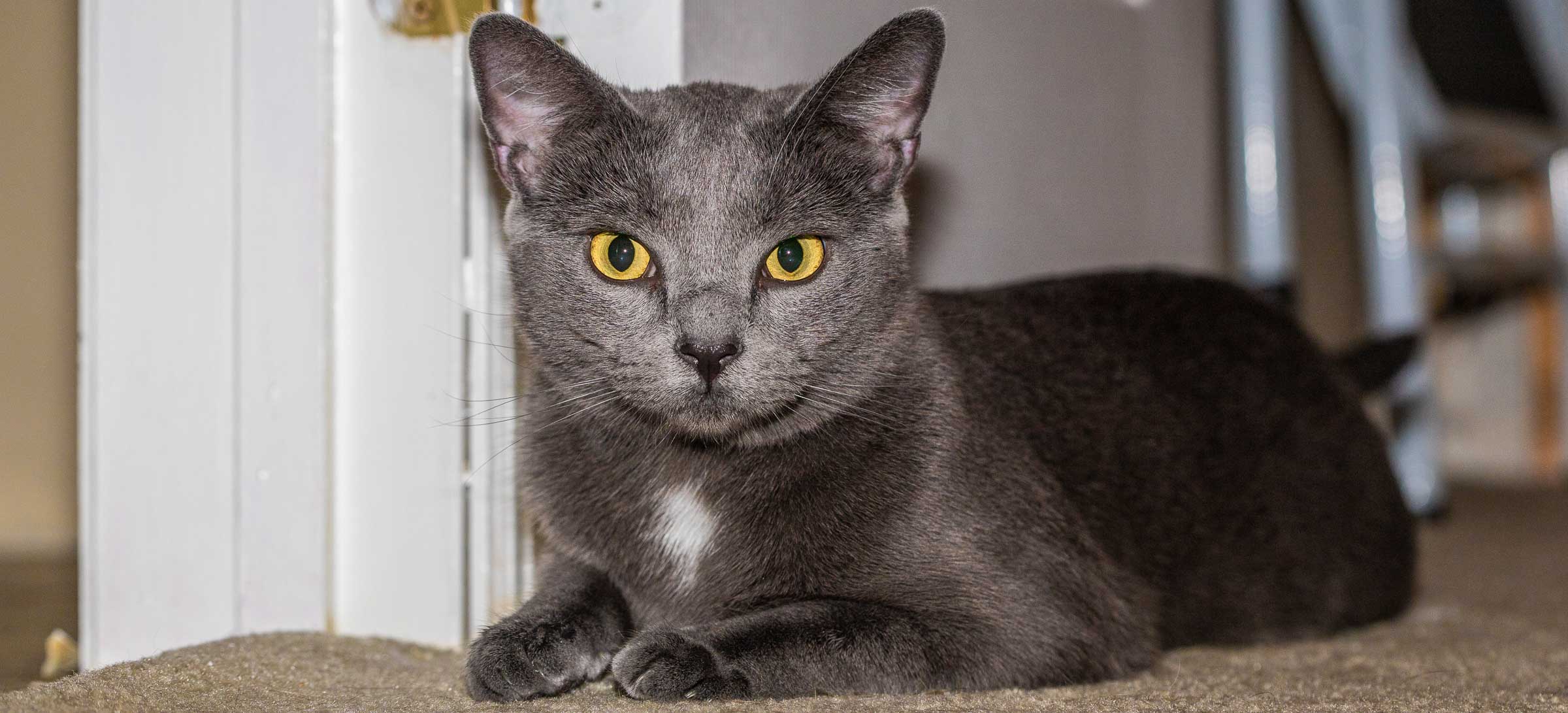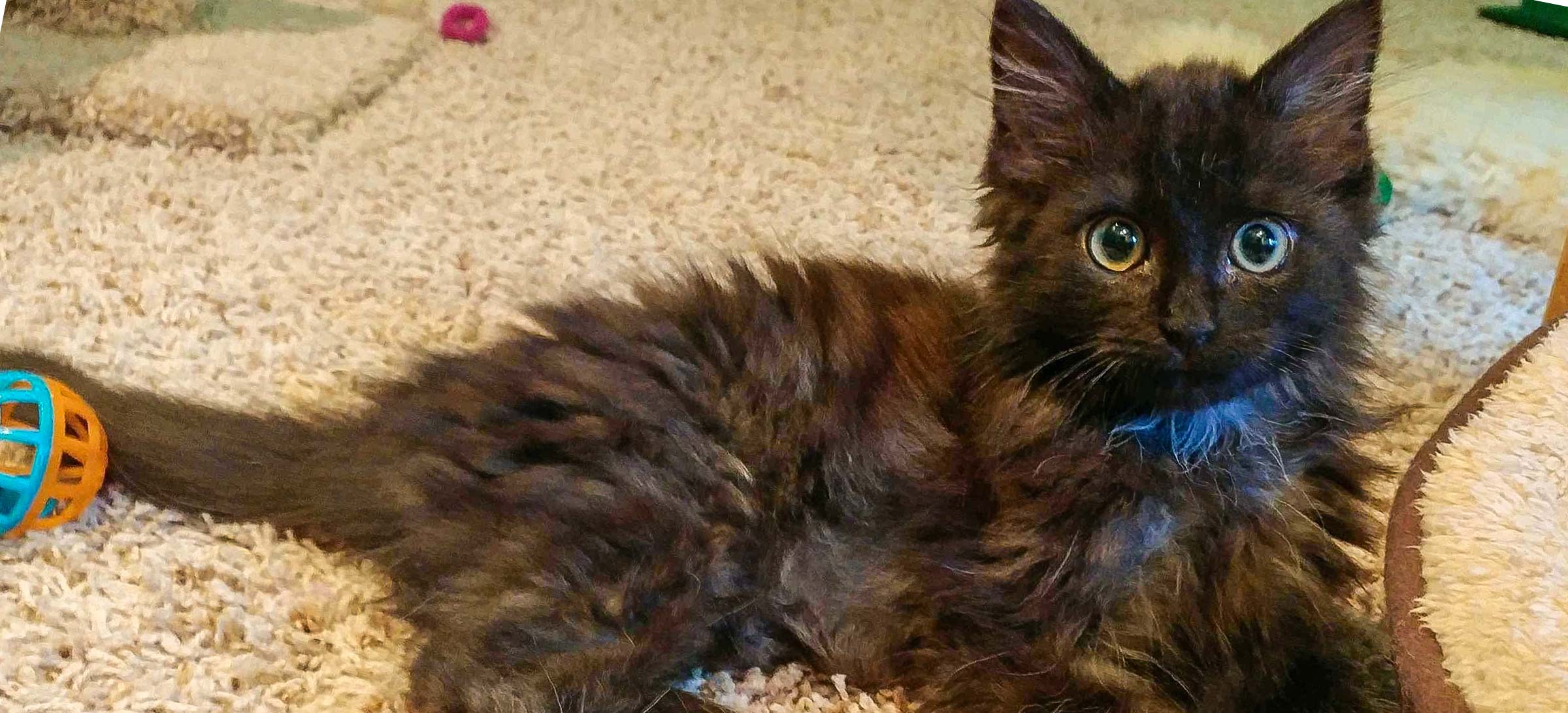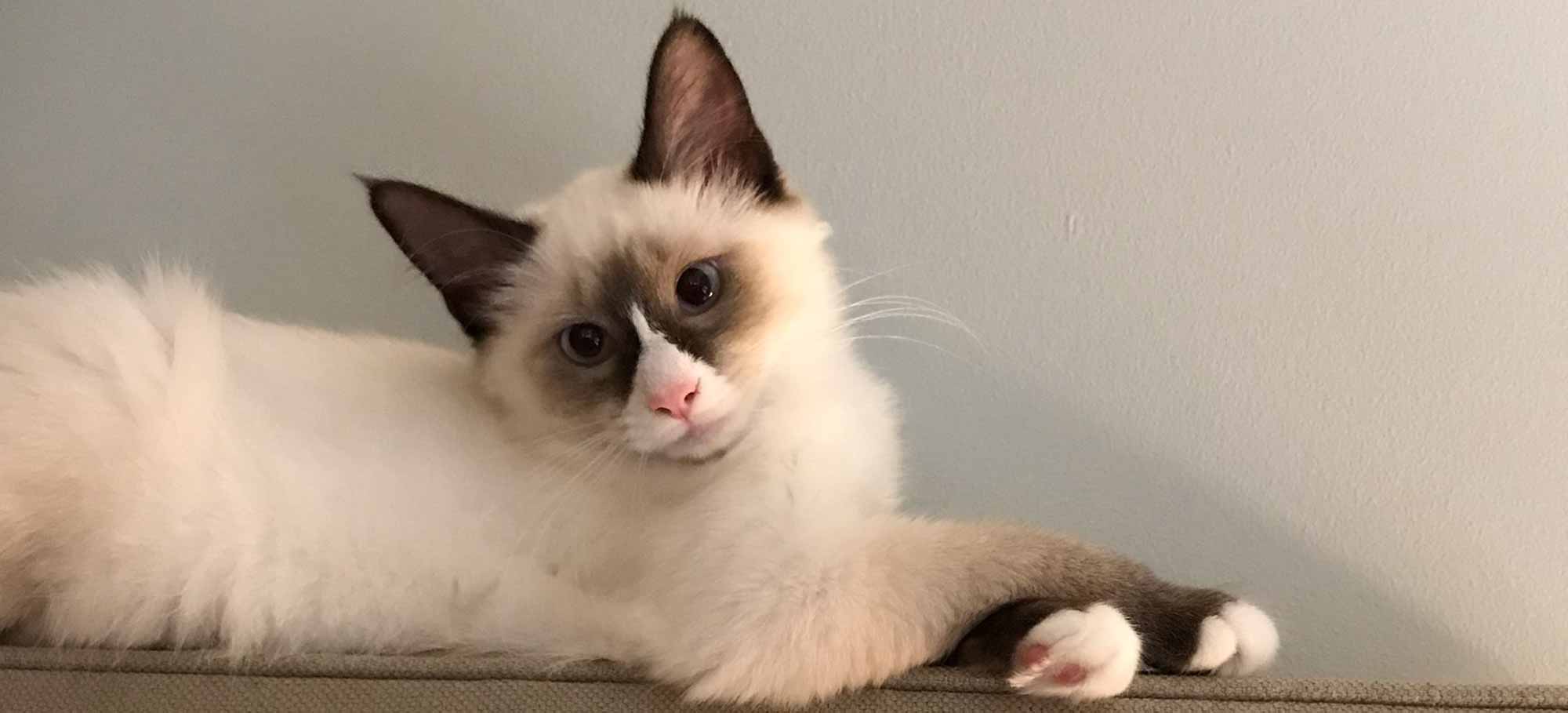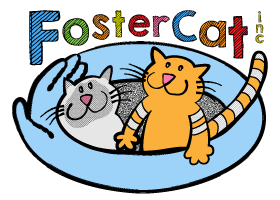 About FosterCat, Inc
Foster Cat, Inc. is all about saving lives. It's as simple as that. We are an all-volunteer non-profit organization dedicated to the proposition that all cats and kittens deserve safe, loving, permanent homes.
Our foster parents provide temporary care for cats and kittens in their homes until they can be placed for adoption. Their compassion provides the second chance that so many stray, abandoned or homeless kitties need, and the satisfaction of knowing that they have helped save the lives of these helpless animals.
FosterCat provides training and support, medications, food and litter as needed, and absorbs all veterinary expenses associated with the care of our kitties. If you love kitties and would like to be a part of our lifesaving team, consider opening your heart and home to cats or kittens in need. We promise you won't regret it! If you can't foster, you can still help save lives as a volunteer or supporting member. Check out our Fostering and Contribute options, above, for more information.
Spring FosterCat Raffle Fundraiser
Attention FosterCat Fans! Spring FosterCat Raffle Fundraiser! Here's a perfect way to support FosterCat and receive our Catastic Cat Lover Prize Pack Valued at $320!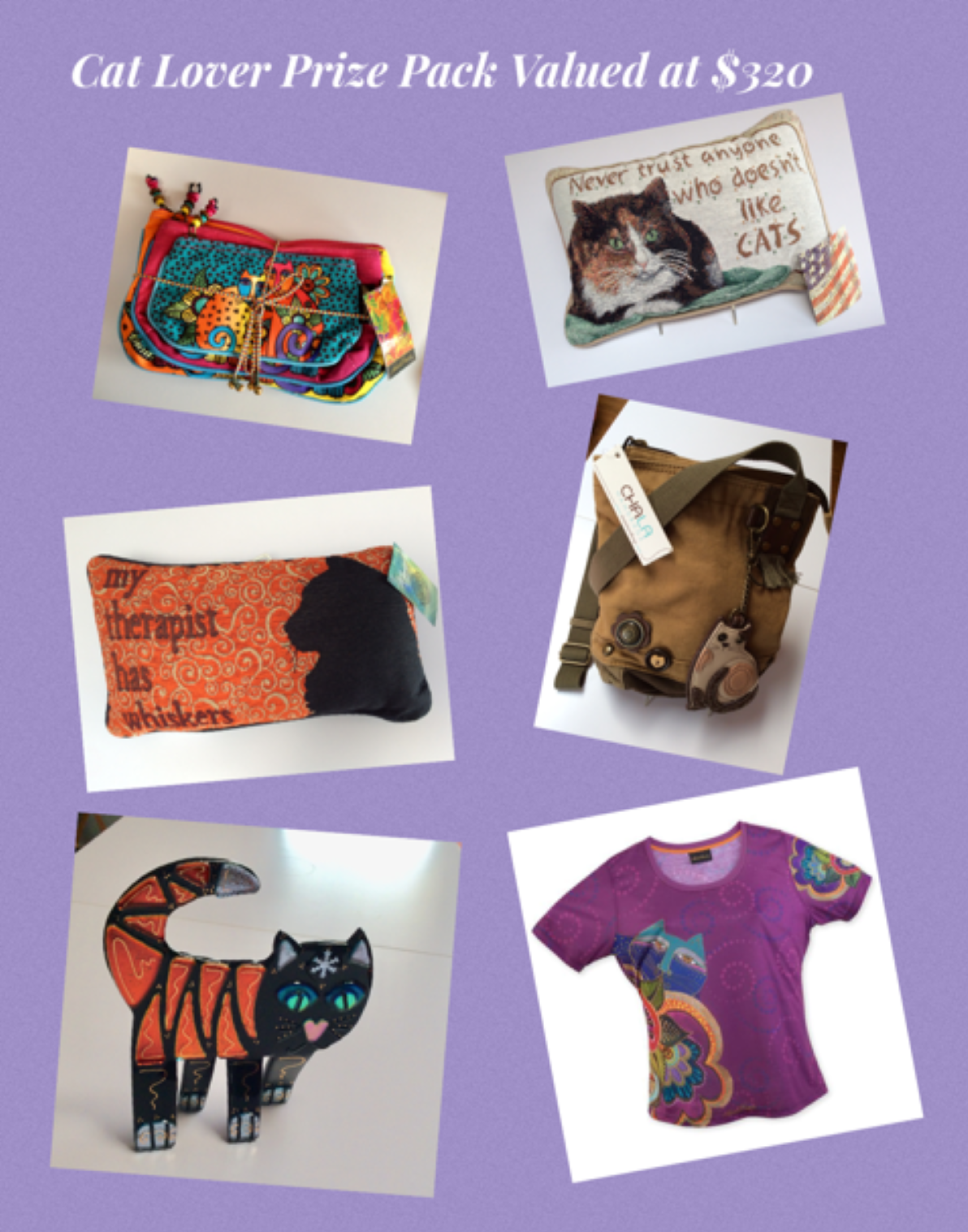 Enter our Spring FosterCat Raffle Fundraiser for a totally unique collection of new items that you'll enjoy.  Think gift giving, too!
Here what you'll win:
Limited Edition Dichroic Fired Fused Glass Black Cat Sculpture with Limited Edition Certificate.  Uno Alla Volta LLC.  Value: $150
Laurel Burch Feline Clan 3-pc cosmetic case set of three.  10" x 6" Value: $25.00
Manual Woodworkers & Weavers Oblong Tapestry Pillow "My Therapist Has Whiskers" 15" x 10"   Value: $30.00
Chala Cat Handbag with Keychain.  Tan/Brown/Olive Canvas Bag with Shoulder Strap 12" x 8" Value:  $50.00
Manual Woodworkers & Weavers Oblong Tapestry Pillow "Never Trust Anyone Who Doesn't Like Cats" 10" x  6"   Value: $30.00
Laurel Burch Carlotta Cats Tee – Size L (10-12)   Colorful cat on purple background                 Value: $35.00
The raffle has closed. Thank you for participating!
Senior Cats are the "Cats Meow!"
FosterCat recently learned about a few senior cats who were in need of our help. Emily, age 11 and Lily, age 12, are two such seniors. One of our volunteers Kelly K., (who works tirelessly to help cats in need), was called to the scene of an eviction/condemned house by the police/township of West Deer. Two elderly women were living in the house with two cats and a few dogs. The house was flea infested with rats and junk piled everywhere. FosterCat agreed to help vet and place these two senior sweeties.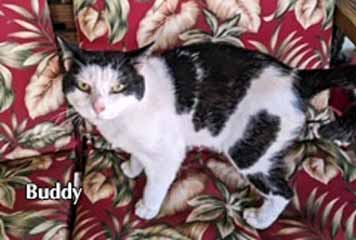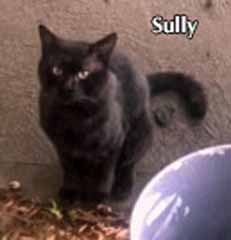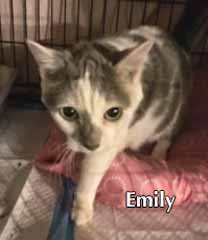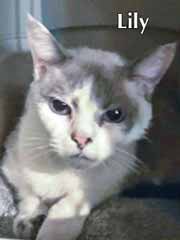 FosterCat also came to the rescue of an adult black cat that was found in West Mifflin. Sully is an 8 year old "sweetie." His foster parent tells us that he is a mellow, quiet guy who just wants to be petted and loved.
Then there is 10 year old Buddy, who was found outside in a trailer park in Lower Burrell. Buddy would prefer to be an only cat, but he absolutely loves dogs! Carol P., who lives at this park, has diligently rescued numerous cats and dogs throughout the years, and she could not turn away when she saw that Buddy was dirty and starving.
If you do not like the hassle and chaos of small kittens, these seniors are for you. They are calm, quiet and gentle souls. All that they require is food, petting, love and of course, a lap! Senior cats are calm, cool and collected. No "craziness" for them. Senior cats do not try and trip you as you walk down the stairs. They are perfectly happy to be cuddled and loved. Unlike kittens (who want to run from room to room playing until they drop off to sleep from exhaustion), seniors are always thrilled with any attention you want to shower on them.
More importantly, if you are 65 or older and only want to adopt a kitten, you need to think about what will happen to the kitten if at some point you are unable to take care of it. Do you really want the added stress of worrying about who will take your kitten if something should happen to you? What would happen if you went to a nursing facility, senior living center or long term hospital care? Would family members step up and take the kitten(s) or would they just take the cat directly to a shelter? These are things that every senior needs to think about in order to make an informed decision.
Unfortunately, we receive lots of emails from family members begging us to take their parent's or grandparent's cats due to sickness or death. It just makes sense to adopt a senior cat to insure that you will not be leaving this decision up to a family member and thus putting the cats in danger of abandonment or euthanization.
If you would like to foster or foster-to-adopt, and are looking for a "lap cat", please give Sully, Emily, Lily or Buddy a try. All four of these wonderful cats deserve a loving home with some special people. We promise you will not be disappointed!
Raffle Fund Raiser Underway
FosterCat's Annual Bingo has been cancelled due to COVID-19 restrictions. However, we have something really fun for you to enjoy that also benefits FosterCat's mission of saving lives, one cat at a time.
Throughout the remainder of 2020, you'll find some really unique and valuable items for raffle being posted on our Facebook page. There will be one featured every month. $5.00 will buy you a ticket that automatically enters you in each raffle. (We hope you'll purchase several tickets, as chances to win are increased.) Go to our FosterCat Facebook page or our FosterCat.org home page to view each month's featured item and to purchase tickets. Our ticket purchase platform is PayPal, but we assure you that you don't have to have a PayPal account to purchase tickets.
The winner of our random raffle drawing will be announced at the end of each month, again, on our Facebook page and on the FosterCat.org home page. Watch our Facebook page and the FosterCat.org home page for October, November and December raffles!
Georgia – Always on our minds!
There is an old song by Ray Charles entitled "Georgia." This song came to mind as I thought about doing a story on a recent cat that we rescued. This song is about someone who was once loved and lost. Perhaps Georgia was at one time someone's beloved pet and was cast aside or lost through no fault of her own.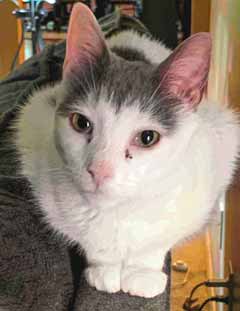 Georgia's story begins with a TNR (trap, neuter, release) project in a trailer park near route 51 south. One dedicated volunteer, Kathy S., who is an extremely experienced and caring trapper, happened to see a very sick and lethargic cat sitting under the porch of one of the trailers. Apparently the woman who rented the trailer was feeding Georgia but would not let her in the house because her "husband was allergic." Kathy approached the cat and saw that the cat was very sick. She was easily able to pick her up, so Kathy knew she was friendly and probably someone's cat at one time. Kathy called our foster coordinator Kim and asked if FosterCat could help. We immediately took her to a veterinarian who determined that Georgia had severe upper respiratory and runny eyes. The vet also scanned Georgia to make sure she was not microchipped. To our utter surprise she was chipped to a woman in Philadelphia! It seems the cat was missing for over a year!
As is the case with most microchipped cats, we were able to find out the owners name and phone number. We then called the owner and reported that we had found her cat and left our phone number. There was no response. We then called her a second time, but the owner never called back. Because of this chip, we eventually found out that the owner moved to Georgia and gave the cat to either a neighbor or friend in Philadelphia or maybe Pittsburgh. We will never truly know the whole story of how Georgia ended up in a trailer park in the South Hills and frankly, it really doesn't matter because FosterCat will be able to give Georgia a chance at a new and better life.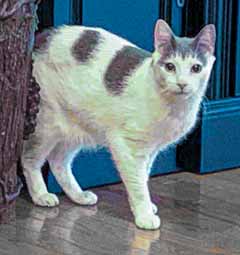 I am happy to report that since this story, Georgia has been officially adopted by some pretty wonderful people! Bob and Sue C. report: …Georgia has already become part of our family. She is very loving, follows us around and is already sleeping in our bed. She really trusts both of us and we love her dearly. No need to ask if we are going to keep her. The answer is "YES!" All of us at FosterCat are thrilled that Georgia finally has a permanent home to call her own. Maybe this story is the perfect ending for Georgia who was once loved and lost! Georgia has finally found her forever home!
P.S. I would like to take this opportunity to thank all of the volunteers out there who go above and beyond, taking time out of their busy schedules to help TNR cats in the various areas of Pittsburgh. These dedicated volunteers are out trapping in all kinds of inclement weather to make a better life for these poor unfortunate cats. Kudos to all of you!
Update on Miss Pippin!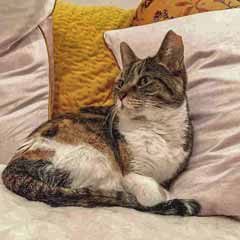 Many of you remember the story of Miss Pippin in our December 2019 Litter Scoop newsletter entitled "A Christmas Wish." Just to recap, Pippin was found in a mass TNR trapping in Munhall. Pippin was extremely friendly and was outside for at least two years. Well I am thrilled to report that Miss Pippin has been adopted by the most loving and caring people I have ever had the pleasure of meeting. Erin and her mother Connie J. send me daily pics and updates on our little girl. Pippin is having the time of her life running around Erin's townhouse, playing with toys, lounging on her new cat tree and sleeping right next to Erin. This truly is a "Cinderella" story and we couldn't be happier! Pippin can now say "All I wanted for Christmas is a forever home," and that wish has truly been granted.
FosterCat's Third Annual Bingo Fundraiser
Due to the pandemic, FosterCat has decided to reschedule the "Third Annual Catnip Bingo" Fundraiser to Sunday, November 1, 2020 at the Royal Place Restaurant, 2660 Library Road, Pittsburgh, PA 15234! Please pencil the new date in on your calendar and we will keep you posted in our September issue of The Litter Scoop!
ATTENTION ALL ADOPTERS!
We would like to keep you informed by sending you updates and information about important events, like our upcoming Bingo Fundraiser. If we do not have your email address, please take a few moments to provide it for us and go to the following link: http://fostercat.org/contactus.html. Thank you!
Shop Amazon Smile and Donate Extra to FosterCat!
Amazon Smile is a donation program where each shopper designates a charity and Amazon will donate a portion of sales to that charity. You can specify FosterCat, Inc as your charity! Be sure to use AmazonSmile for all of your holiday shopping!
AmazonSmile customers can now support FosterCat Inc in the Amazon shopping app on iOS and Android mobile phones! Simply follow these instructions to turn on AmazonSmile and start generating donations.
Open the Amazon Shopping app on your device
Go into the main menu of the Amazon Shopping app and tap into 'Settings'
Tap 'AmazonSmile' and follow the on-screen instructions to complete the process
If you do not have the latest version of the Amazon Shopping app, update your app. Click here for instructions.
Volunteers Needed
FosterCat currently needs a few volunteers for home visits in the South Hills. We have two very dedicated volunteers, Katie Tontala and Dadja Roerig, who are remarkable and devoted to doing visits at a momentís notice! We would like to get extra help in that area, so if you are interested in volunteering, please contact us on our answering service (412-481-9144) and someone will get back to you. A computer is needed to print off our adoption contract and of course an automobile to do the home visit. Home visits are extremely easy to do and training is provided. All adoptors are pre-screened and an appointment is set up beforehand.
Thinking of Moving?
Housing issues are one of the leading causes of pet surrender. We now feature an up to date list of pet-friendly apartments in and around Pittsburgh. You can find it here and in the list of resources on our links page.
They also recently published a guide with tips on finding pet-friendly housing, that may also be helpful.
Attention, All Adopters
Many of you have kindly kept in touch with us via emailed updates and photos of your adopted kitties, and we hope you will continue to do so. Please note, however, that the email address to send them to has changed. Please make note of the change and direct all future emails/photo attachments to bsnowymarie@comcast.net. Thanks, and keep those updates coming. We love to receive them!
FosterCat, Inc
Copyright © 2018 · All Rights Reserved · Designed by Live Graphic Services