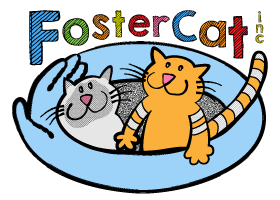 Become a FosterCat Volunteer!
Time is a precious commodity and we all seem to have too little of it. Still, we make decisions every day about how we will spend the time we have and somehow we usually manage to do the things that are important to us.
Whether you have a lot of time or only a little, there is something you can do to make a difference in the lives of cats or kittens in need.
Take the first step by taking a few minutes to complete and submit the Volunteer Questionnaire below. We'll contact you to talk about specific ways you can help us help kitties.
Volunteer Questionnaire
Download a hard copy here (the form is two pages long), fill it out and mail it to:
FosterCat, Inc.
P.O. Box 23414
Pittsburgh PA 15222-6414

Or to fill out the form electronically, click here.