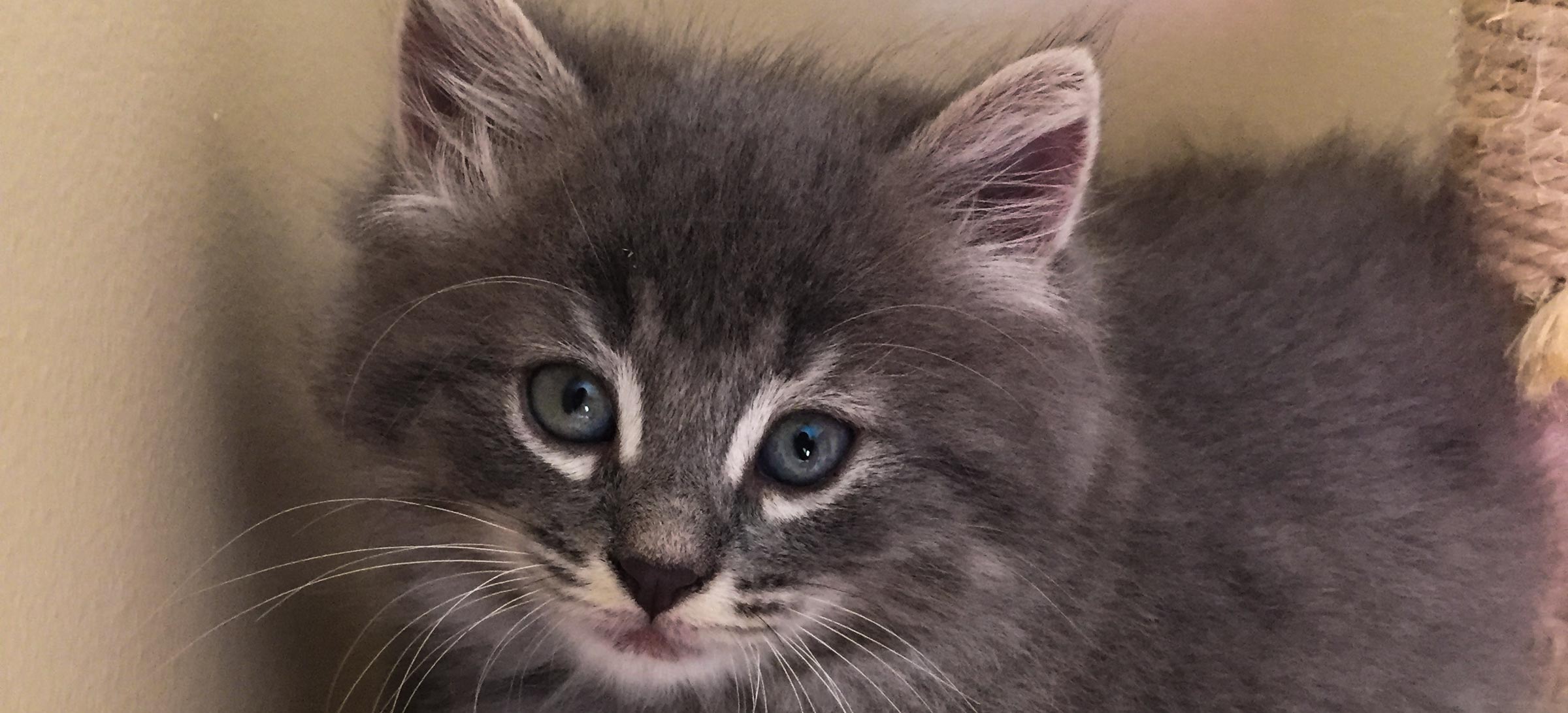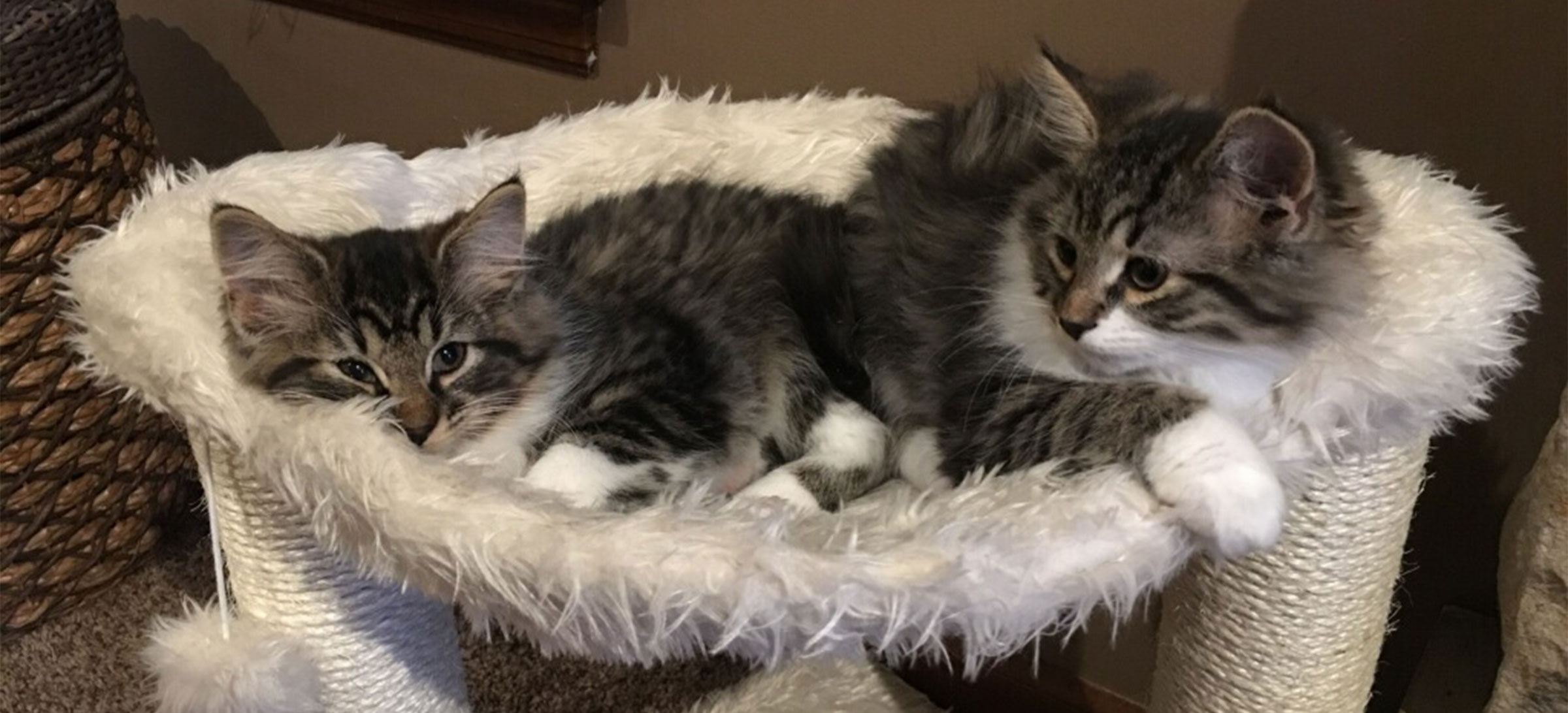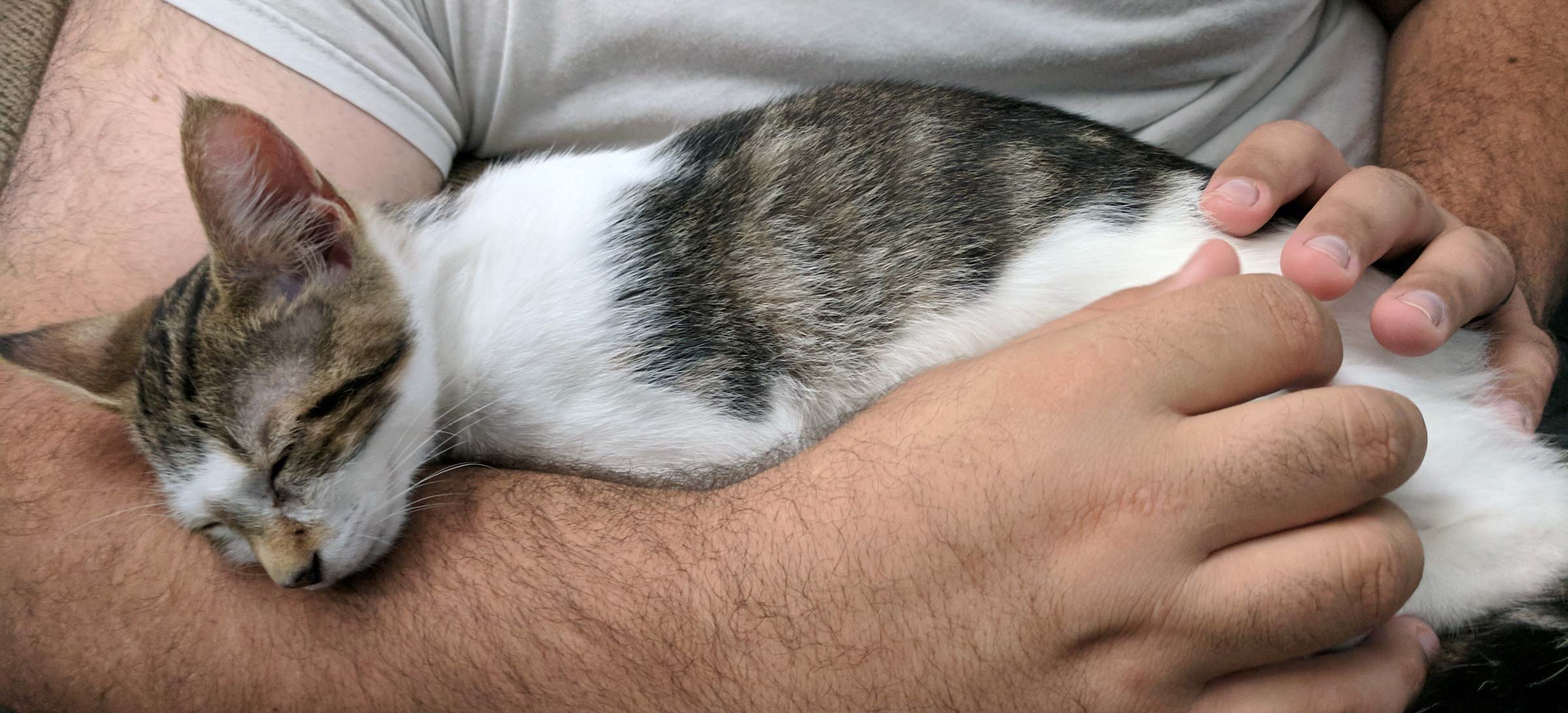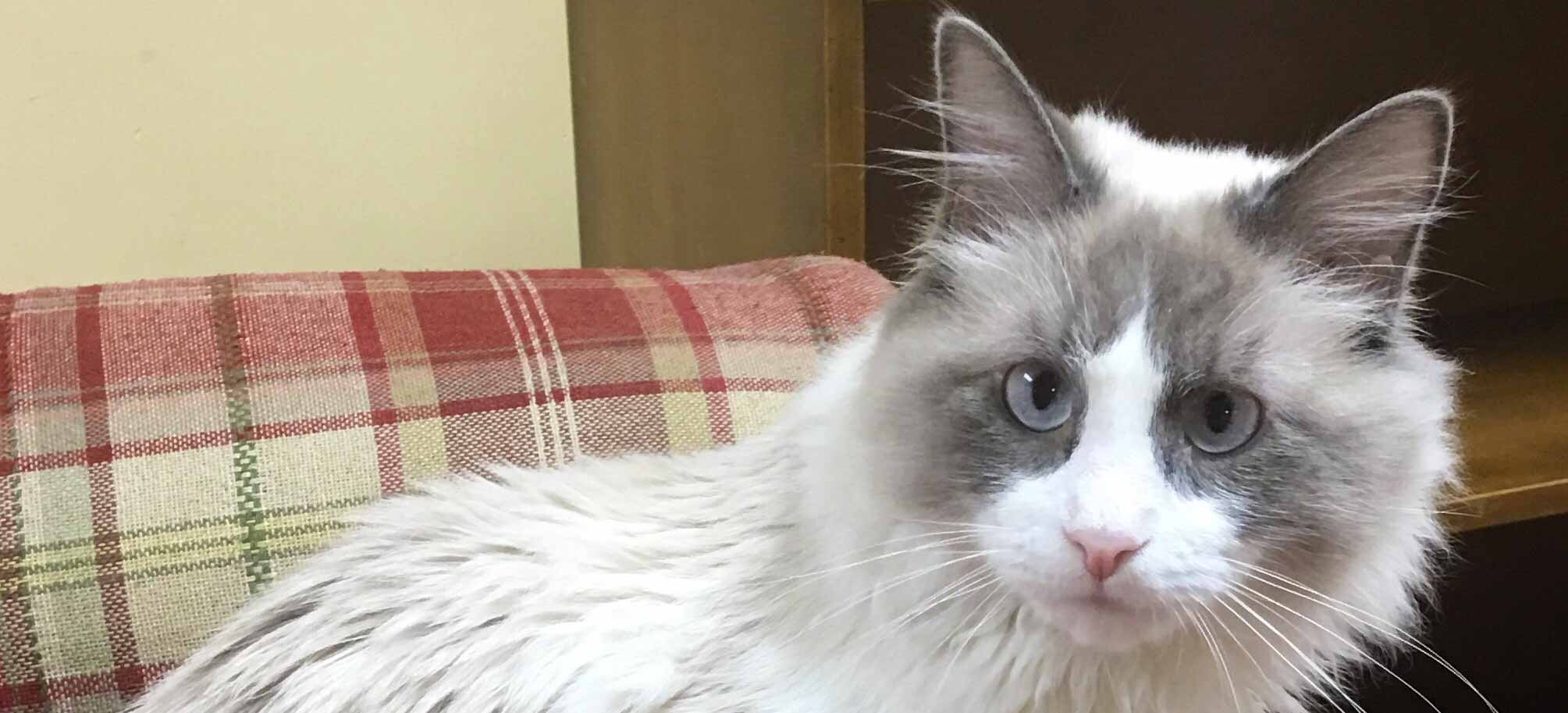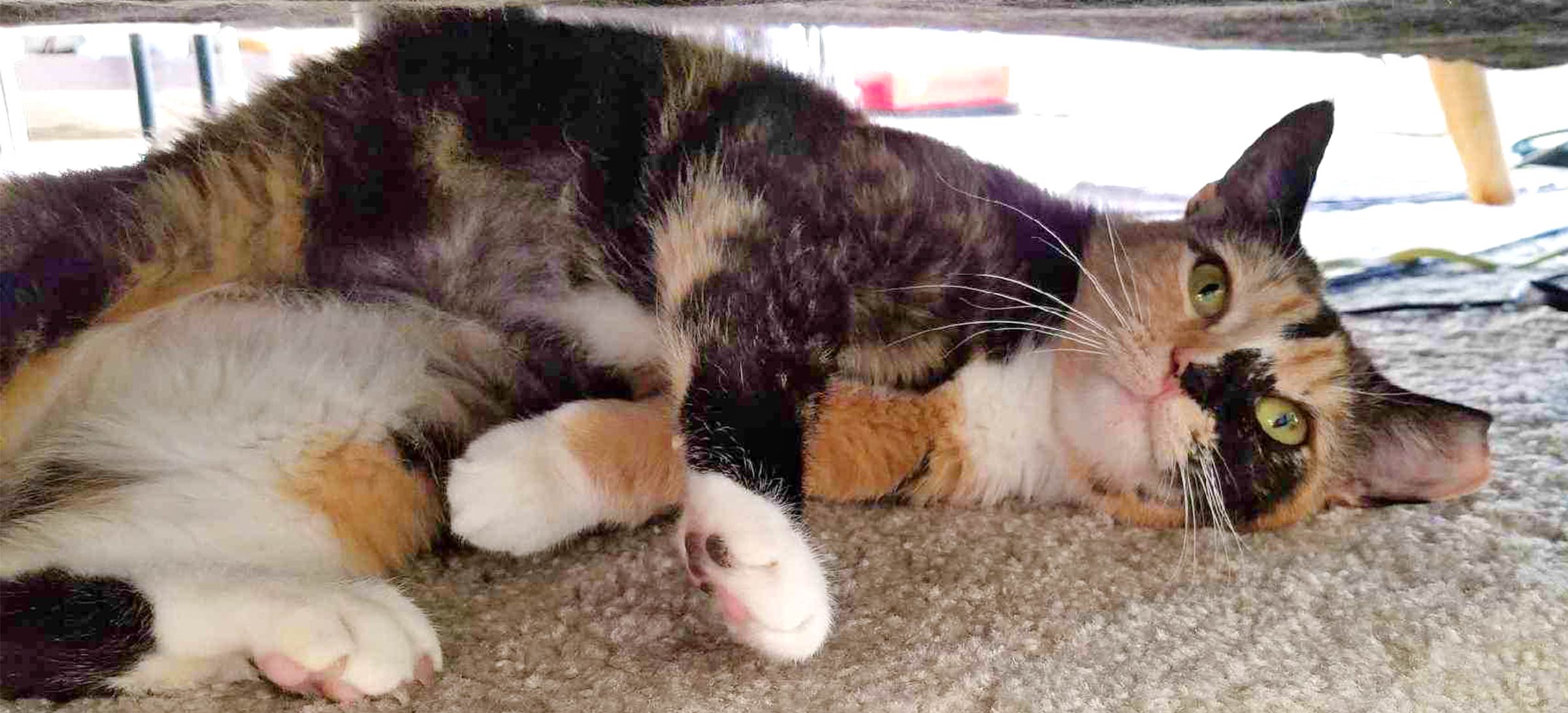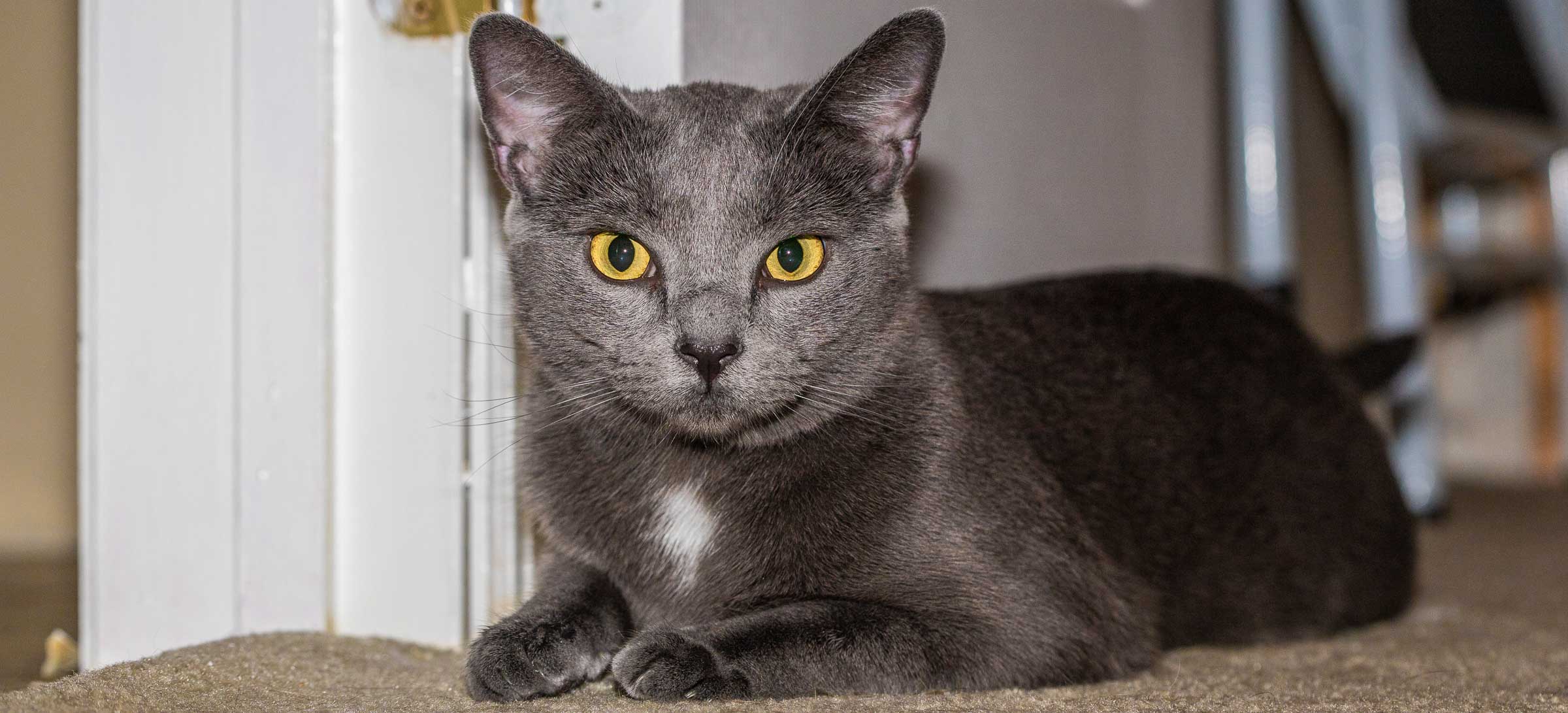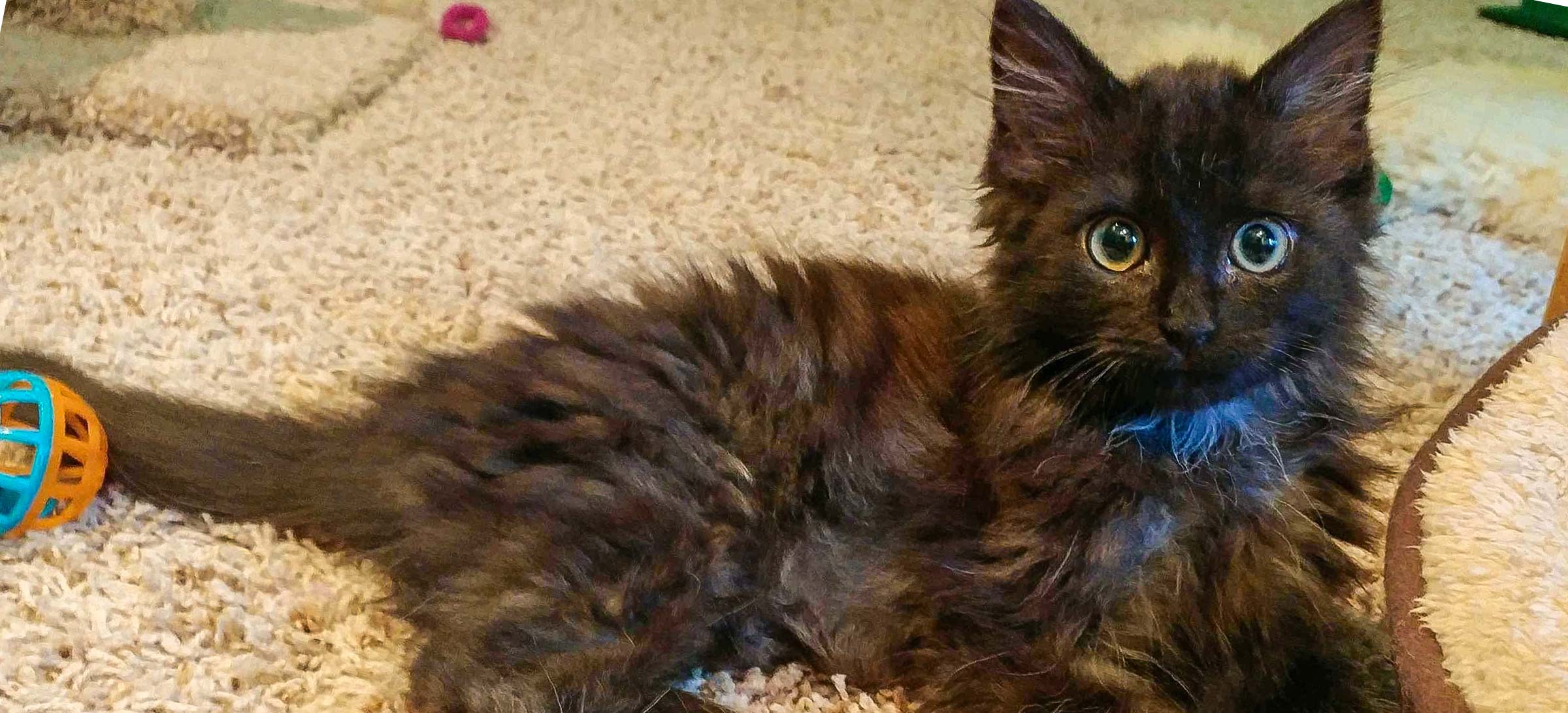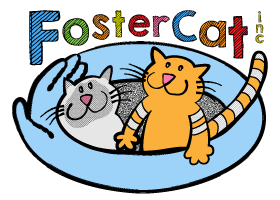 About FosterCat, Inc
Foster Cat, Inc. is all about saving lives. It's as simple as that. We are an all-volunteer non-profit organization dedicated to the proposition that all cats and kittens deserve safe, loving, permanent homes.
Our foster parents provide temporary care for cats and kittens in their homes until they can be placed for adoption. Their compassion provides the second chance that so many stray, abandoned or homeless kitties need, and the satisfaction of knowing that they have helped save the lives of these helpless animals.
FosterCat provides training and support, medications, food and litter as needed, and absorbs all veterinary expenses associated with the care of our kitties. If you love kitties and would like to be a part of our lifesaving team, consider opening your heart and home to cats or kittens in need. We promise you won't regret it! If you can't foster, you can still help save lives as a volunteer or supporting member. Check out our Fostering and Contribute options, above, for more information.
Shop Amazon Smile and Donate Extra to FosterCat!
Amazon Smile is a donation program where each shopper designates a charity and Amazon will donate a portion of sales to that charity. You can specify FosterCat, Inc as your charity! Shop Prime Day Deals using smile.amazon.com starting July 15th!
Announcing our 2nd FosterCat Bingo event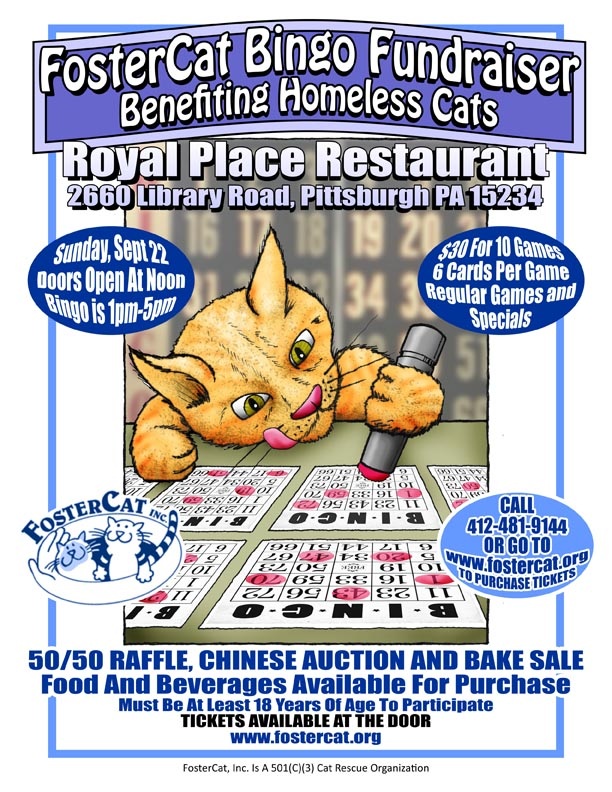 Support saving cats, and mark your calendar for FosterCat, Inc.'s upcoming Bingo fundraiser event! The event is being held at the Royal Place Restaurant, 2660 Library Road, Pittsburgh on Sunday, September 22, 2019. Doors open at 12:00PM.
In addition to the bingo game cash prizes, you'll be able to enter in our 50/50 Raffle and Chinese Auction for some really cat-tastic prizes!
Tickets are $30 each for 10 bingo games (6 cards to a game). Tickets may be purchased in advance, or at the door. Call 412-481-9144 for advance ticket purchases. You can also buy your tickets securely and conveniently on line through Paypal, by clicking here.
Stay tuned for upcoming announcements on our Facebook page and in our newsletter.
Wee Willie Winkie
Whenever I hear the name "Willie," I immediately think of the Scottish nursery rhyme "Wee Willie Winkie" which goes something like this:
"Wee Willie Winkie runs through the town, upstairs and downstairs in his nightgown, rapping at the window and crying at the locked door... Hey Willie Winkie, are you coming in?.... "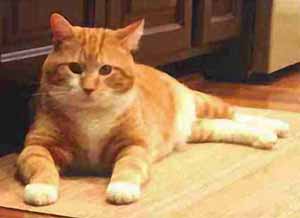 Willie's story begins somewhere in Westmoreland County and much like the nursery rhyme, Willie found himself crying and knocking on doors to get inside a nice warm house. It just so happened that Kim, one of our volunteers, noticed a message on Facebook by a woman who was looking for a home for an orange and white tabby named Willie who was around 5-6 years old.
Apparently Willie showed up at a barn which connected to a house that she was renting. The woman immediately assumed that Willie was dumped since he was so friendly and sweet.
When her landlord found out, he ordered her to "get rid" of the cat and would not allow her to bring the cat into the house. Apparently the landlord also indicated that he was selling the property so she only had so much time to find Willie a permanent home. FosterCat agreed lo help and immediately stepped in. Willie was taken to Animal Friends low-cost clinic to get him neutered, tested and vaccinated. It was then that we found out that Willie was FIV +. We knew that it would take a special person to adopt Willie even though FIV just meant that he had a weakened immune system.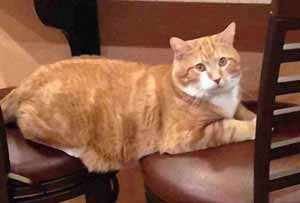 After a short time in a temporary foster home, we found that special person for Willie. Colleen filled out an application and applied on the FosterCat web site. She specifically wanted an older cat that was friendly, liked to sit on laps and who was pretty settled. John and Colleen had previously rescued a senior cat at a shelter that might not otherwise have been adopted. Their older cat had passed away and they missed having the companionship of a warm and loving cat. We immediately thought of Willie!
Sometimes things just click and for whatever reason, we decided to let Colleen foster the cat to see if she was willing to give Willie a test run and to see if this particular cat was a good fit. The very first week she texted to let us know that she was totally in love with Willie and that she wanted to adopt him! He was sitting on her lap all the time and just wanted to be loved! As you can see by the pictures, Willie is happy as a clam and is finally enjoying being in a home where he does not have to fight for food or live outdoors in the frigid weather. Gone are the days where Willie has to "rap on the window or knock on a door" to be let in!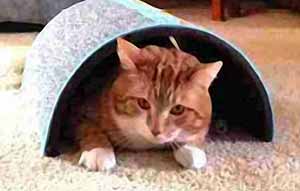 We are truly happy for Willie who finally found a place he can call home!
Abigail Sings!
This is the time of year when we need to sit back, reflect and count our blessings and FosterCat is no exception! We have been very fortunate in attaining a record number of adoptions this year. We placed 155 cats/kittens into caring, loving homes thus far for this year, and we still have a month to go. I am so grateful for all this good news. We have adopted out some long term fosters who truly deserved a home of their own. Kudos to our foster parents who are always ready, willing and able to open their hearts and homes to accommodate a cat in need!
Back in August, I received a call from one of our foster parents Chris, that a kitten desperately needed our help. It seems that one of our previous adoptors was driving north on McKnight Road and passed in front of the Outback Restaurant when she noticed something out of the corner of her eye tumbling across the median strip. As Anisa got closer, she noticed that it was a small kitten. She immediately stopped in the middle of traffic to try and snatch the kitten, but the kitten was extremely frightened and managed to drag herself to the side of the road. Finally able to pull over to the curb out of traffic, Anisa's daughter Kelly jumped out of the car and was able to grab the kitten to safety. Thoughts of what to do with this kitten tumbled across Anisa's mind since this had never happened to her before and she was not sure what to do. Fortunately for the kitten, Anisa knew that her neighbor Chris would know exactly what to do.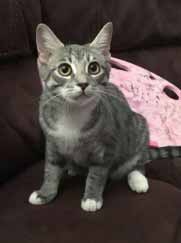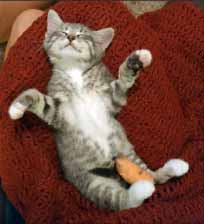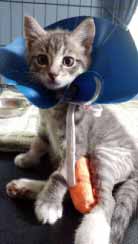 Chris was able to get an emergency appointment with her vet immediately. After several x-rays, the vet determined that the kittens back leg was shattered and that it may need to be amputated. All of us at FosterCat were hoping for the best outcome for this poor kitten and never gave up hope. The vet opted to put pins in the back leg and to cage the kitten for four weeks to see if the leg would mend correctly. Chris happened to have an empty cage so the kitten remained with Chris throughout her convalescence and Anisa and her daughter visited daily. After the four week period, the pins were removed and it was determined that the leg was healing nicely but the kitten had to be caged for another three weeks. "Abigail" was then taken back to the vet on October 12th. The leg was coming along but the vet indicated that the pin holes still needed to heal. Yet another three weeks of being caged! Chris felt increasingly sad that this kitten had to be confined so long, but Abigail took it like a trooper. What is remarkable is that Abigail remained a happy, well-adjusted kitten, even after everything she had been through! It never daunted Abigail's spirit and she still loves to be picked up, petted and cuddled.
I am happy to report that Anisa has decided that she simply can't live without Abigail and has decided to adopt this kitten. It was definitely Abigail's lucky day all around!
As you know this is just one story. We have many stories of kittens and cats that we rescue outside every day. This holiday season, why not make a Christmas miracle happen by making a conscious effort to reach out and help a cat/kitten in need. The rewards are many and the feeling you get when you rescue a helpless animal can't be explained in words.
May you have a blessed and joyous season!
FosterCat's First Bingo Fundraiser
A good time was had by all at FosterCat's very first "Catnip" Bingo Fundraiser held at the Royal Place Restaurant on Sunday, September 23rd. Thanks to our many generous donors and volunteers, we raised over $4500.00 for the care of cats and kittens in our program!
There was plenty of delicious food and lots of wonderful baskets for the Chinese Auction, not to mention the 50-50 raffle and bake sale. I would like to particularly thank these long-time supporters: Tony Zimmer from Bethel Park Printing, Chris Kachmar and Nikki Yaglowski from Helping Paws, Chris Mikrut from Deluca's Diner and to Dave Roman, our bingo caller, who was the hit of the event. We are also grateful to the many donors who helped make this event a success by donating money, services, baked goods and supplies. We are sincerely grateful to them for their generosity.
A "Paws to Applause" to Norma Clouse who chaired this event and whose expertise was invaluable. We would also like to thank the following volunteers for their time and effort: Audrey Franzetta, Beth Borrasso, Carolyn Kozlowski, Chantal Brown, Claudette DeClemente, Denise Consonery, Dianne Gruendl, Flora Brandi, Jim Kozlowski, Kathy Kacvinsky, Kerri Wizner, Kim Zambrano, Mary Ann Pisano, Mike Weis, Rachel Wonderlin and Norma Clouse. Great job everyone!
News Flash! Announcing the new FosterCat, Inc. Website
In keeping with our progress and our growing base of friends and supporters, FosterCat, Inc. is pleased to announce the debut of our new FosterCat, Inc. website!
You will see a brand new eye catching interface with many enhancements. Just to name a few:
Improved navigation, with a concise menu that you can use to find exactly what resource you need, such as information on fostering or adoption
New monthly cat rescue and adoption feature posting on our home page
User friendly format across all mobile devices, whether you're using your desktop, smartphone or tablet
Link to our Facebook page, which will continue to bring you the latest on our cat fosters, adoptions and events
Buy event tickets on line using our new convenient Paypal link. Now, you can not only donate on line at FosterCat.org, but purchase your event tickets well in advance of the event.
New alumni format by year. We're still in the process of updating and adding to our alumni page, so please stay tuned for updates.
Take a look around using the menu at the top of each page. On small screens the menu is that 3-bar icon (☰) in the upper right.
Comments and questions about the website itself (not about the kitties!) can be sent to webmaster@fostercat.org
Thinking of Moving?
Housing issues are one of the leading causes of pet surrender. We now feature an up to date list of pet-friendly apartments in and around Pittsburgh. You can find it here and in the list of resources on our links page.
They also recently published a guide with tips on finding pet-friendly housing, that may also be helpful.
Attention, All Adopters
Many of you have kindly kept in touch with us via emailed updates and photos of your adopted kitties, and we hope you will continue to do so. Please note, however, that the email address to send them to has changed. Please make note of the change and direct all future emails/photo attachments to bsnowymarie@comcast.net. Thanks, and keep those updates coming. We love to receive them!
FosterCat, Inc
Copyright © 2018 · All Rights Reserved · Designed by Live Graphic Services