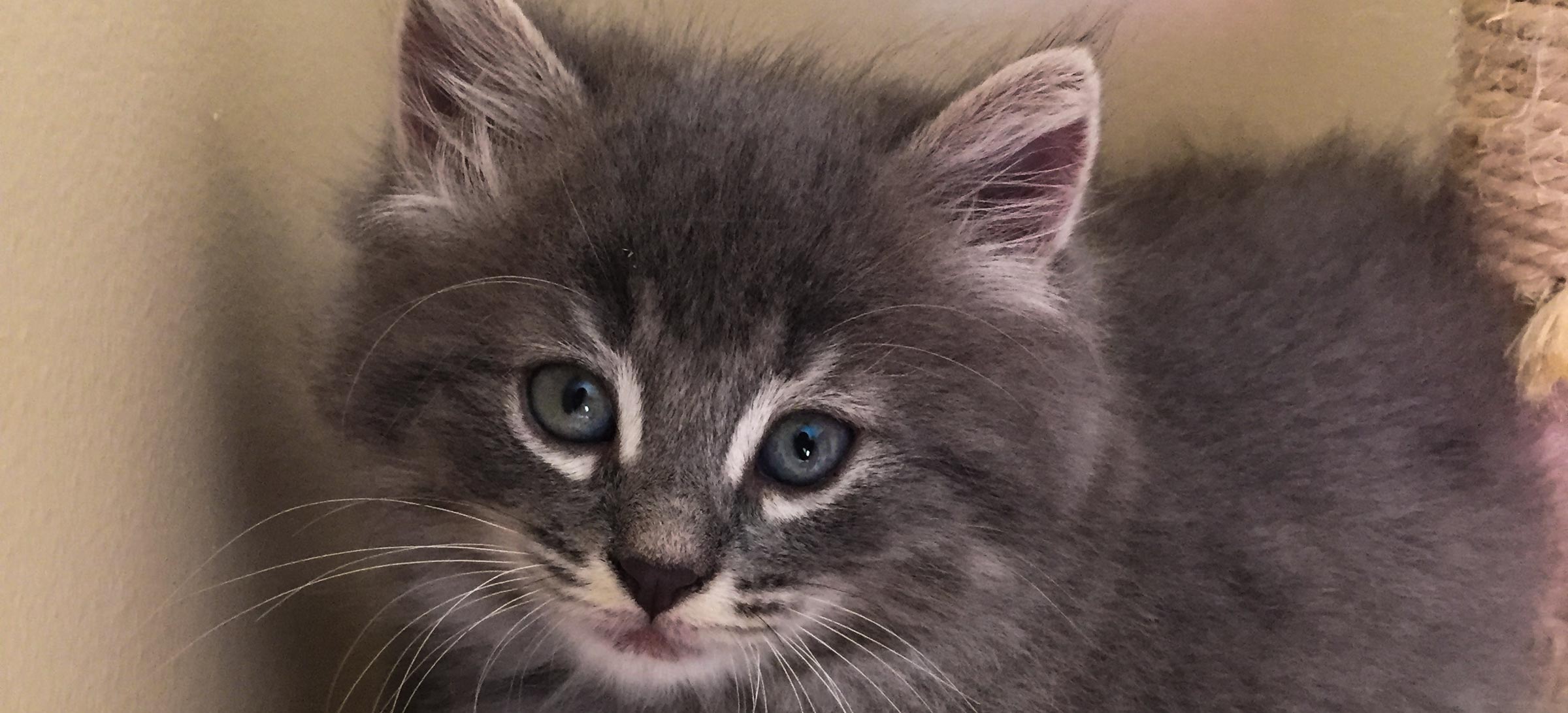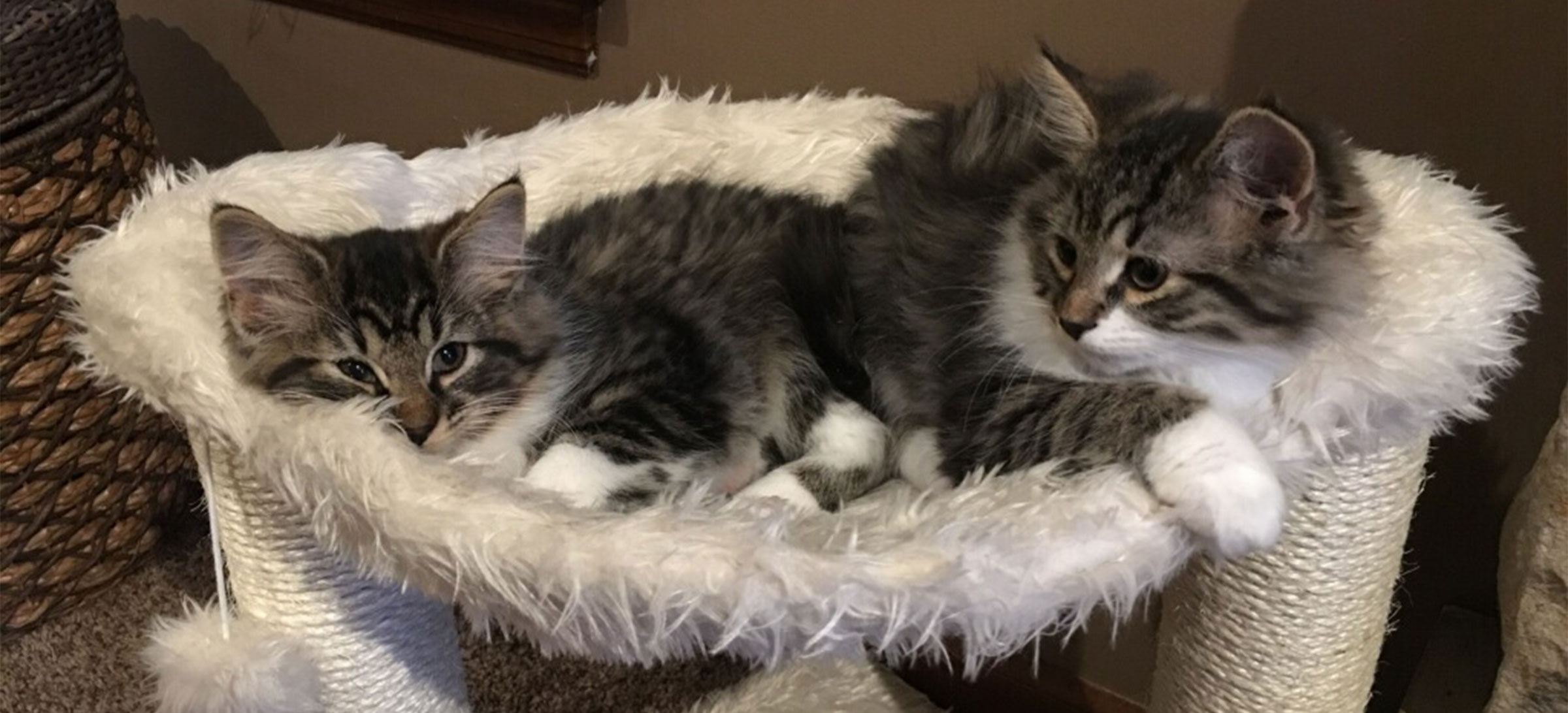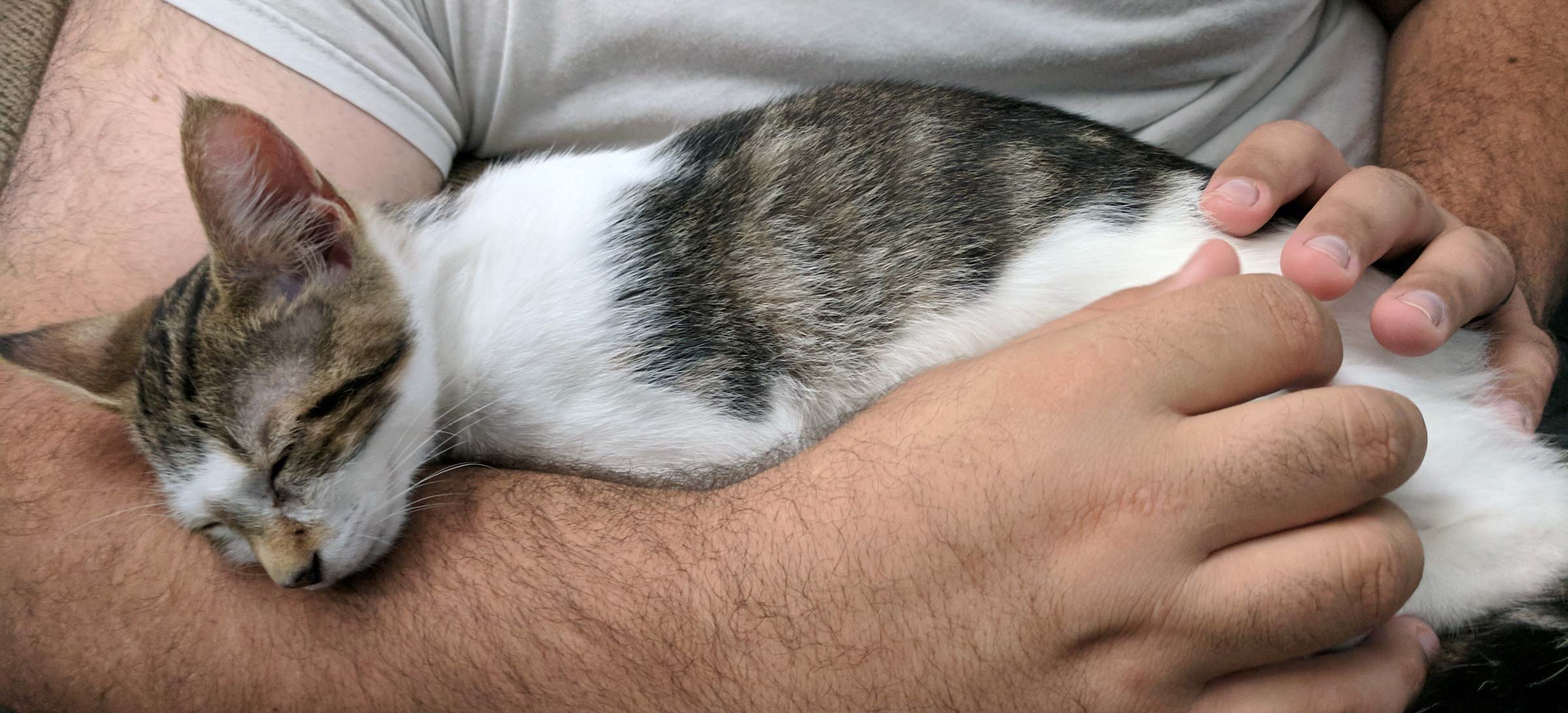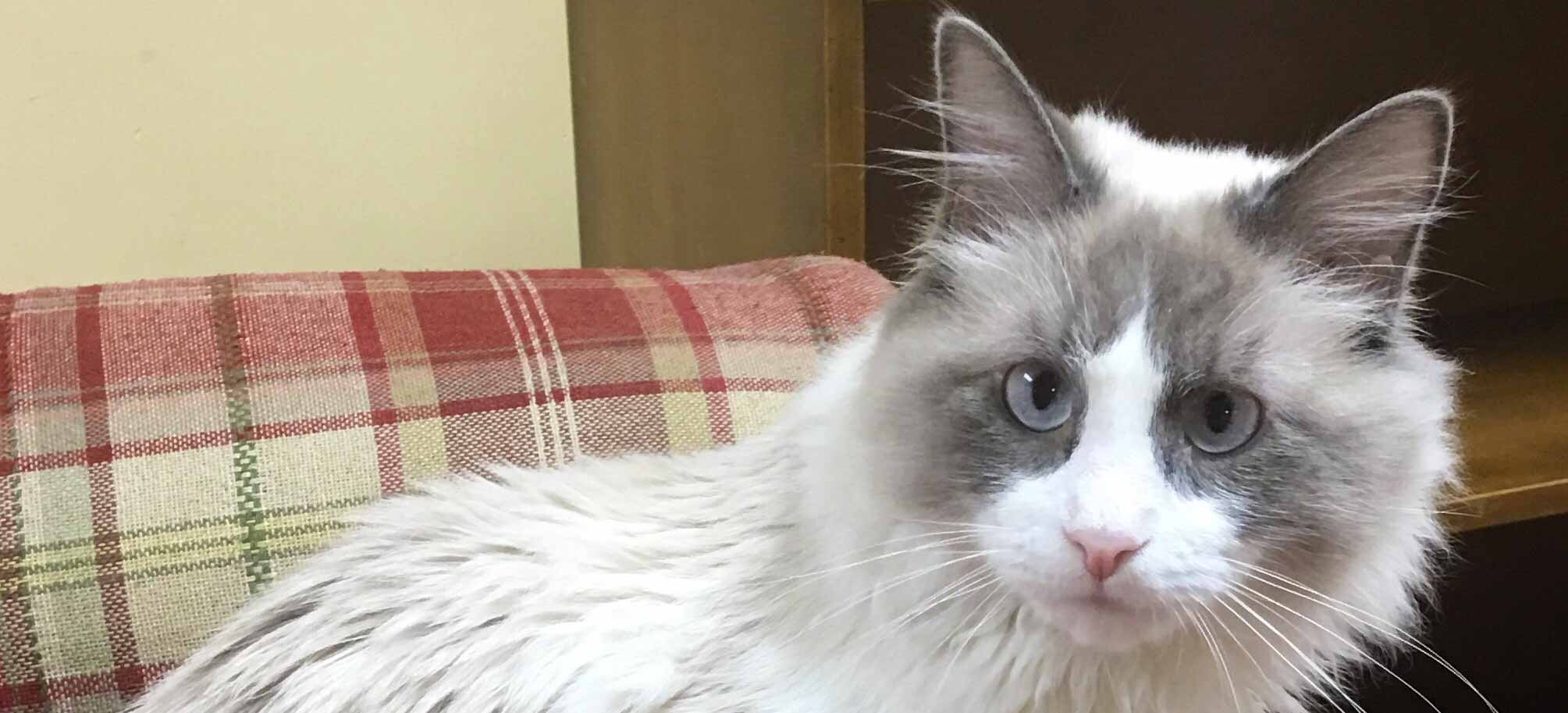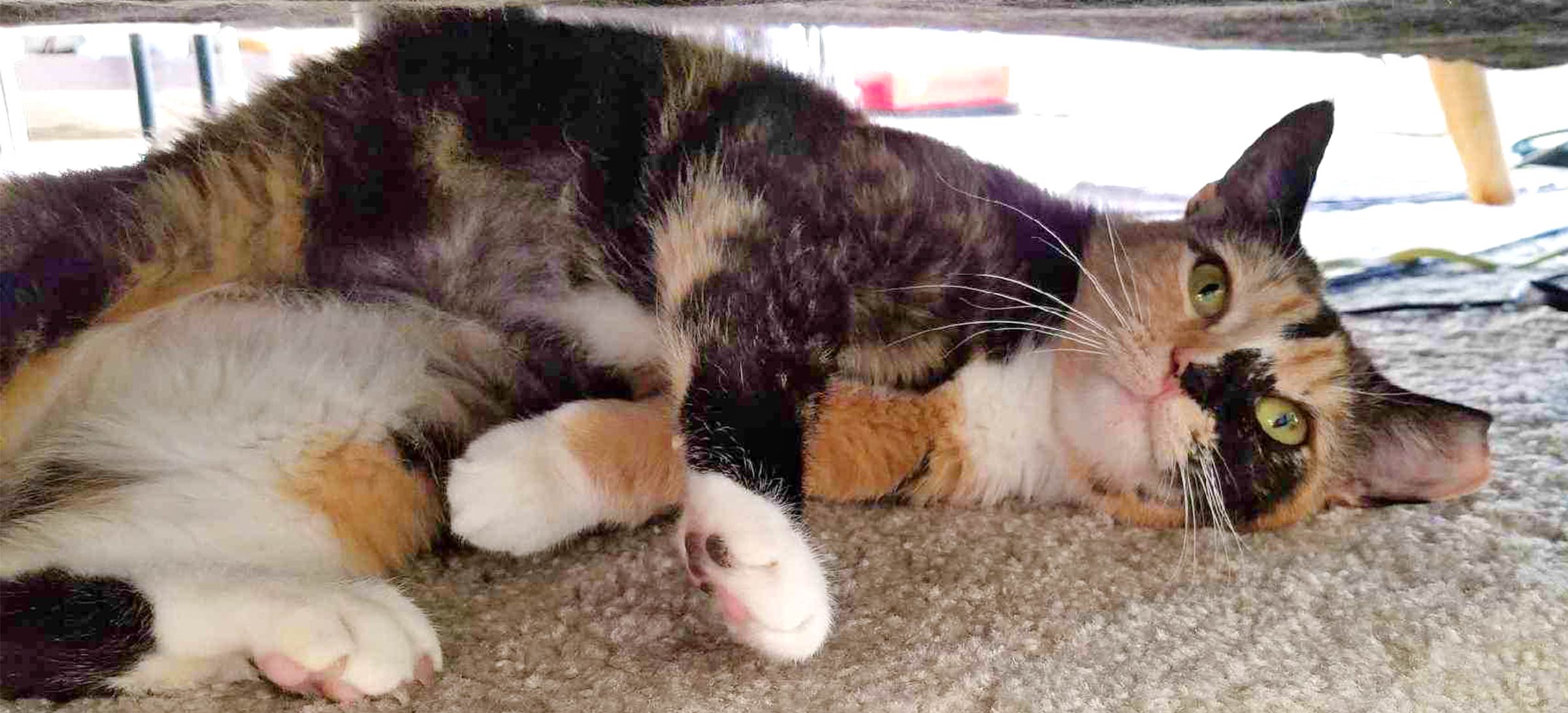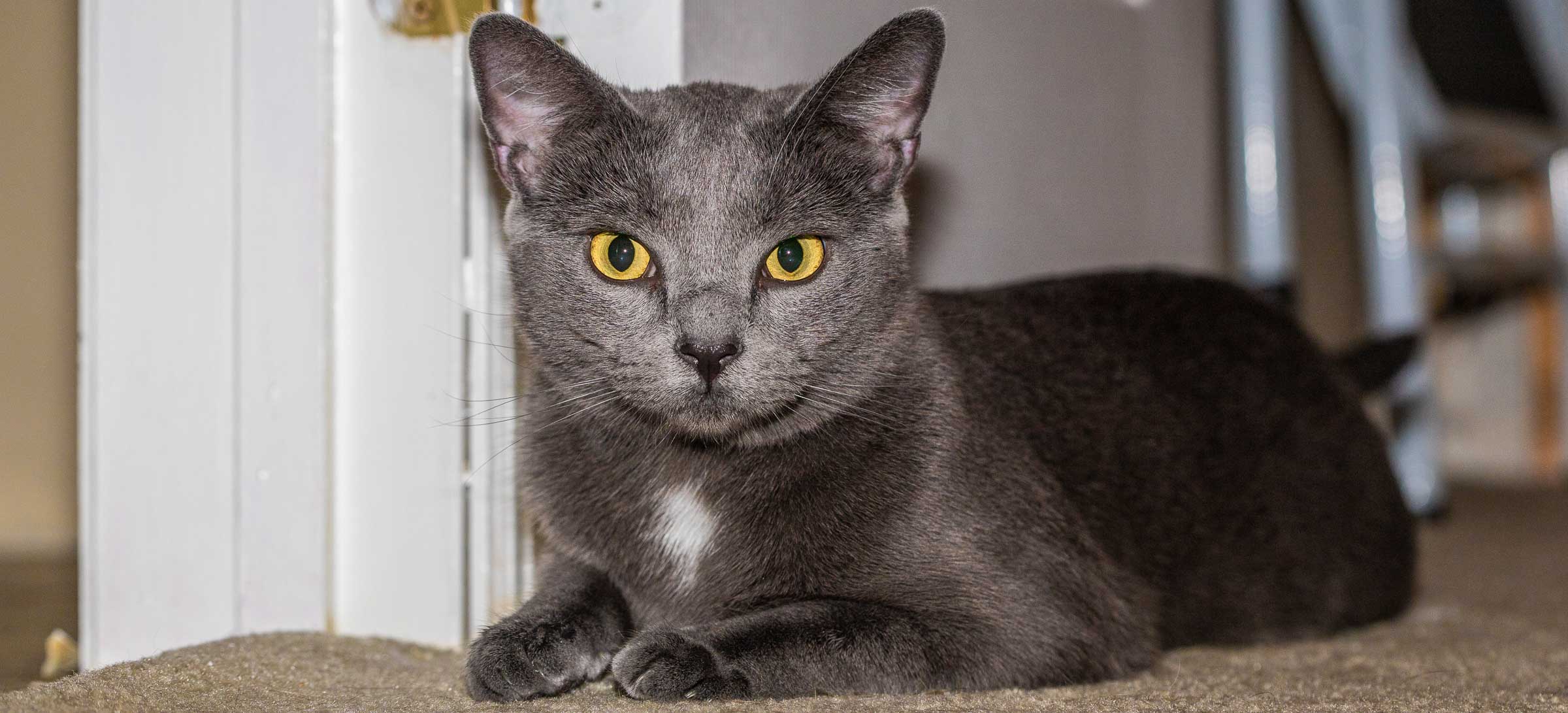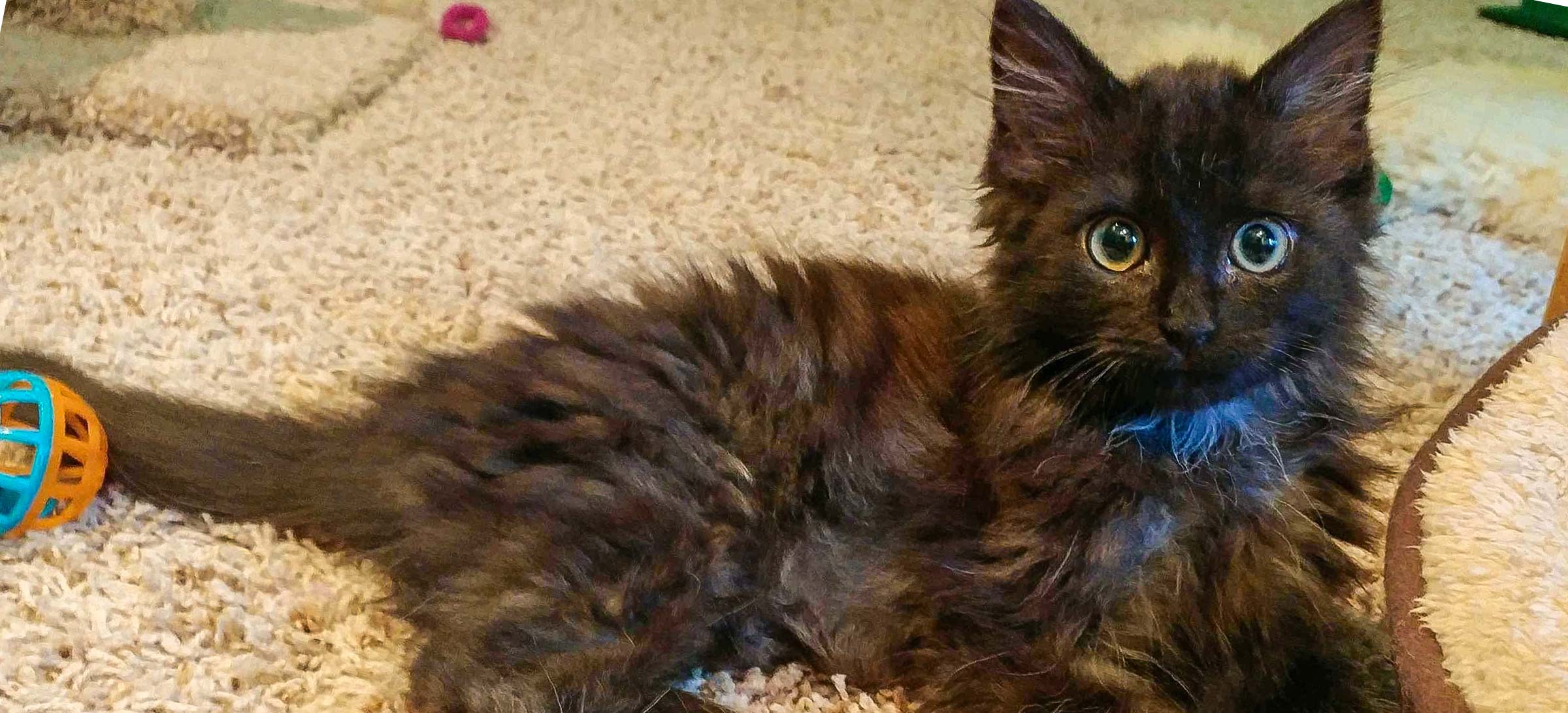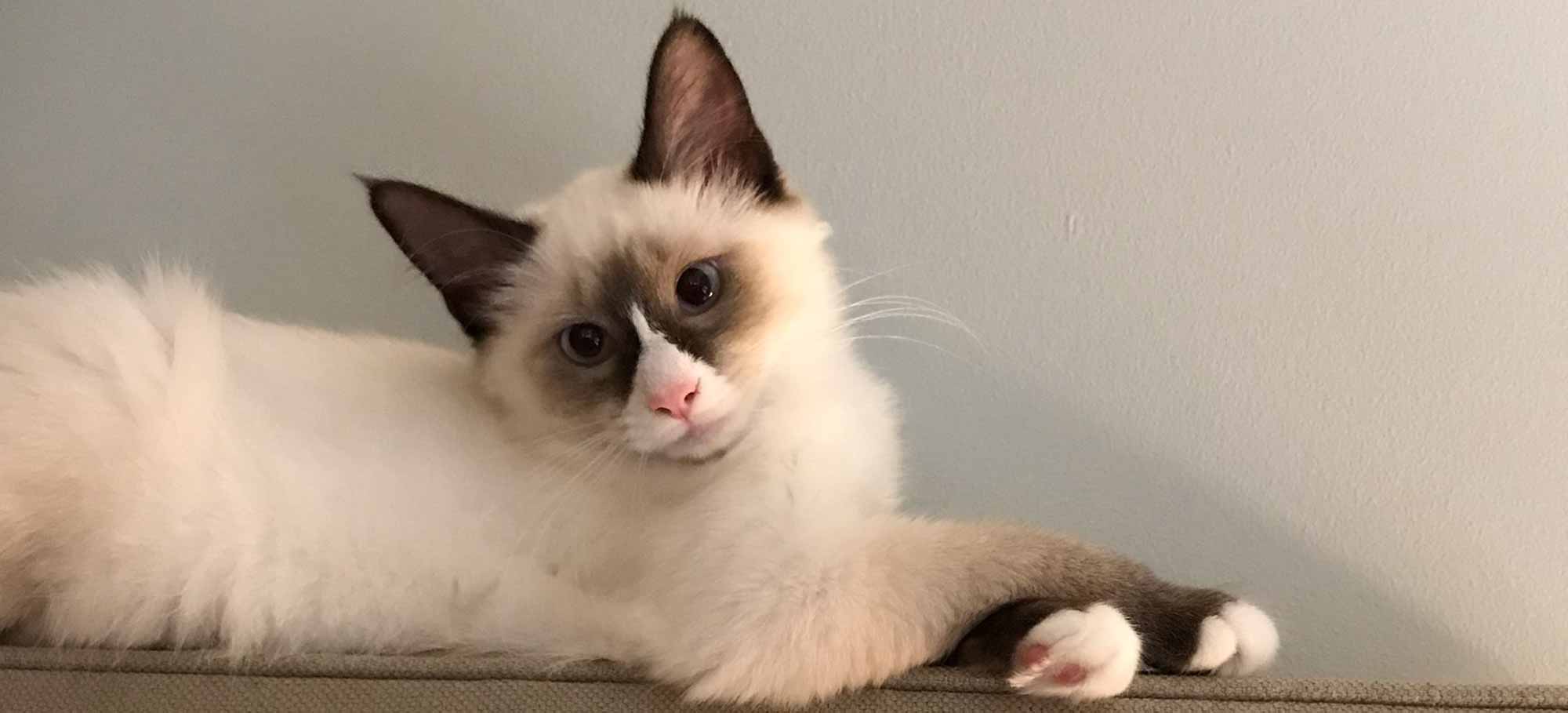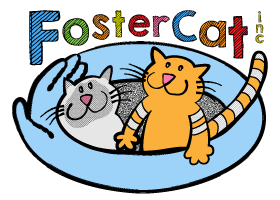 About FosterCat, Inc
Foster Cat, Inc. is all about saving lives. It's as simple as that. We are an all-volunteer non-profit organization dedicated to the proposition that all cats and kittens deserve safe, loving, permanent homes.
Our foster parents provide temporary care for cats and kittens in their homes until they can be placed for adoption. Their compassion provides the second chance that so many stray, abandoned or homeless kitties need, and the satisfaction of knowing that they have helped save the lives of these helpless animals.
FosterCat provides training and support, medications, food and litter as needed, and absorbs all veterinary expenses associated with the care of our kitties. If you love kitties and would like to be a part of our lifesaving team, consider opening your heart and home to cats or kittens in need. We promise you won't regret it! If you can't foster, you can still help save lives as a volunteer or supporting member. Check out our Fostering and Contribute options, above, for more information.
Amazon Smile Donation Program Coming to an End
Amazon Smile is a donation program where each shopper designates a charity and Amazon will donate a portion of sales to that charity. You can specify FosterCat, Inc as your charity!
AmazonSmile customers can continue to support FosterCat Inc in the Amazon shopping app on iOS and Android mobile phones until February 20th, 2023. Amazon is discontinuing the service after that date.
If you have been using AmazonSmile to donate to FosterCat, we thank you. You can continue to do so through February 20th.
If you have not used AmazonSmile to donate to FosterCat when you make Amazon purchases, but would like to use the program for purchases made before February 20th, simply follow these instructions to turn on AmazonSmile and start generating donations.
Open the Amazon Shopping app on your device
Go into the main menu of the Amazon Shopping app and tap into 'Settings'
Tap 'AmazonSmile' and follow the on-screen instructions to complete the process
If you do not have the latest version of the Amazon Shopping app, update your app. Click here for instructions.
A Christmas Gift for Gabby & Willow!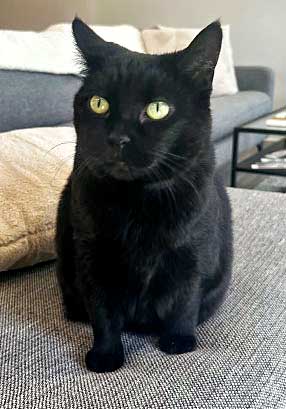 Gabby and Willow were two kittens who we had rescued many years ago. Both were adopted to a couple in the Pittsburgh area around 2010. In fact, this couple had adopted other kittens from FosterCat over the years. As it turns out, the wife passed away in her 50's and the husband reached out to us in July to place the cats into another home. I indicated that since the cats were 12 years old, it would be near impossible to get them another home. People always want kittens and young adults. It is very rare that someone is willing to adopt a senior cat, let alone two senior cats.
Unfortunately, FosterCat has a limited number of foster homes available at any given time. Kitten season is an exceptionally busy time for all rescues due to the number of kittens being born every year. I called around to boarding facilities and the only one that had openings was Wexford Vet. Both cats were boarded there for many months. The Wexford Vet employees called me at least once a week to let me know how the cats were doing. Willow was very depressed and stayed in her cage. She wanted nothing to do with coming out of the cage to play or interact with the employees. We knew we had to find a temporary home as soon as possible.
A break came with some very wonderful people who contacted Kim, our foster coordinator. This woman (Beth) was kind enough to post their pictures on her website and sent us inquiries. I went through each and every application trying to find the perfect home for these two sweeties. I knew it would not be an easy task. Gabby was the friendlier of the two while Willow was shy. Willow also had a weight problem due to lack of stimulation, thus causing her to overeat. Willow was not able to go up and down stairs nor jump on the couch.
In September, a woman named Brianne filled out a foster application and indicated that she and her fiancée Brandon were willing to foster the cats until they were adopted. Brianne was wonderful and got both cats moving around and guided them with the proper nutrition.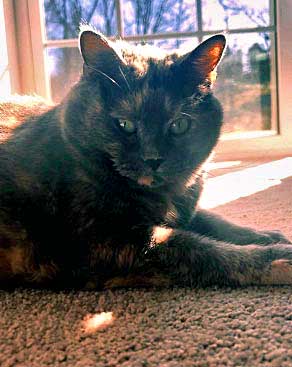 Finally on October 11th we received an official adoption application for both cats! Anthony and his long-term girlfriend went to visit Gabby and Willow at Brianne's apartment and decided to sign a foster contract to adopt both cats. I asked them why they decided to adopt two older cats. They instantly replied that they wanted to adopt a cat(s) who might be hard to place. How utterly selfless of this generous couple. Both were even willing to adopt an FIV cat if one was available. I can sincerely tell you that does not happen very often. We at FosterCat were all ecstatic! Finally, a home for both of these older kitties and just in time for Christmas.
Anthony states that "they are having a great time with both cats and both are hilarious." Anthony sends me updates and pictures periodically. Willow has lost some weight and is now able to climb stairs and jump on the couch. This is truly a Christmas miracle!
As the Christmas season unwinds, we would like to encourage everyone to help an animal in need. These animals depend on the kindness of people like you and me to aid them throughout the year. I know not everyone can take in an animal, but there are many ways you can reach out to help these less for tunate animals. FosterCat encourages you to make donations of money or food to lighten the weight of caring for the many cats and kittens who come into our care.
Have a wonderful Christmas and New Years from all of us at FosterCat! May the coming year bring you peace, joy and love!
FosterCat's Fourth Annual Bingo Fundraiser
FosterCat held its Fourth Annual Catnip Bingo on Sunday, October 16, 2022 at Salvatore's, 5001 Curry Road, Pittsburgh, PA 15236. Thanks to our many generous donors and volunteers, we raised over $7000.00 for veterinary care of cats and kittens in our foster program. Thank you to Salvatore's for their delicious food and service. Our Chinese Auction, 50/50 raffle and our "rip-offs" were a complete success. Thank you to Chris Mikrut from DeLuca's for your continued support of FosterCat. A big thanks to Nikki Yaglowski and Chris Kachmar from Helping Paws for donating 100% of the proceeds from the sale of her cat products and to Dave Roman for always volunteering his time and talent to call the bingo. Thanks to all our other donors who donated items for the auction, etc.
A special thank you goes to Norma Clouse who chaired this event! Her talent and expertise is so much appreciated! Thank you to the many volunteers who donated items, sold tickets, and all that made this event a huge success! Thank you to Natalie Boggs, Beth Borrasso, Gina Brandi, Chantal Brown, Norma Clouse, Michelle Dunn, Audrey Franzetta, Pam Gerdart, Diane Grundl, Carolyn Kozlowski, Amy Morgano, Jessica Rapp, Kerri Sher and Mike Weis. If I forgot anyone, please know that we all appreciated your help. Thank you!
Sweet Taffy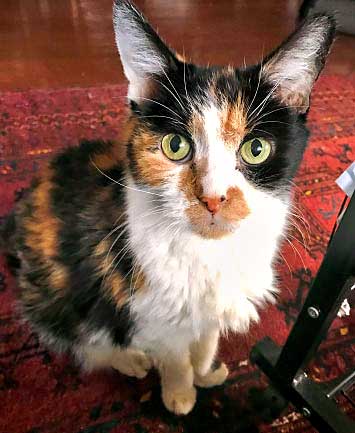 Taffy's story starts about a year ago in July of 2021 when we received a call from a volunteer who happened to be trapping in the Mt. Washington area. There have been many, many ongoing trapping projects in the Mt. Washington area over the years. As residents became older and either moved, went to nursing homes or passed away, more and more older cats were being found outside. When that happens, cats form colonies in order to survive and continue to have kittens. This in turn becomes many colonies of unspayed/unneutered cats in the area.
Taffy was one of the older cats who most likely had a home at one point and found herself outside through no fault of her own. Cats that have lived indoors most of their lives are not equipped to handle life on the streets. They have no knowledge of the outdoors and no way of finding food or shelter. Most of these older cats end up sick and starving on the streets.
By the time Taffy was found, she was very thin, matted and very sick. Of course, as is the case with most strays we find, she was not spayed either. The vet estimated her to be around ten years old. While extremely thin, she had constant diarrhea and was very weak. After taking her to numerous veterinarians, she was put on cortisone shots and phenobarbital. Poor Taffy (now Shiri) does not play at all because of her meds and health issues. Still, she had a will to live.
FosterCat placed her with a wonderful woman named Joyce. Joyce has been instrumental in getting Taffy over her rocky start in life. Joyce reports "……sometimes love hits you over the head and sometimes it takes awhile, but Taffy made me love her." Joyce stated that Taffy was so pathetic when she first came in as a foster that Joyce just wanted to cry. Over the last year, this wisp of a cat has gained some weight and her fur has come back silky and soft. Taffy loves to sit on Joyce's lap and purr and purr. Taffy even loves to meet new people!
"Nobody should be tossed away or rejected because of age." Joyce reports "I don't know how many years Taffy has left, but I will try to make them good years." She celebrated Taffy's "adopt anniversary" on July 30th!
I know everyone loves kitten stories, but I feel drawn to reporting on the senior cats out there because they so desperately need our help. Every single day you hear stories of neglect and abandonment, but with the help of so many dedicated volunteers and people who care, we CAN and WILL turn this tide around through education.
Taffy is only one senior cat out there who needed our help, but there are so many more. FosterCat will continue our work to help an animal (regardless of age) in need. That is what FosterCat is all about!
Cat-loving Kindergartner to the Rescue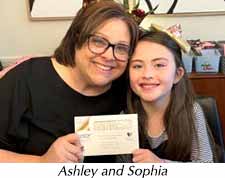 Six-year-old Sophia Bradway loves cats, so a fundraiser to help homeless cats was a natural choice. Also a lover of girly things, like nail art, she pitched her idea to local Color Street nail strips consultant Angie Johnston, who helped set up the Facebook fundraiser.
They raised $1240.00 for FosterCat Inc., a local allvolunteer cat rescue that finds homes for more than 200 cats and kittens each year.
"We thought we might be able to raise a couple hundred dollars," said Sophia's mother, Ashley Haverlack. "We were totally overwhelmed by this amazing response."
Sophia is the youngest client of Ms. Johnston, who is a lifelong friend of Sophia's mother. Sophia loves the colorful nail strips from Color Street, which she can apply with a little help from an adult.
For the past three years Sophia's love of cats has been broadcast to all by the cat-ears hairband she wears every day. Last year, one of her North Hills neighbors asked her to housesit her cats. The job went well, and Sophia begged her mother and father to let her get a cat of her own. She said she would pay for the cat with her own money, saved up from doing chores.
The neighbor's cats - both black - had been adopted from Foster Cat, so that's where Sophia applied to adopt. The family was introduced to two female kittens from the same litter. One was black and the other was what Ms. Havelack describes as a "dilute tortie/calico," a very popular color. But homeless black cats often languish longer in shelters and rescues.
The sister kittens were very bonded, and Sophia suggested adopting both so they would not be separated. The kittens were almost two months old when they came home with Sophia. She named the black one Pumpkin and the other Pom Pom. They provide entertainment and love to everyone in the family. Sophia's instincts were right - the cat sisters are inseparable.
Sophie is looking forward to her May kindergarten graduation from The Glen Montessori School in Ross. In the fall she will attend classes in the North Allegheny School District. (Reprinted with permission from Linda Wilson Fuoco and the PITTSBURGH POST GAZETTE.)
ATTENTION ALL ADOPTERS!
We would like to keep you informed by sending you updates and information about important events, like our upcoming Bingo Fundraiser. If we do not have your email address, please take a few moments to provide it for us and go to the following link: http://fostercat.org/contactus.html. Thank you!
Volunteers Needed
FosterCat currently needs a few volunteers for home visits in the South Hills. We have two very dedicated volunteers, Katie Tontala and Dadja Roerig, who are remarkable and devoted to doing visits at a momentís notice! We would like to get extra help in that area, so if you are interested in volunteering, please contact us on our answering service (412-481-9144) and someone will get back to you. A computer is needed to print off our adoption contract and of course an automobile to do the home visit. Home visits are extremely easy to do and training is provided. All adoptors are pre-screened and an appointment is set up beforehand.
Thinking of Moving?
Housing issues are one of the leading causes of pet surrender. We now feature an up to date list of pet-friendly apartments in and around Pittsburgh. You can find it here and in the list of resources on our links page.
They also recently published a guide with tips on finding pet-friendly housing, that may also be helpful.
Attention, All Adopters
Many of you have kindly kept in touch with us via emailed updates and photos of your adopted kitties, and we hope you will continue to do so. Please note, however, that the email address to send them to has changed. Please make note of the change and direct all future emails/photo attachments to bsnowymarie@comcast.net. Thanks, and keep those updates coming. We love to receive them!
FosterCat, Inc
Copyright © 2018 · All Rights Reserved · Designed by Live Graphic Services