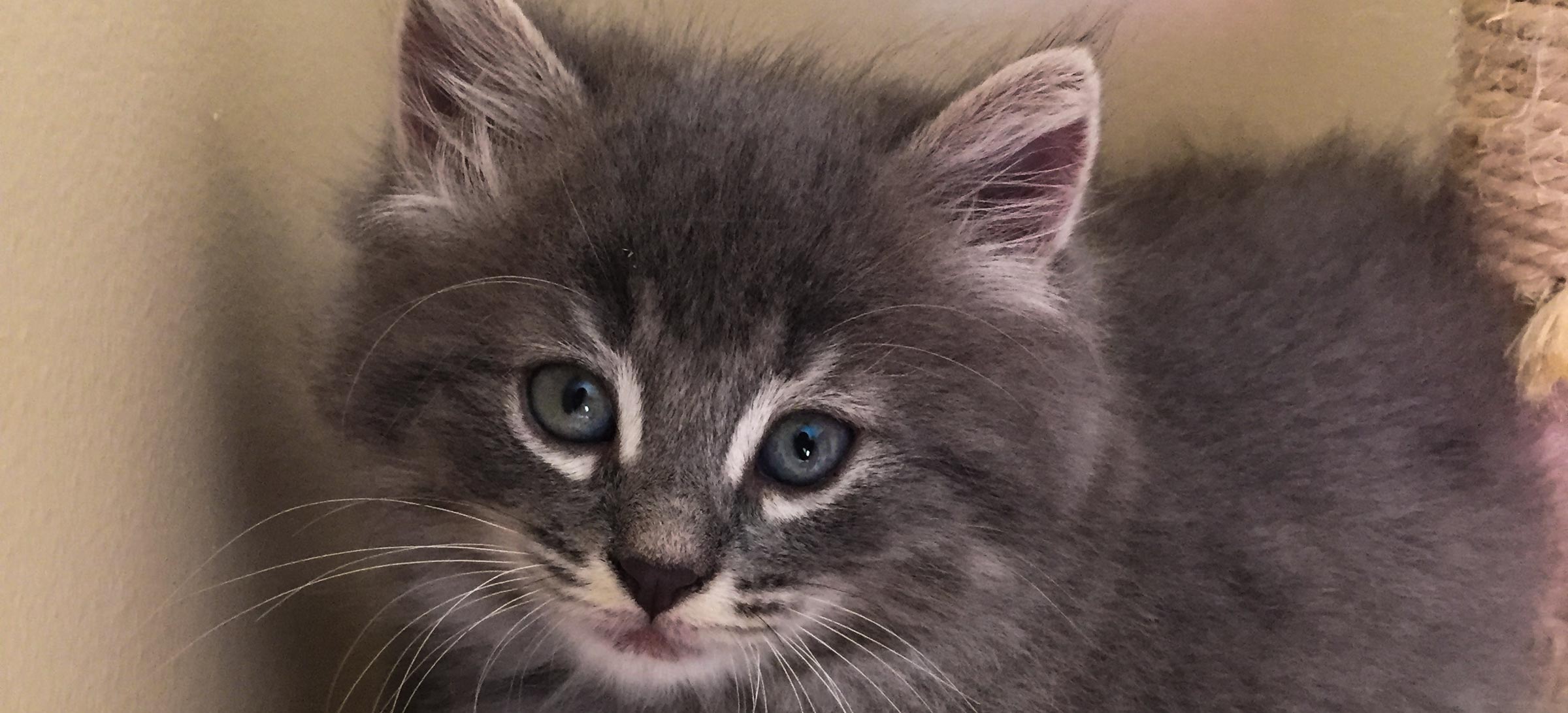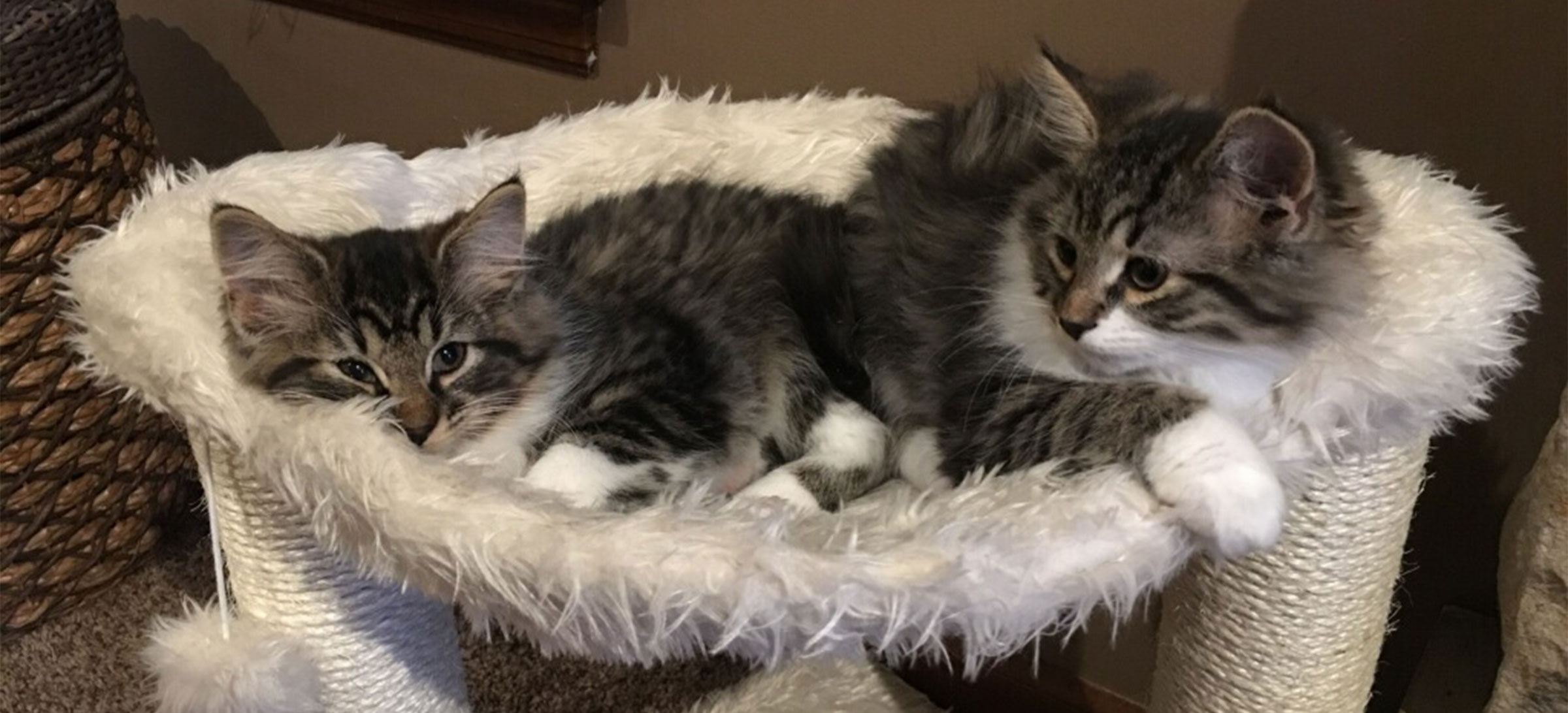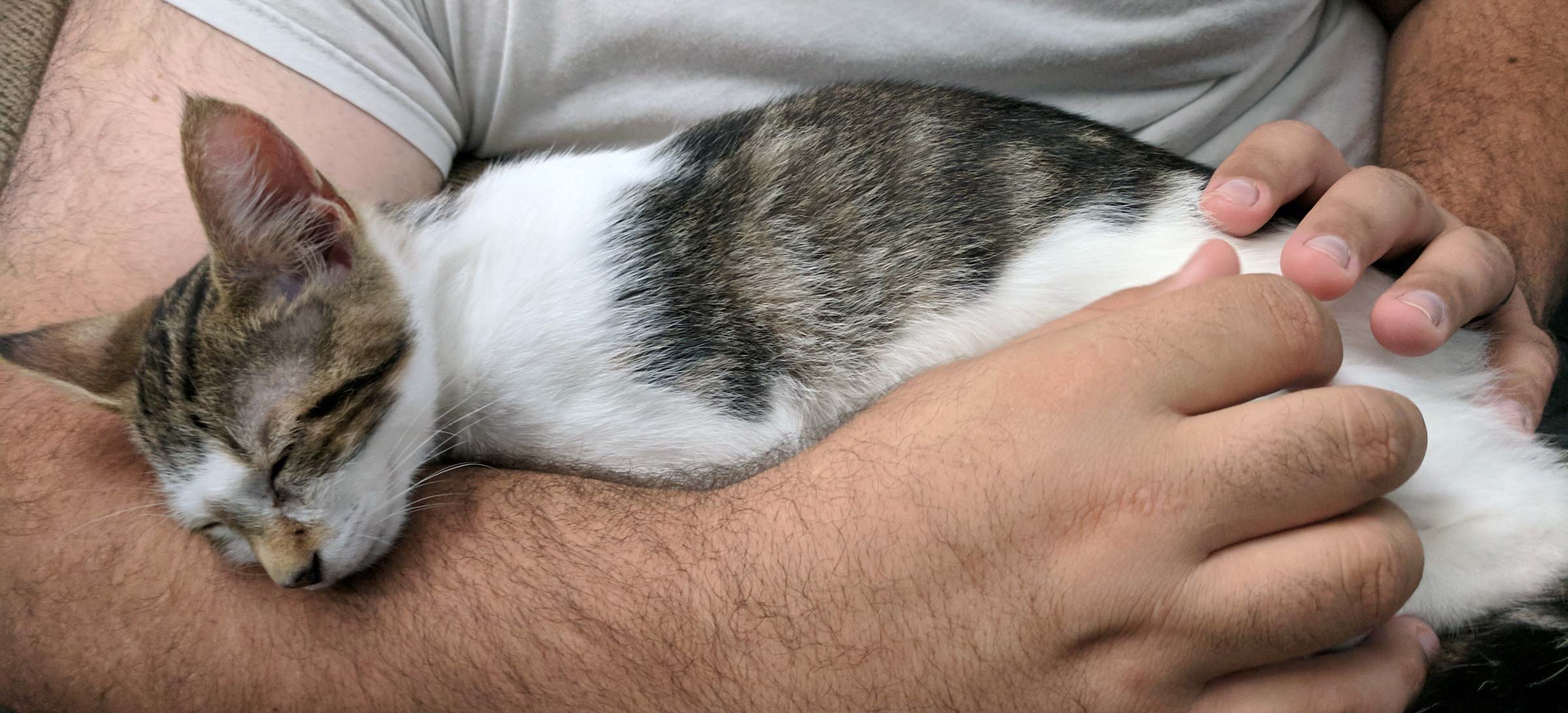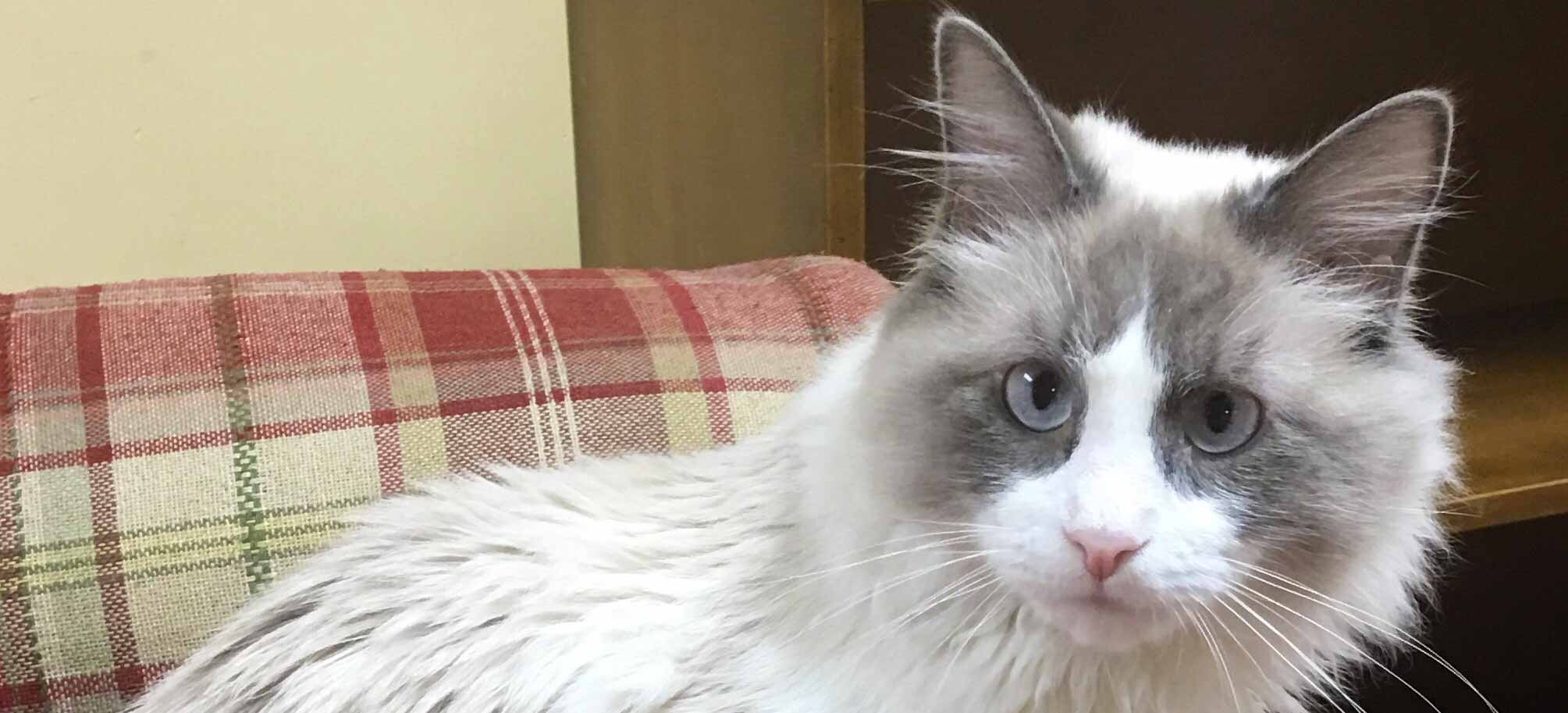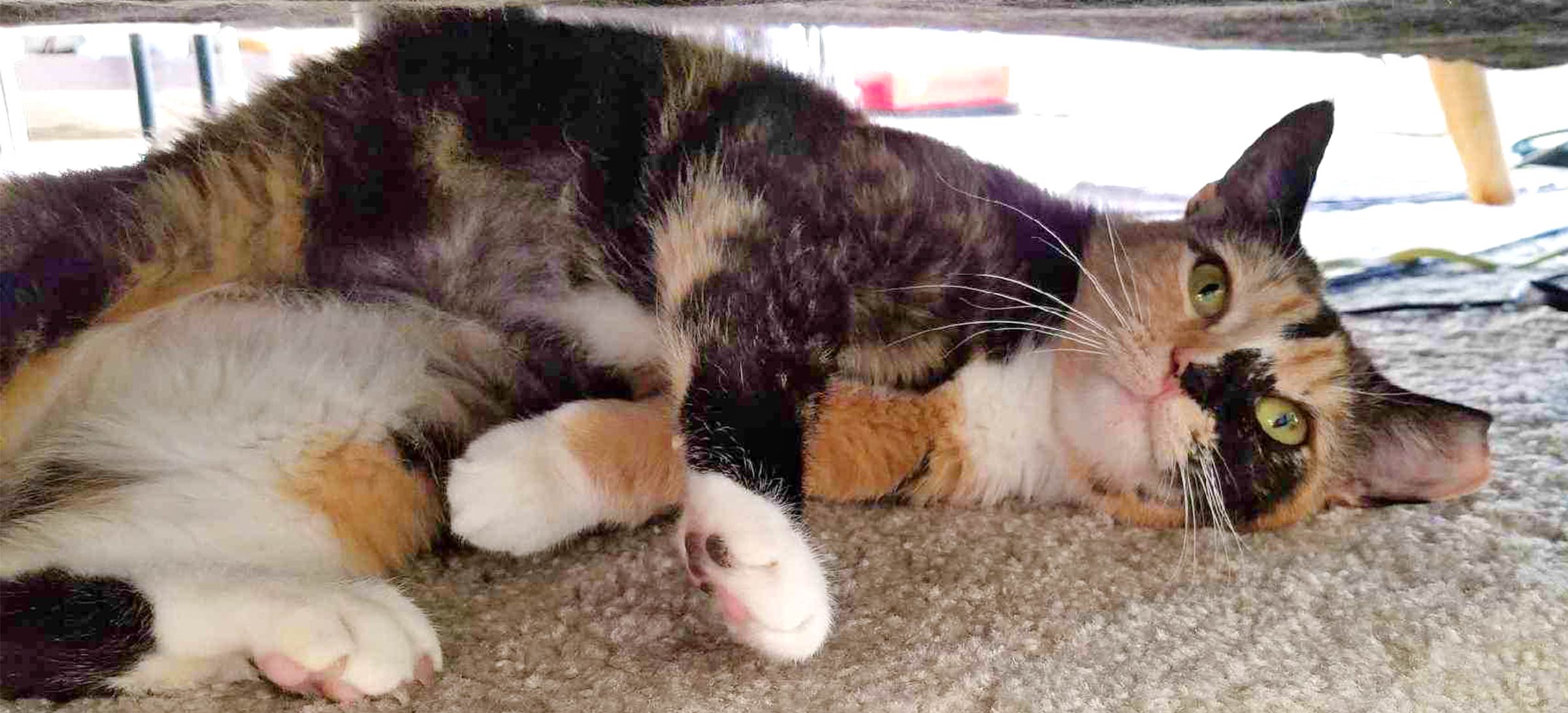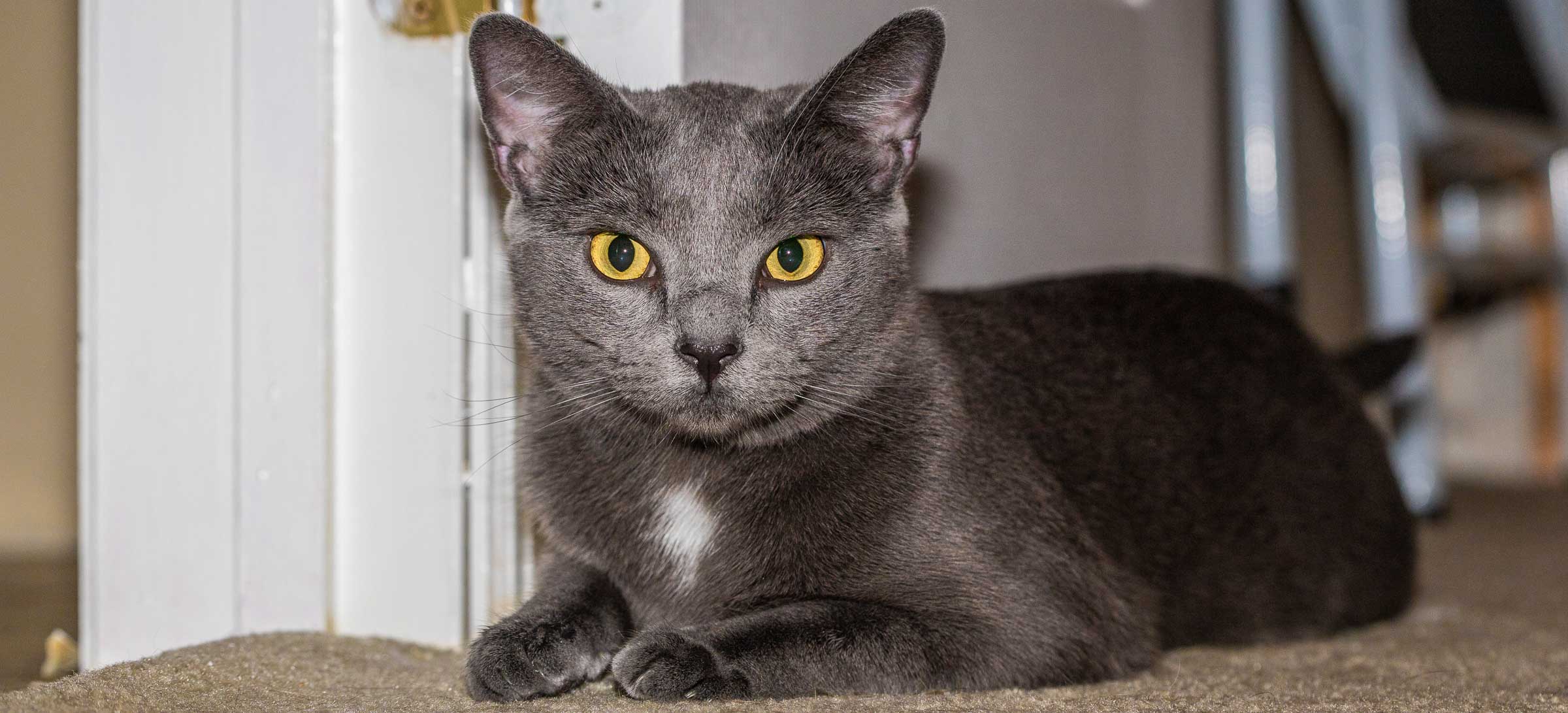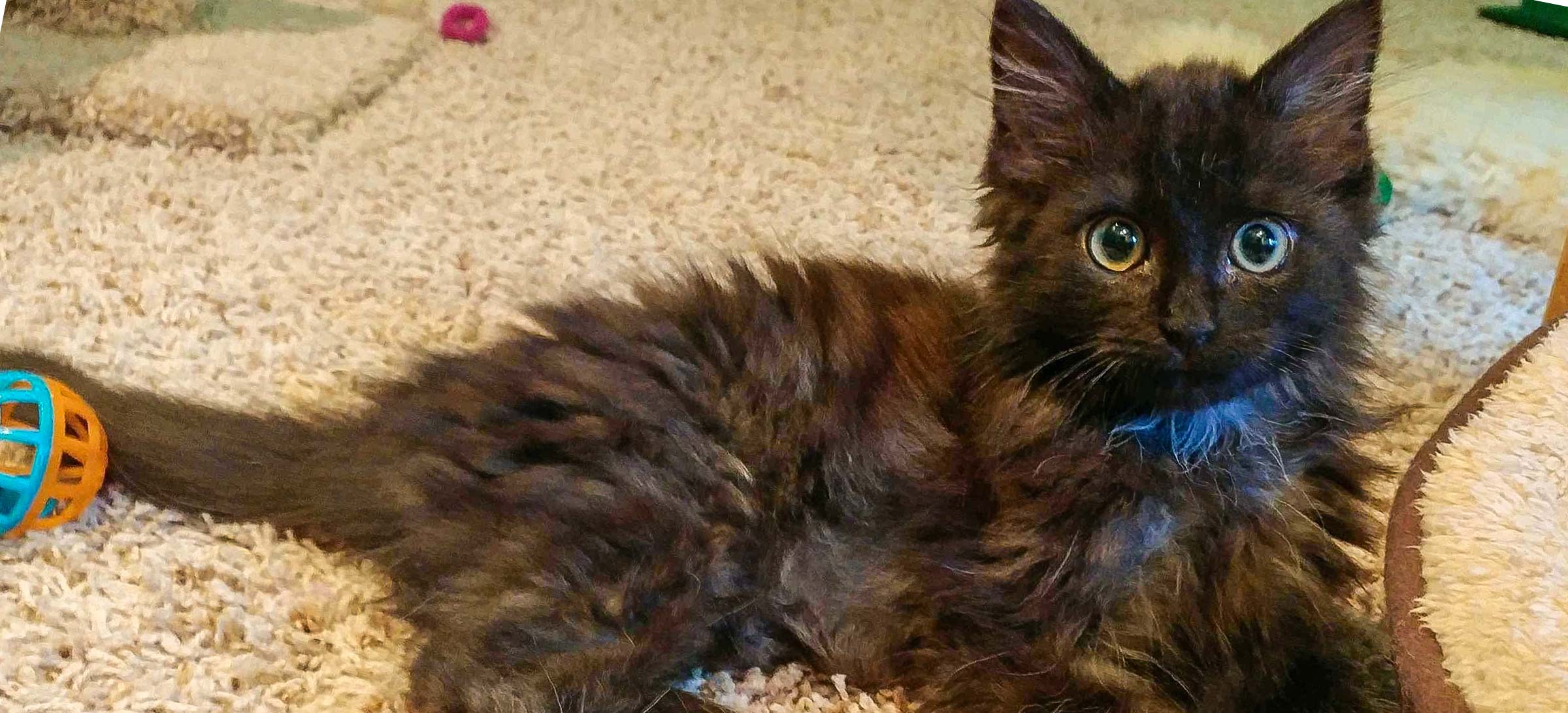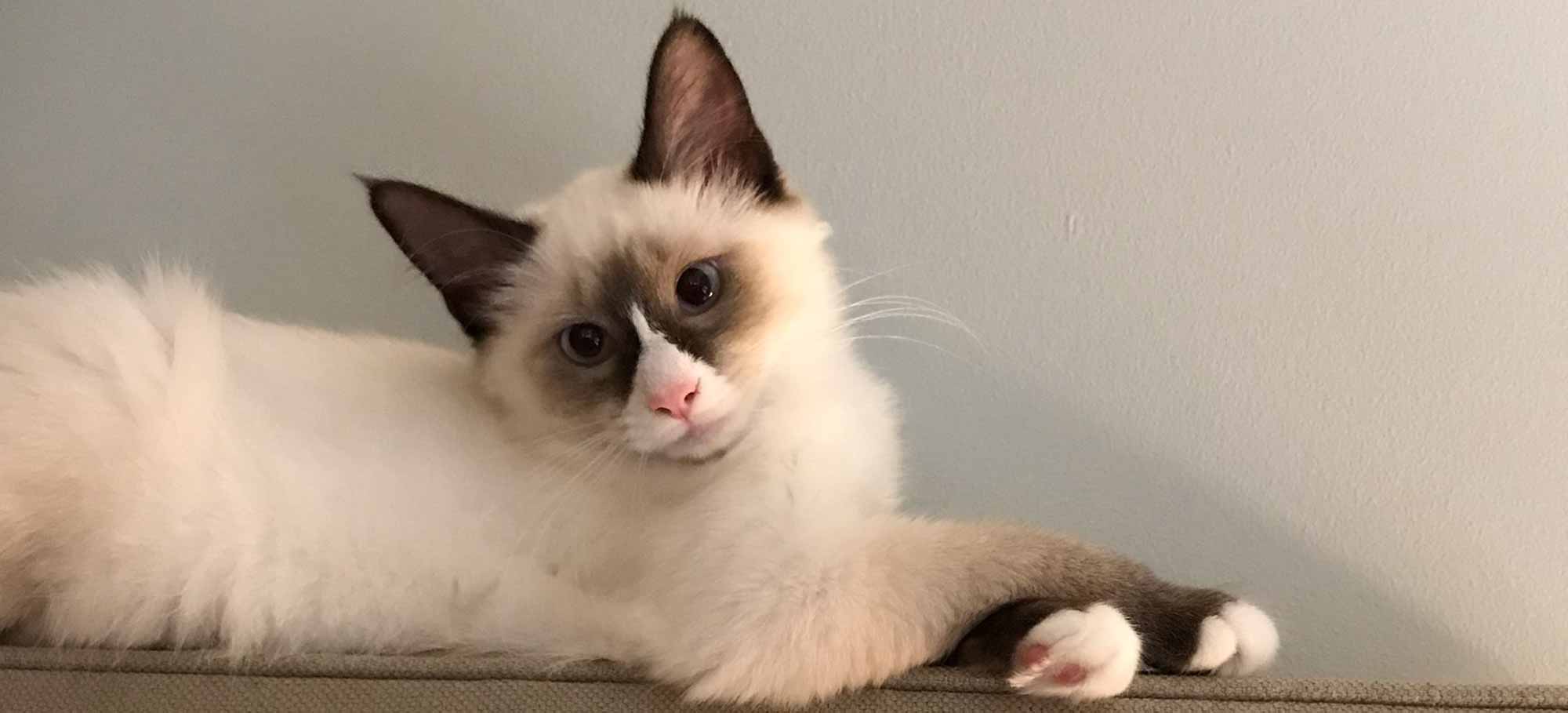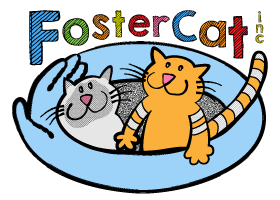 About FosterCat, Inc
Foster Cat, Inc. is all about saving lives. It's as simple as that. We are an all-volunteer non-profit organization dedicated to the proposition that all cats and kittens deserve safe, loving, permanent homes.
Our foster parents provide temporary care for cats and kittens in their homes until they can be placed for adoption. Their compassion provides the second chance that so many stray, abandoned or homeless kitties need, and the satisfaction of knowing that they have helped save the lives of these helpless animals.
FosterCat provides training and support, medications, food and litter as needed, and absorbs all veterinary expenses associated with the care of our kitties. If you love kitties and would like to be a part of our lifesaving team, consider opening your heart and home to cats or kittens in need. We promise you won't regret it! If you can't foster, you can still help save lives as a volunteer or supporting member. Check out our Fostering and Contribute options, above, for more information.
Muppet and Quentin
FosterCat found out about a post on Facebook from a woman asking for help for two adult cats. Apparently these cats were hanging around outside a motel in the Monroeville area. Kim, (our foster coordinator extraordinaire) contacted the person from the Facebook post and immediately met the woman at the Pittsburgh Spay and Vaccination parking lot and retrieved the two cats.
Kim was pleasantly surprised that both cats were extremely friendly and wanted to be petted. We immediately found out from an employee at the motel that the cats had been in a room at the motel and proceeded to "break out of the window" in the motel room to get out. Apparently, the owners had paid their bill and abandoned the cats in the motel room.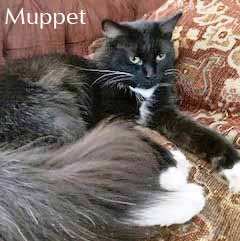 We immediately made vet appointments for both cats. As it turns out, one was a male and one was a female (of course) and neither one was spayed/neutered or chipped. Both are around two years old. We named them Muppet and Quentin and began the process of finding them new homes.
First of all, Quentin and Muppet are very lucky that an employee from the motel cared enough to alert someone to rescue these cats. Most cats/kittens are not that lucky. People abandon their pets outside every single day. I am always dumbfounded that someone who adopts an animal, feeds them, loves them and sleeps right beside them, can just throw them away like an old shoe or a piece of furniture when they tire of the cat or dog. Many people have been caught on video driving up to various locations and dumping cats near dumpsters, convenience stores, strip malls, businesses, industrial parks, highways, turnpikes, gas stations or restaurant parking lots. This is such a despicable act! I just cannot understand for the life of me why people continue to abandon pets outside, especially when there are numerous rescues that they can use. It seems that "impatience" has a great deal to do with how people go about discarding an animal.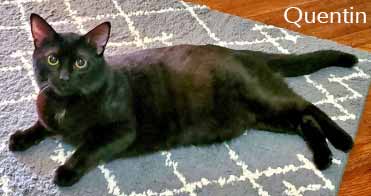 I receive many calls asking for our help with a cat(s) who needs to be rehomed. We try to accommodate as many cats as we can, but we only have a certain number of foster homes. If I tell them that we are totally full, I always ask them if they can foster the cat for a few weeks until we have an open foster home. At least 75% of the people tell me that they are cleaning out their parent's, aunt's or grandmother's house and they want the cat gone "yesterday." Some wait until the day before they move to reach out and contact someone about finding their pet a home. Most are not willing to foster the cat for a day (let alone a week), until we can find an open foster home. It truly is upsetting and very frustrating that people are not willing to do anything to ensure that the cat will have a safe and happy home.
I am happy to report that Muppet has found her forever home. Dacia reports that "We love our Muppet!," Quentin is still waiting for that special someone to love and adopt him! Both cats are doing well after their harrowing experience. Visit our Facebook page and website (www.fostercat.org) to find Quentin.
All of us at FosterCat want to help as many cats/kittens as we can. It's part of our mission of "…saving lives, one cat at a time." This goal can only be achieved with your help. It's important to encourage people who need to rehome a cat or dog to check with all available groups and shelters to make sure it will be in a safe and warm place until it is adopted out, and that they reach out as soon as humanly possible so as not to wait until the last minute! Foster homes get full quickly, especially during kitten season. Don't we owe our pets that much care and consideration?
Cat-loving Kindergartner to the Rescue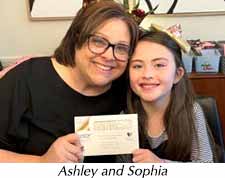 Six-year-old Sophia Bradway loves cats, so a fundraiser to help homeless cats was a natural choice. Also a lover of girly things, like nail art, she pitched her idea to local Color Street nail strips consultant Angie Johnston, who helped set up the Facebook fundraiser.
They raised $1240.00 for FosterCat Inc., a local allvolunteer cat rescue that finds homes for more than 200 cats and kittens each year.
"We thought we might be able to raise a couple hundred dollars," said Sophia's mother, Ashley Haverlack. "We were totally overwhelmed by this amazing response."
Sophia is the youngest client of Ms. Johnston, who is a lifelong friend of Sophia's mother. Sophia loves the colorful nail strips from Color Street, which she can apply with a little help from an adult.
For the past three years Sophia's love of cats has been broadcast to all by the cat-ears hairband she wears every day. Last year, one of her North Hills neighbors asked her to housesit her cats. The job went well, and Sophia begged her mother and father to let her get a cat of her own. She said she would pay for the cat with her own money, saved up from doing chores.
The neighbor's cats - both black - had been adopted from Foster Cat, so that's where Sophia applied to adopt. The family was introduced to two female kittens from the same litter. One was black and the other was what Ms. Havelack describes as a "dilute tortie/calico," a very popular color. But homeless black cats often languish longer in shelters and rescues.
The sister kittens were very bonded, and Sophia suggested adopting both so they would not be separated. The kittens were almost two months old when they came home with Sophia. She named the black one Pumpkin and the other Pom Pom. They provide entertainment and love to everyone in the family. Sophia's instincts were right - the cat sisters are inseparable.
Sophie is looking forward to her May kindergarten graduation from The Glen Montessori School in Ross. In the fall she will attend classes in the North Allegheny School District. (Reprinted with permission from Linda Wilson Fuoco and the PITTSBURGH POST GAZETTE.)
A Tale of Snow White and the Seven Kittens!
"Magic Mirror on the Wall, who is the Fairest One of all?" Why it's Snow White of course! Snow White (a totally longhaired "black" female cat) was found on the south side of Pittsburgh in August of 2020 with seven of her all-black kittens. FosterCat had to really hustle to find a temporary foster home that would agree to take in all 8 cats. One of our new fosters Terry, agreed to foster all until permanent homes could be found.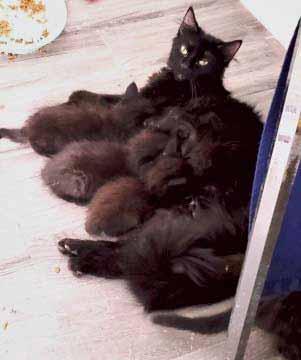 Fortunately, all of the kittens were vetted and adopted pretty quickly. Snow White had a harder time being placed. After poring over many applications, FosterCat finally was able to single out a person who agreed to foster (and possibly adopt) Snow White. While I would like to report that this was a "happily ever after" story, it was anything but. It seems the new foster's boyfriend took Snow White out on a "harness" and she proceeded to bolt when she heard a car backfire. This is one reason why we do not permit any of our cats to be taken outside period!
FosterCat had many volunteers combing Highland Park looking for Snow White. Abandoned churches, buildings and parking lots were combed every night. Posters were put up in the area and our expert trapper Kathy went out nightly setting traps and setting up cameras, all to no avail. We were all terribly upset. Winter was coming and it was bitter cold out. I was heartsick and could not sleep at nights knowing this cat was outside, all alone and trying to fend for herself.
I almost gave up any hope of rescuing this cat and then one day in March I received a call from a vet in Highland Park stating that a woman had rescued a cat and it was chipped to FosterCat. Thank God for microchips!!! I immediately called and told them it was our cat Snow White, who had been missing since last August!
I immediately called the number the vet gave me and spoke to Maria R. Maria informed me that she had been feeding Snow White all winter. She assumed that since she had a pink/orange collar on her, that it was an owned cat. After a few months the collar disappeared and Maria knew that the cat was probably lost or was abandoned. Snow White started spending her time in Maria's heated doghouse. In the meantime, Maria had been feeding her all winter and was eventually able to lure her into her house. For that act of kindness, I was extremely grateful. I explained to Maria what had happened and she immediately asked me if she could adopt Snow White. Needless to say I was absolutely thrilled!
Maria adopted Snow White and gradually introduced her to her two other female cats. It took some time and patience, but all of the cats are now happy and healthy. Maria texted me recently and let me know that she had been transferred to Germany. I was a little worried about transporting Snow White in a plane after all the trauma she had been through, but she assured me that she hired a professional company who arranges all animal transports across seas.
Since the move, Maria has consistently texted me pictures and everyone has made it to Germany safe and sound. Snow White (now Tomasa) is still leery of the doorbell and people knocking on the front door. Maria laughed and told me that when anyone comes to the door, Snow White bolts for upstairs. She wants nothing to do with going near the front door or having to be outside ever again! And Snow White lived happily ever after…(my kind of happy ending!)
Senior Cats are the "Cats Meow!"
FosterCat recently learned about a few senior cats who were in need of our help. Emily, age 11 and Lily, age 12, are two such seniors. One of our volunteers Kelly K., (who works tirelessly to help cats in need), was called to the scene of an eviction/condemned house by the police/township of West Deer. Two elderly women were living in the house with two cats and a few dogs. The house was flea infested with rats and junk piled everywhere. FosterCat agreed to help vet and place these two senior sweeties.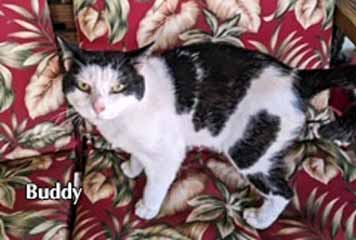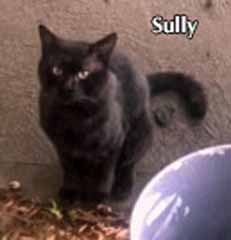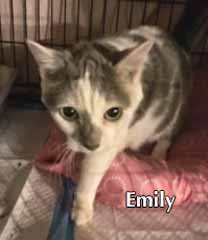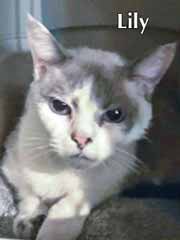 FosterCat also came to the rescue of an adult black cat that was found in West Mifflin. Sully is an 8 year old "sweetie." His foster parent tells us that he is a mellow, quiet guy who just wants to be petted and loved.
Then there is 10 year old Buddy, who was found outside in a trailer park in Lower Burrell. Buddy would prefer to be an only cat, but he absolutely loves dogs! Carol P., who lives at this park, has diligently rescued numerous cats and dogs throughout the years, and she could not turn away when she saw that Buddy was dirty and starving.
If you do not like the hassle and chaos of small kittens, these seniors are for you. They are calm, quiet and gentle souls. All that they require is food, petting, love and of course, a lap! Senior cats are calm, cool and collected. No "craziness" for them. Senior cats do not try and trip you as you walk down the stairs. They are perfectly happy to be cuddled and loved. Unlike kittens (who want to run from room to room playing until they drop off to sleep from exhaustion), seniors are always thrilled with any attention you want to shower on them.
More importantly, if you are 65 or older and only want to adopt a kitten, you need to think about what will happen to the kitten if at some point you are unable to take care of it. Do you really want the added stress of worrying about who will take your kitten if something should happen to you? What would happen if you went to a nursing facility, senior living center or long term hospital care? Would family members step up and take the kitten(s) or would they just take the cat directly to a shelter? These are things that every senior needs to think about in order to make an informed decision.
Unfortunately, we receive lots of emails from family members begging us to take their parent's or grandparent's cats due to sickness or death. It just makes sense to adopt a senior cat to insure that you will not be leaving this decision up to a family member and thus putting the cats in danger of abandonment or euthanization.
If you would like to foster or foster-to-adopt, and are looking for a "lap cat", please give Sully, Emily, Lily or Buddy a try. All four of these wonderful cats deserve a loving home with some special people. We promise you will not be disappointed!
Update on Miss Pippin!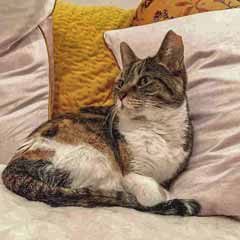 Many of you remember the story of Miss Pippin in our December 2019 Litter Scoop newsletter entitled "A Christmas Wish." Just to recap, Pippin was found in a mass TNR trapping in Munhall. Pippin was extremely friendly and was outside for at least two years. Well I am thrilled to report that Miss Pippin has been adopted by the most loving and caring people I have ever had the pleasure of meeting. Erin and her mother Connie J. send me daily pics and updates on our little girl. Pippin is having the time of her life running around Erin's townhouse, playing with toys, lounging on her new cat tree and sleeping right next to Erin. This truly is a "Cinderella" story and we couldn't be happier! Pippin can now say "All I wanted for Christmas is a forever home," and that wish has truly been granted.
ATTENTION ALL ADOPTERS!
We would like to keep you informed by sending you updates and information about important events, like our upcoming Bingo Fundraiser. If we do not have your email address, please take a few moments to provide it for us and go to the following link: http://fostercat.org/contactus.html. Thank you!
Shop Amazon Smile and Donate Extra to FosterCat!
Amazon Smile is a donation program where each shopper designates a charity and Amazon will donate a portion of sales to that charity. You can specify FosterCat, Inc as your charity! Be sure to use AmazonSmile for all of your holiday shopping!
AmazonSmile customers can now support FosterCat Inc in the Amazon shopping app on iOS and Android mobile phones! Simply follow these instructions to turn on AmazonSmile and start generating donations.
Open the Amazon Shopping app on your device
Go into the main menu of the Amazon Shopping app and tap into 'Settings'
Tap 'AmazonSmile' and follow the on-screen instructions to complete the process
If you do not have the latest version of the Amazon Shopping app, update your app. Click here for instructions.
Volunteers Needed
FosterCat currently needs a few volunteers for home visits in the South Hills. We have two very dedicated volunteers, Katie Tontala and Dadja Roerig, who are remarkable and devoted to doing visits at a momentís notice! We would like to get extra help in that area, so if you are interested in volunteering, please contact us on our answering service (412-481-9144) and someone will get back to you. A computer is needed to print off our adoption contract and of course an automobile to do the home visit. Home visits are extremely easy to do and training is provided. All adoptors are pre-screened and an appointment is set up beforehand.
Thinking of Moving?
Housing issues are one of the leading causes of pet surrender. We now feature an up to date list of pet-friendly apartments in and around Pittsburgh. You can find it here and in the list of resources on our links page.
They also recently published a guide with tips on finding pet-friendly housing, that may also be helpful.
Attention, All Adopters
Many of you have kindly kept in touch with us via emailed updates and photos of your adopted kitties, and we hope you will continue to do so. Please note, however, that the email address to send them to has changed. Please make note of the change and direct all future emails/photo attachments to bsnowymarie@comcast.net. Thanks, and keep those updates coming. We love to receive them!
FosterCat, Inc
Copyright © 2018 · All Rights Reserved · Designed by Live Graphic Services