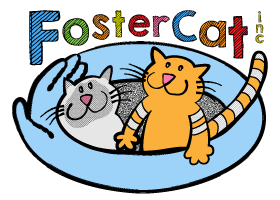 Do you love cats? Would you like to help save the lives of homeless cats and kittens?
Would you enjoy the companionship of cats or kittens, but can't take on the responsibility of permanent ownership right now? Would you like to be able to teach your kids the joys and responsibilities of caring for a pet?
If you can answer "yes" to any of these questions and live in Allegheny or surrounding counties of Pittsburgh, Pennsylvania, we would love to welcome you into our foster parent family.
What do you need to do?
Our foster parents provide daily care for cats or kittens in their homes until they are ready to be placed for permanent adoption. FosterCat will provide food, litter, medications, as needed, and will absorb all veterinary expenses associated with our kitties.
Take a few minutes to complete the Foster Parent Application here. One of our volunteers will contact you to provide more details about our foster program and answer any questions you may have.
If you'd rather, you can download a PDF copy of the paper fostering form here. The form is two pages long. Fill it out and mail it to:
FosterCat, Inc.
PO Box 23414
Pittsburgh PA 15222-6414