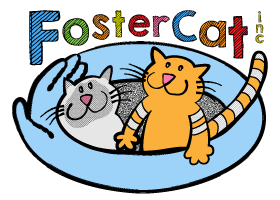 Adopting a cat from FosterCat, Inc
As a foster network, we offer private home-to-home adoptions as well as adoptions initiated at our PetSmart cage locations where kittens and cats are also showcased. Those adopting must be located in the Greater Pittsburgh area.
In order to be considered for an adoption today, you must:
Be at least 21 years of age.
Be the person primarily responsible for the cat to be adopted at the address where the cat will be housed.
Have legal identification with your current address.
Be able to verify that you can have a pet where you live.
Understand that FosterCat, Inc. reserves the right to deny the adoption of any pet for any reason.
Pet ownership is a major responsibility, and one that should not be taken lightly. In FosterCat's ongoing effort to find the best possible homes for all of its animals, we ask that you take the time to fill out this questionnaire and expect to spend time discussing it with one of our adoption representatives before the adoption is completed.
Adoption Application
For fastest response, fill out and submit the form electronically here.
Or
FosterCat, Inc
P.O. Box 23414
Pittsburgh PA 15222-6414