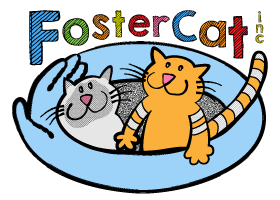 FosterCat is a Rescue and Placement Agency for Homeless Cats and Kittens
We operate only in Allegheny and certain surrounding counties of Pittsburgh, PA.
We do not provide boarding services or temporary care for owned pets.
If you need boarding services or temporary care for your pet, we suggest asking friends or family members to care for the cat(s) temporarily. Check your local yellow pages for boarding services in your area. Try contacting local shelters to see if any of their employees/volunteers provide boarding services in their homes to make a little extra money. If you live near a university, you might check to see if you can find a grad student who lives in a pet friendly apartment, who would care for your cat(s) for the pleasure of their company while they are away at school. We have had a number of grad students who have fostered for us over the years.
Commercial boarding services are also available. We can recommend PawSpa Resort, a local boarding and grooming facility that also helps sponsor FosterCat events.
If you are interested in fostering or adopting a cat or kitten, or want to contact FosterCat regarding our rescue and placement services in the Pittsburgh region, please contact us!
Here are some easy ways to contact FosterCat:
Send a good old-fashioned letter:

Write to:

FosterCat, Inc
P.O. Box 23414
Pittsburgh, PA 15222-6414

Give us a call:

(412) 481-9144.

Email us:

Facebook:

We show our new adoptable kitties, celebrate our adoptions and alumni, announce events, respond to your private messages, and other fun stuff over on our Facebook page! Check it out and "like" us today!

Join our mailing list:

We publish a quarterly newsletter and occasional updates (we won't spam you, really). The newsletter is available in both print and electronic (PDF) versions. Just fill in the information below and press submit. Thank you!