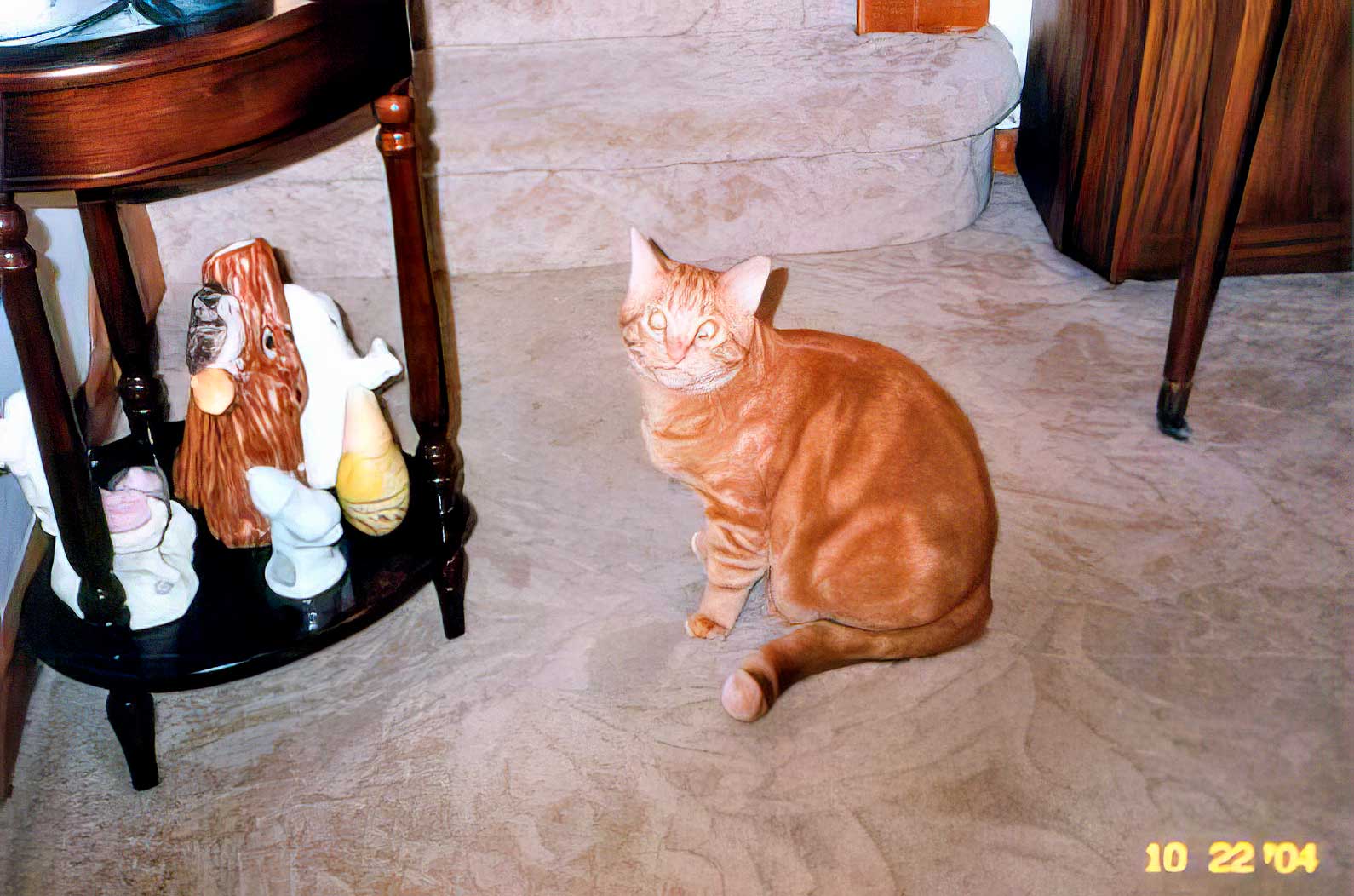 My involvement with FosterCat begin in 2004.
Every Friday Ron and I would do our pet shopping at the PetSmart in West Mifflin. Every Friday for 3 months I saw a big orange tabby crammed in a small adoption cage. He was brought to PetSmart by FosterCat after they were contacted by HAR. Manny spent three months at HAR and there was no interest in him so they were going to put him to sleep. FosterCat took over from there.
After a few weeks of seeing Manny in the cage, Ron ended up doing the shopping while I spent time brushing Manny and getting him out of his cage. I remember him being so stressed but I was happy to give him attention. This was in March. In June, PetSmart was having an adopt-a-thon weekend. I made up my mind to adopt beautiful Manny if he had no takers that weekend. I called PetSmart on Monday and asked if Manny was adopted. I was told no, that Manny and a kitten were the only ones not adopted. I had already filled out the paperwork and wasted no time faxing it to Alexa. Two days later Alexa did a home visit. She brought with her a cat in a carrier and, at the time I thought nothing of it because she said she was taking it to a new home. Looking back on it, it was a test to see how my dogs and other cats reacted to this cat (they didn't). She immediately approved the adoption, I paid the fee and we wasted no time getting Manny.
My beautiful Manny, at age 22, passed away this morning of old age and my heart is destroyed. He was the best and we couldn't love him more. He was the Big Kahuna of my cat crew and my dogs adored him. This is Manny's FosterCat alumni photo, taken 4 months after his adoption. I can't thank you enough for saving him and allowing him to be an integral part of my family.
My life and our household won't be the same without my sweet boy.