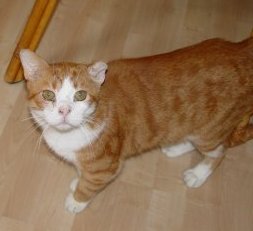 Our dear friend Tommy passed away suddenly and unexpectedly on July 23, 2010. He had been with FosterCat for over 8 years and had been with me for the past six.
Tommy was living in an abandoned car when he was rescued and brought to FosterCat. He was about five years old then and unneutered. His body bore the scars of a guy who had endured a hard life on the streets – a cauliflower ear with a few hunks missing, scars and scratches and a few bald spots – but none of that had turned him sour. He still had a bright outlook on life and lots of love to give.
Tommy was a big, well muscled male, who could have thrown his weight around, but never did. He was the undisputed king of the cat room from day one, but it wasn't because he bullied the other kitties. He just had a presence and a dignity that they all picked up on. Tommy liked them and they liked him. Over the years, he shared his domain with dozens of other kitties of all ages and personalities. He welcomed each one with his signature chirp and obligatory butt sniff and from then on, they were his friends for as long as they stayed.
Tommy had herpes and needed drops in his eyes and Lysene powder on his food once a day, so he couldn't go to PetsMart for adoption. We featured him in a few newsletters and on our website and a few people enquired about him over the years, but nobody was willing to deal with his needs, even though the medications were inexpensive and took no more than a few minutes to administer each day. When it was time for his drops, Tommy just tipped his head back and let me put them in.

Tommy wasn't a perfect cat. He always became over stressed when I tried to let him out with the general population, so the upstairs cat room became his permanent home. He hated riding in the car and wasn't shy about letting me know it each time we visited the vet. He wasn't wild about having his nails trimmed – especially his right paw. And he always waited until I had finished scooping the litter box and sweeping up the floor to go in and do his business – and the smell, in the words of my Uncle Earl, "would drive a hound off a gut wagon".
No, Tommy wasn't a perfect cat, but he was a GREAT cat. I never went through the door that he didn't come to greet me with his chirpy meow and bob of the head. He'd follow me around, talking, purring and rubbing my legs while I filled food bowls and cleaned boxes, waiting for his brushing and chin scratching.
Oh, how I miss him. I miss the feel of him and the sound of him and the smell of him. I miss the snuffling noise he made when he ate. I miss the tufts of red hair he left on the cat tree. I miss watching him groom Minnie. I miss his chirpy meow. I miss the thundering sound of him running and playing upstairs while I'm watching TV in the evening. How blessed I was to have shared his life for a little while.
The Lord gives and the Lord takes away. Blessed be the name of the Lord. (Job 1: 21b).